Let's take some photos of a VW Beetle in your warehouse, said Nick from NWVT. "We'll do it in the dark, and I'll light paint it" he followed. Having seen some previous cars Nick has done like this we had to let him 'have a go'…..
It couldn't be just another VW Beetle though, there needed to be a reason for picking a particular vehicle to pose for us in our warehouse. In fact, we didn't just pick one, we spoilt ourselves with two, and the cars, well, they were built using our parts, and belong to two long standing members of the VW Heritage team.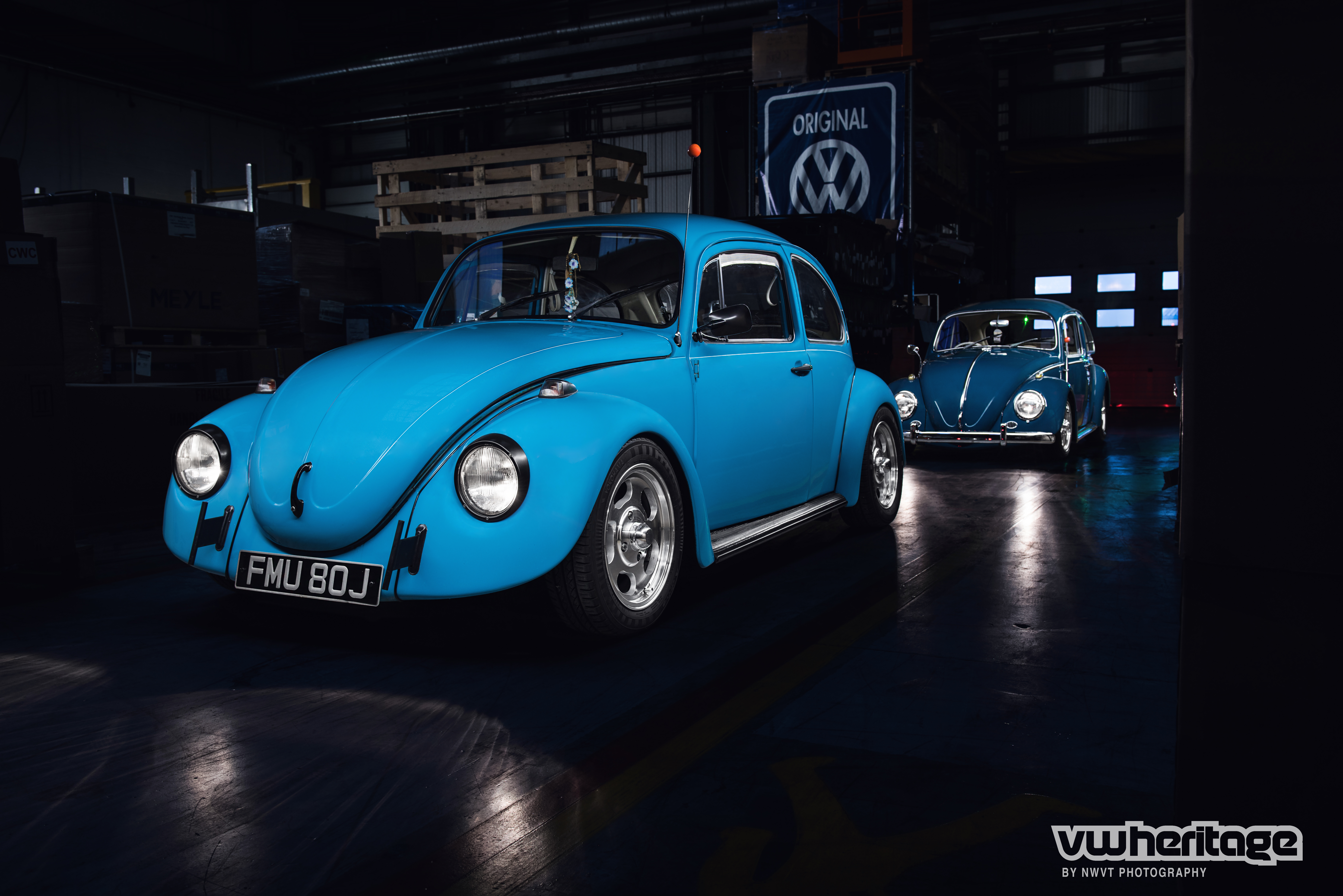 When the lights go out…
The plan was simple. Nick would come over for our VW Heretics meet. We'd hang around and enjoy the meet, catch up with friends, and then as the night drew in, and home time approached, we'd flick the lights out in the warehouse, and let him work his magic.
Watching Nick in action it's hard to get a grasp of what the finished article could be; until that is, he flashes up a quick mock up on the screen of his Nikon, and our jaws drop. In a space that's so dark a camera phone struggles to capture anything, he picks out the details of each vehicle with precision.
VW Beetle #1
This car belongs to Jo, our Senior Product Specialist. Jo's been with VW Heritage for more than ten years (albeit with a year long backpacking trip around the world, and a spot of maternity leave thrown in along the way).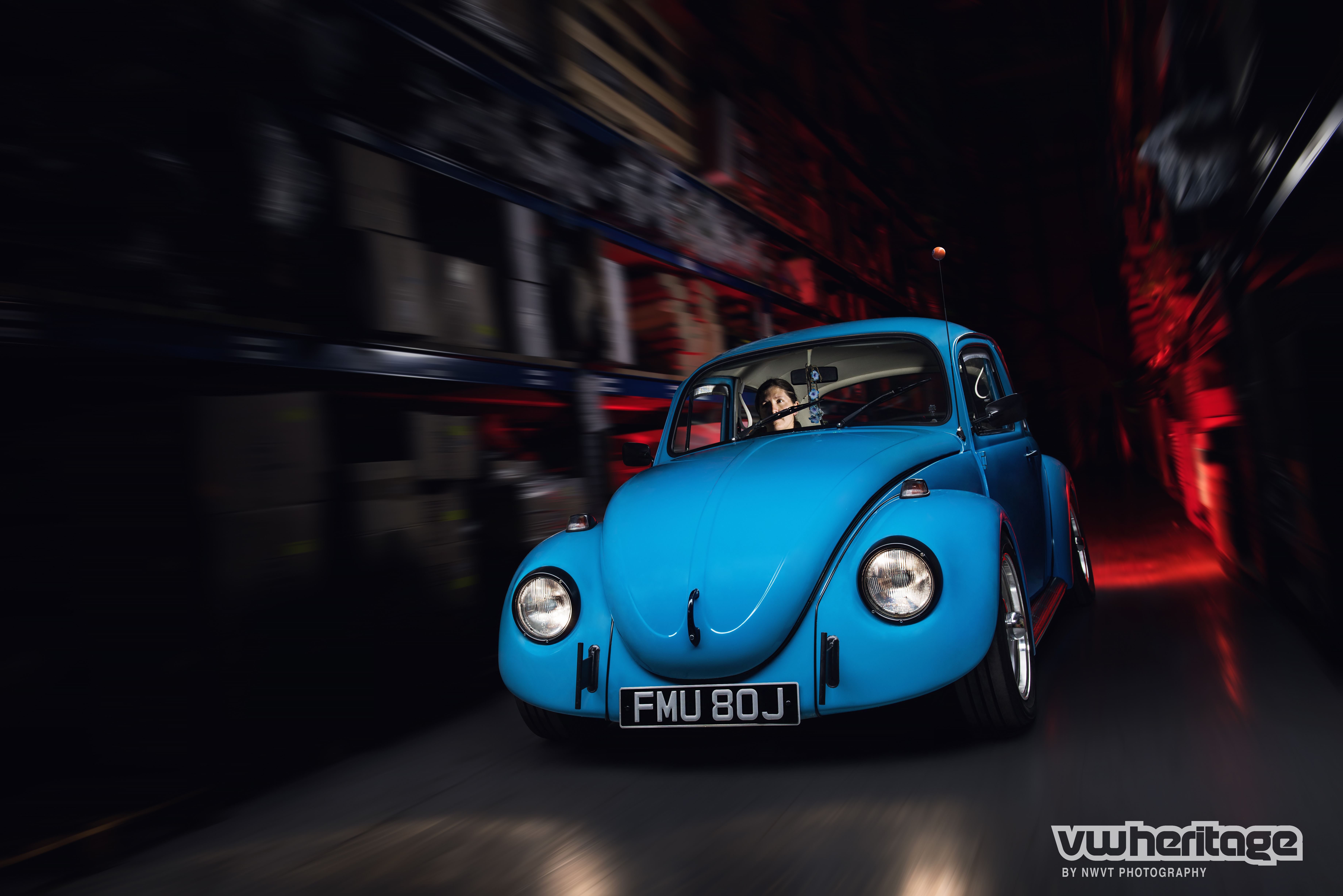 Starting in our sales team, Jo's expertise in all things aircooled has been enjoyed by staff and customers alike, and her specialist subject of splitscreen buses has led her to curate all the content for our Split Bus catalogue on a number of occassions. Jo and her partner Martin also own a particularly lovely '58 Split bus with Devon interior.
In the blue corner…
The car itself was bought as a rolling shell project 5 years ago, and built up by her and Martin (before their little one came along). Keen kayakers, the colour was matched to Jo's paddling helmet, rather than picking a colour from the ususal paint charts.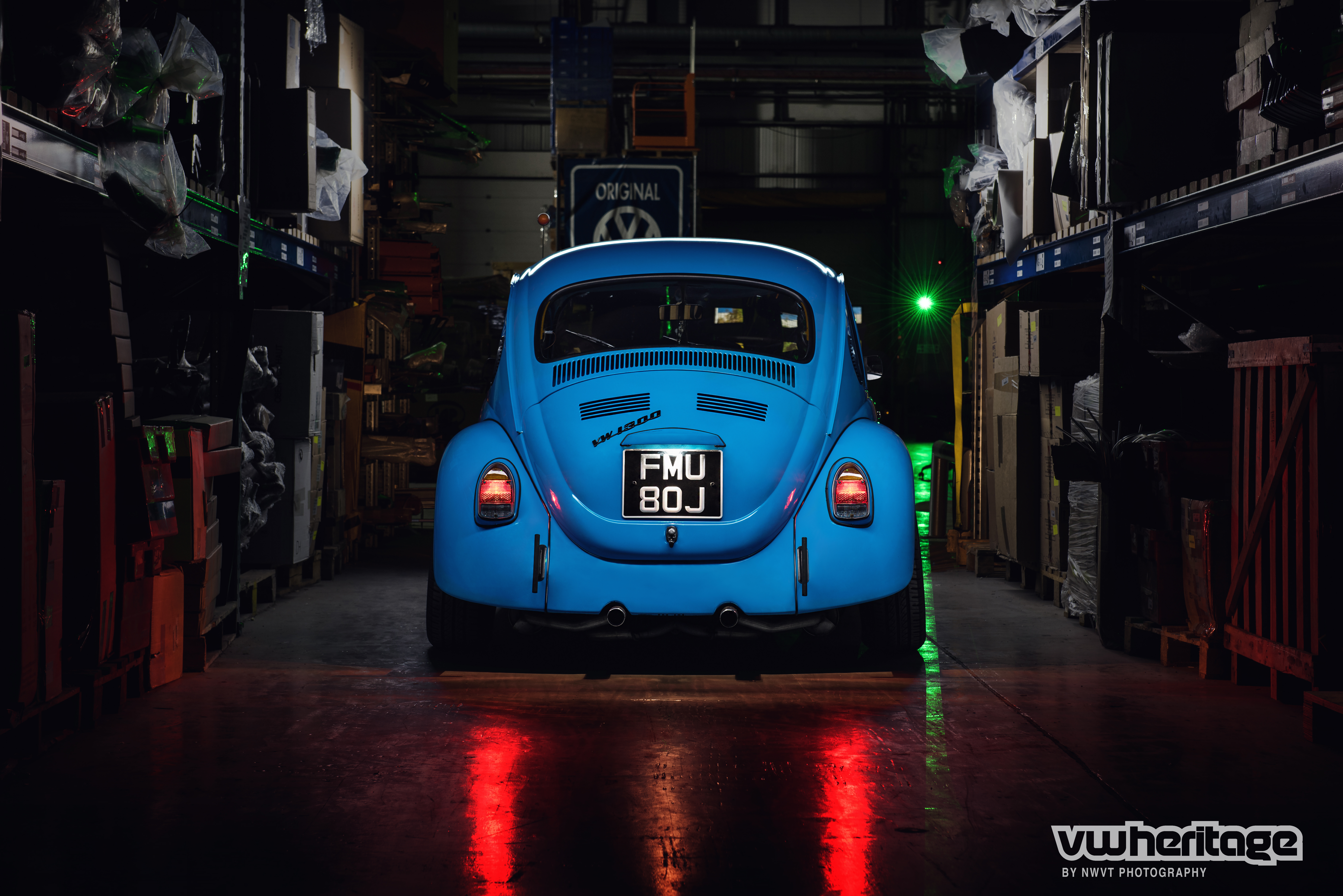 Rolling on SSP Slot Mag wheels, the stance is taken care of with an adjustable full width beam, and a quartet of KYB shocks. Propelling the bug along is a 1679cc motor running twin 40 Dellortos coupled to a CSP exhaust, and an OE disc brake conversion makes sure it comes to a halt when required. Inside, a set of black TMI seat covers and door panels in black vinyl offer their compliments to the lairy hue adorning the flanks outside.
Keeping her bug pointing in the right direction is a classic Mountney woodrim wheel, and gear changes are a thing of pleasure thanks to the Vintage Speed Shifter.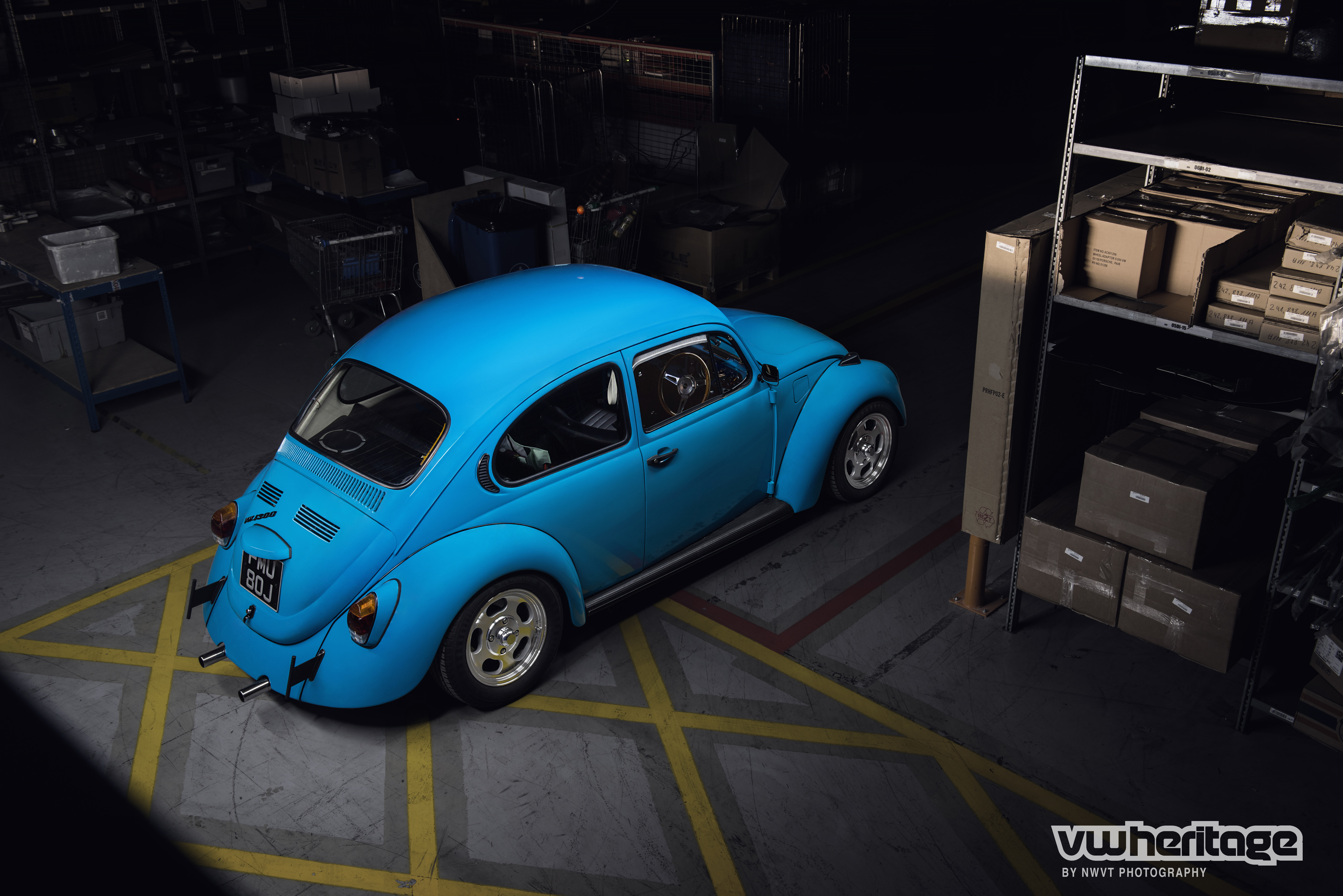 As mentioned above, this isn't Jo's only VW; between her and Martin they also own a Split Bus, a T4 and a 'Berrien Warrior Sand Rail Buggy' which is awaiting assembly from parts left over from a Baja they broke …It's fair to say they've got a taste for Volkswagens!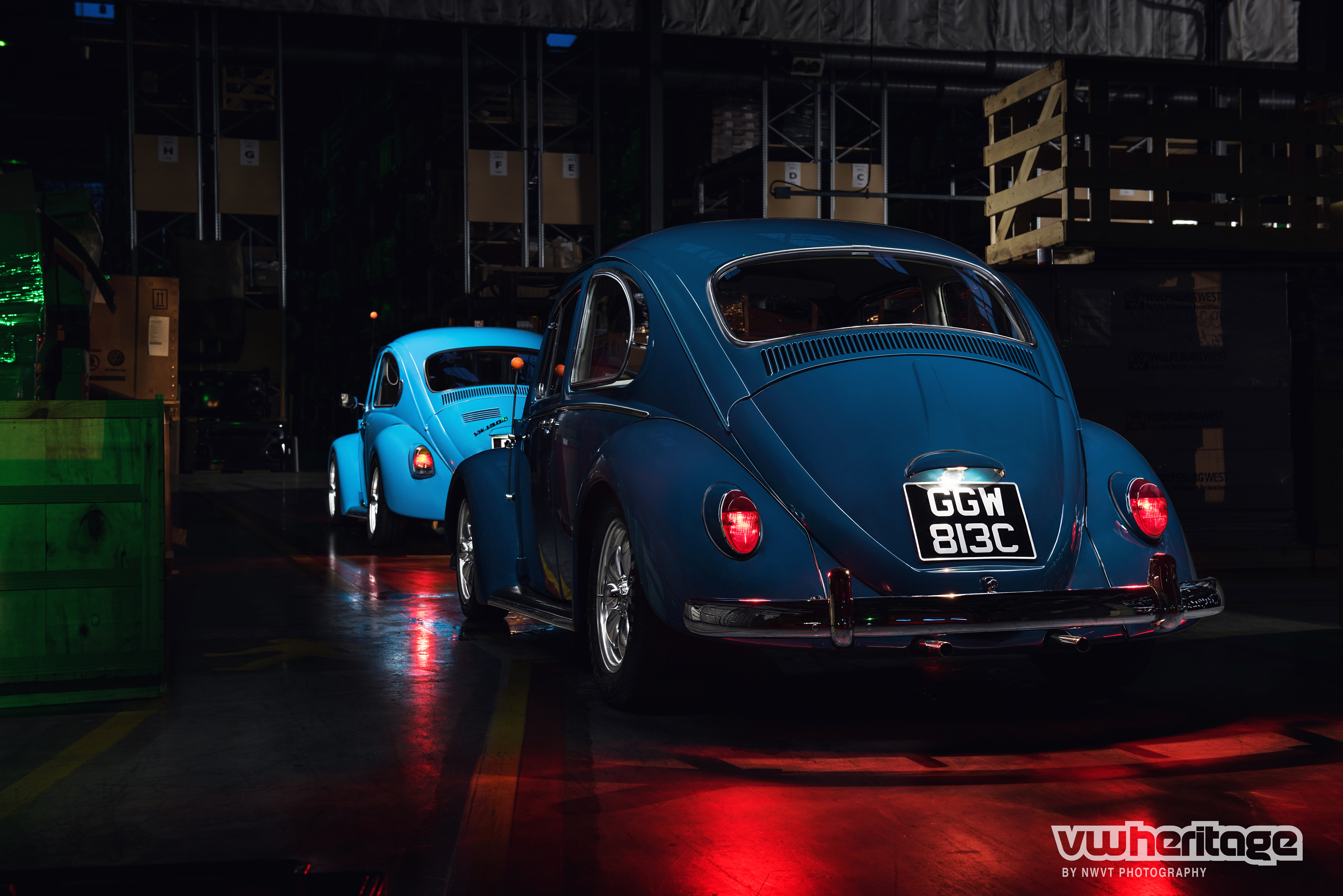 Beetle #2
Our second Type 1 belongs to Dave, our in house web designer. Dave's been driving Beetles since he passed his test back in '99 and whilst he took some time off from aircooled ownership, treating himself to a string of waterpumpers (Golfs, Corrados and a 20vT Ibiza to name a few) we managed to twist his arm and get him working on something old again.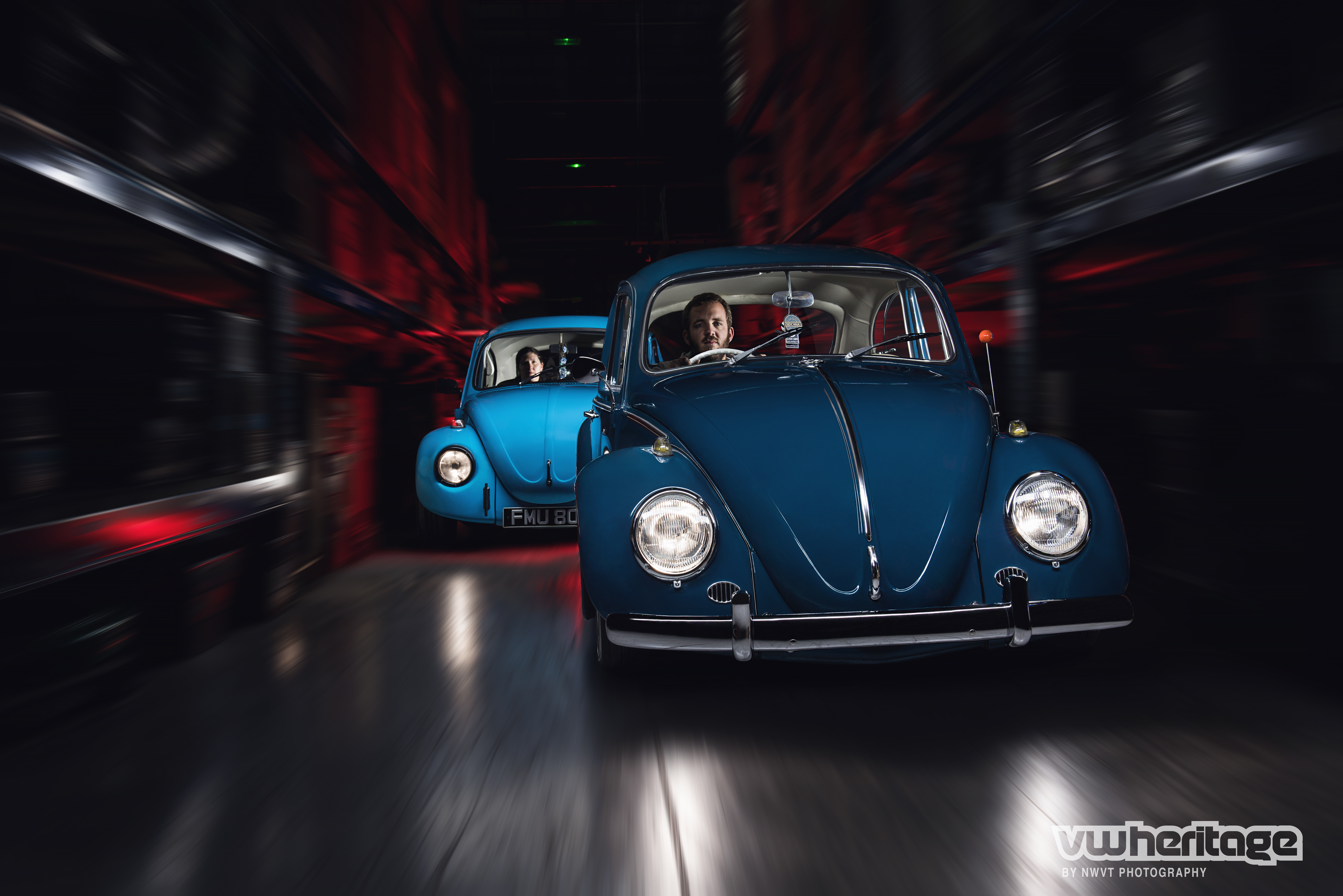 Back in a Bug
Welcoming him back to what he knew best was another 1965 Sea Blue Beetle, a car he'd technically owned since school but it had been parked in a garden for 15 years. Sadly after getting it home and starting to strip it down, it was deemed beyond economical repair, and in the end donated a number of parts to this car; which Dave picked up as a part finished project about a year later.
Since Dave's had this one on the road it's been treated to a full repaint, a complete TMI interior retrim in a fetching vinyl and tweed combo, and now rolls on a set of custom detailed SSP GT5 spoke alloys. After a string of sporty engines, it now potters along pretty happily with a 1600cc twin port, mated to a 1500cc box.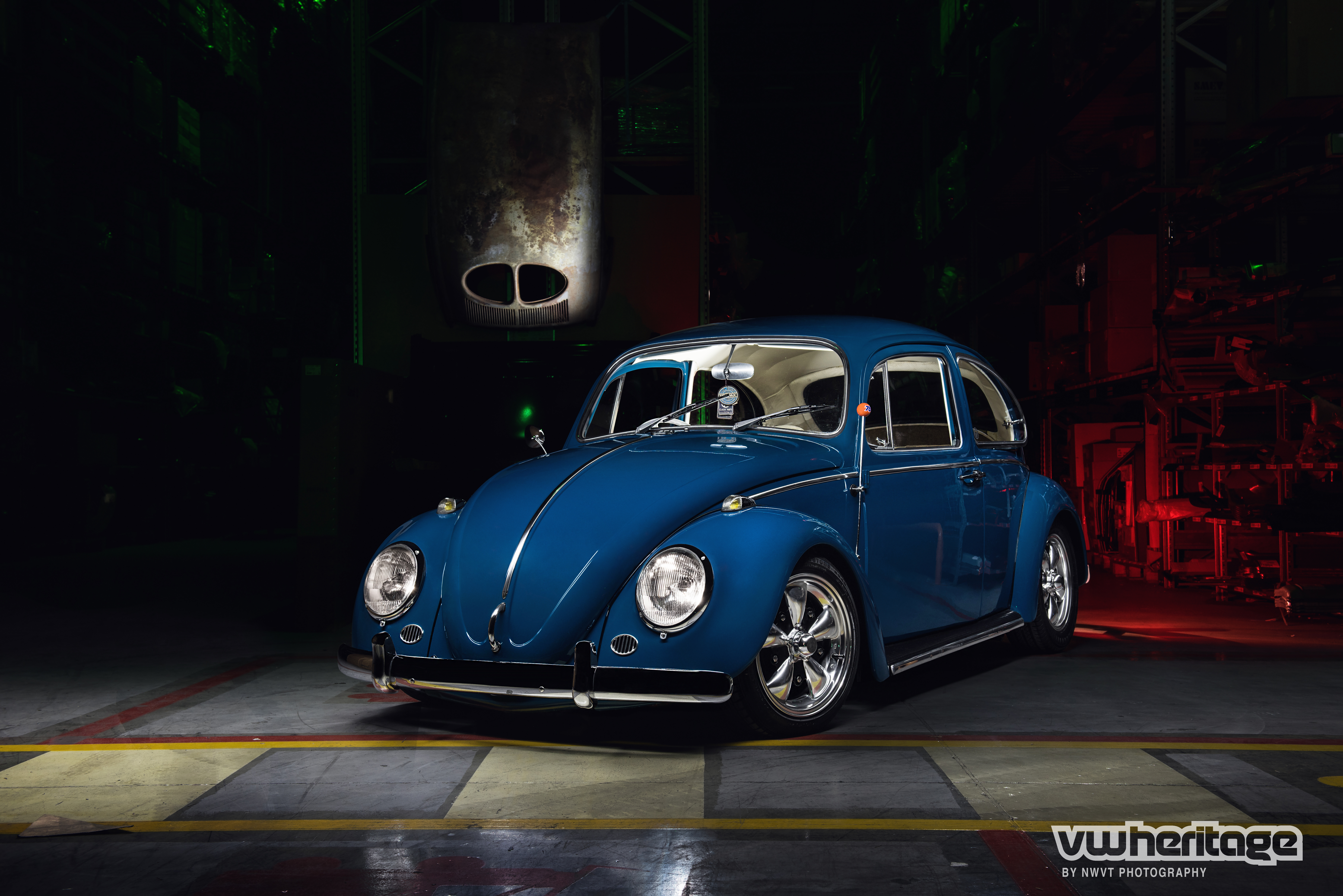 The icing on the cake for Dave's project (apart from featuring in numerous VW Heritage adverts of course) has been a full Volksworld magazine feature, and also having the car displayed in the Esher Hall at Volksworld 2017.
If you liked these photos, then please check out the Bay Window at night shoot that we worked on with Nick from NWVT; it features more light painting goodness, and of course a cool VW!
Andy
The opinions expressed here are the personal opinions of the author and do not necessarily represent the views and opinions of VW Heritage.