Volksworld show is a major focus in the year for us, and once again we were headline sponsors showing support for an event that was celebrating 25 years in 2017.
It's not just about 'turning up and selling stuff', for us it's like a family weekend away and a great opportunity to get some of our non-customer facing staff out from behind their desks, tape guns and telephones and immersing them in one of the best VW shows in the world. Not only do we get to enjoy all the cars, but can meet our customers and friends who all benefit from what we do day-to-day too.

There's only so many adjectives that can be used to describe a VW event, and with Volksworld there's no substitute for being there and sampling the atmosphere for yourself; although we have tried our best to capture the essence of the event in our upcoming short film series… Look out for those on Facebook and YouTube soon.

With a large presence at the show it is important for us to start planning early and more than six months are spent finalising what we'll do and how we'll do it. Each year we try to find a new theme to capture show goers imaginations; something that nods to the fact we sell parts, but is ultimately a frivolous spree of Volkswagens we'd love to own.
We hope this year's Campsite display provoked the desired emotions with a mixture of want, wish and WTF!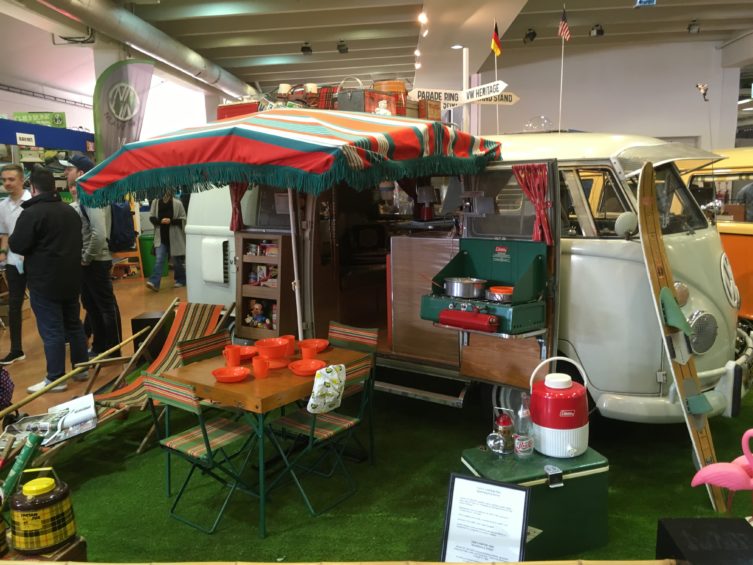 Yohann's stock Split bus with its arsenal of period accessories made for a visual treat. Picture yourself in the south of France, lounging in that deck chair with your favourite tunes crackling over a suitably retro radio. Drink in hand and good company are optional, but likely to all add to the hypothetical oasis you've created in your head.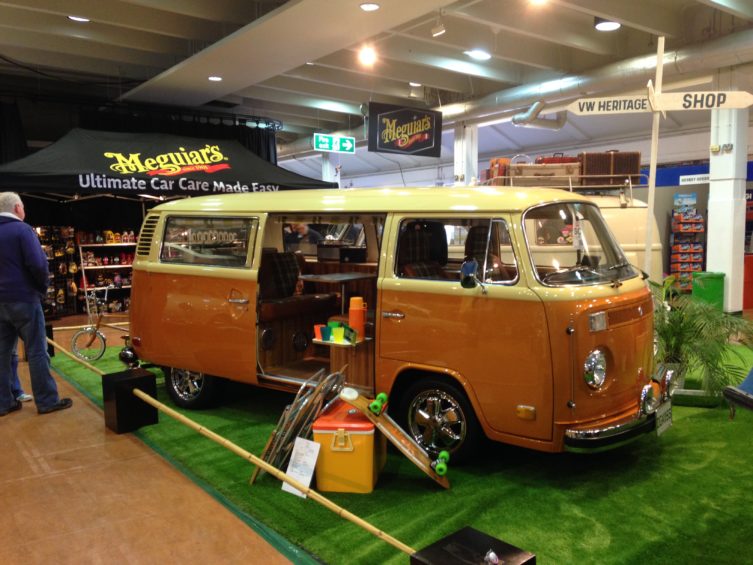 Gary Well's is a regular at our Heretics meets and we were delighted to host his gorgeous late bay, and his trio of matching 70's bikes. In a striking 2 tone colour scheme and sat on chrome SSP Fooks, it really is the complete package –no surprise it's been featured on the cover of Camper & Bus magazine before then.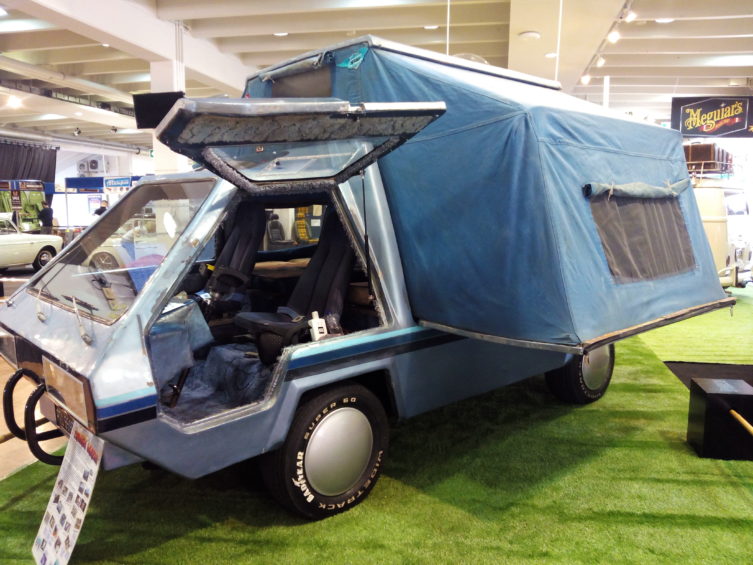 Lastly (well before you chatted to Gill and Sarah in our campsite 'Classic Parts' shop) was Ian Jeffries' infamous Phoenix camper. Some of you may have seen this at VW Action, or on Channel 4's Amazing Spaces programme. Calling it completely bonkers is doing it a dis-service; a bag of frogs lathered in bat excrement would be saner. Built upon a Splitscreen bus chassis, the DIY fibreglass body was something the more extrovert American explorer could have made for themselves from a set of plans procured in exchange for a cheque and a self-addressed envelope. Check out the blog we published about them here.
We wouldn't mind betting it's one of only a few non-Buggy, fibreglass creations to ever be seen inside the show in the past quarter of a century. The great news is everyone seemed to love it! Driving it on all accounts is pretty horrendous though; the arcade game style steering wheel looks crazy, but coupled with the driving position that's only really suitable for contortionists, it makes us doff our hats even more to Ian for bringing it along.
Over at the VW Heritage stand our team were on hand to assist with all manner of VW related enquiries, with the added incentive that customers could win any parts they ordered over the course of the weekend if their order number was drawn from a hat. Six lucky show goers took home over £500 worth of parts between them.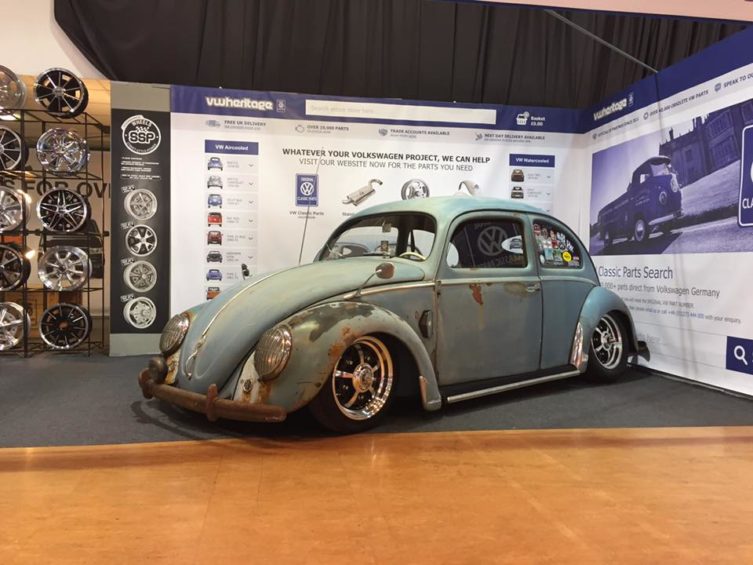 Parked proudly in front of our stand was Aurelie and Nico's '51 Split Beetle. Aurelie works in our trade team and manages orders and enquiries from a lot of our international customers. Her bug might look ratty, but the original paint tells the story of its life, and it sits atop a fully restored floor pan. A number of serious enquiries were made into buying it; but it's very much not for sale.
Volksworld show is a real international hub for us, and in 2017 it brought members of the extended VW Heritage family together from USA, Indonesia, Germany, Spain and France. While Saturday and Sunday are spent in work mode, Saturday night gave us an opportunity to chill out with some tunes back at the hotel. Drinks, dancing and playing pool continued into the early hours for some, but everyone survived to make the show again on Sunday.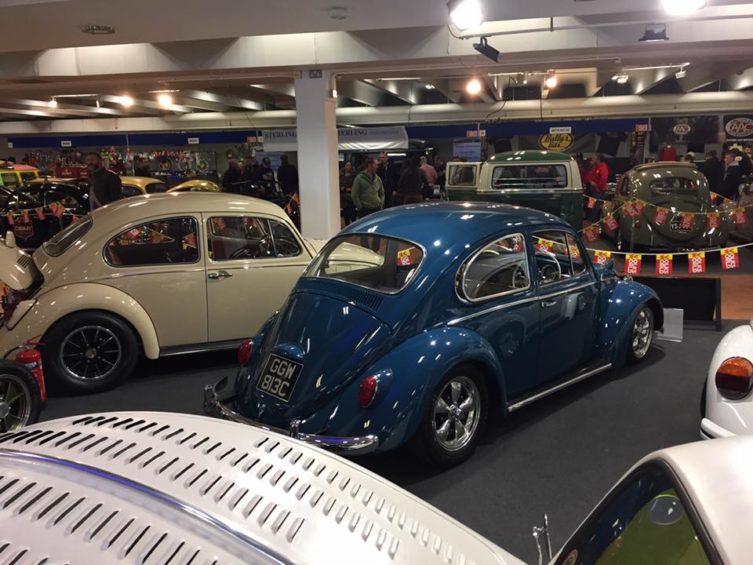 Back at Sandown, in the Esher hall was Dave's Sea Blue '65. We've used it in adverts for the past few years, and it's been featured in Volksworld before. Dave works in our IT and Marketing department and is responsible for web design, making vinyl graphics and keeping everyone's computer in working order! He's owned his Beetle 7 years, and has done almost everything apart from the paint, and headliner himself.
Out in the club parking were two more staff vehicles. Both mid sixties Beetles, but one bone stock and shiny, the other slammed and wearing its battle scars with pride. Alex T from our Customer Service team owns the white Bug; she's currently driving minus a deck lid due to a last-minute transmission raise, and the engine now fouling on the inside. Some deck lid stand offs should fix that eventually.
The polar opposite is Jeff' car. Riding comfortably high, with a stock engine, standard wheels and bodywork fresh from a recent restoration, it's 'lack of lowness' made it stand out in a predominately stanced show paddock.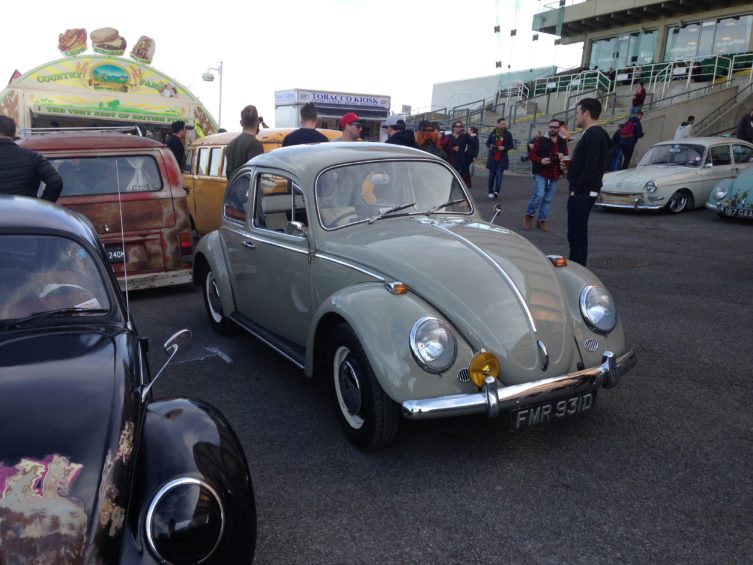 Before we wrap up our personal show report, a quick mention to the guys from RAPTOR. You probably saw their display, and quite possible touched it too. As UK distributors for this fantastic product it was great to have it on show at Volksworld. Our team have already started using it on their projects, and absolutely love it. Not sure what RAPTOR is? Read more about it here.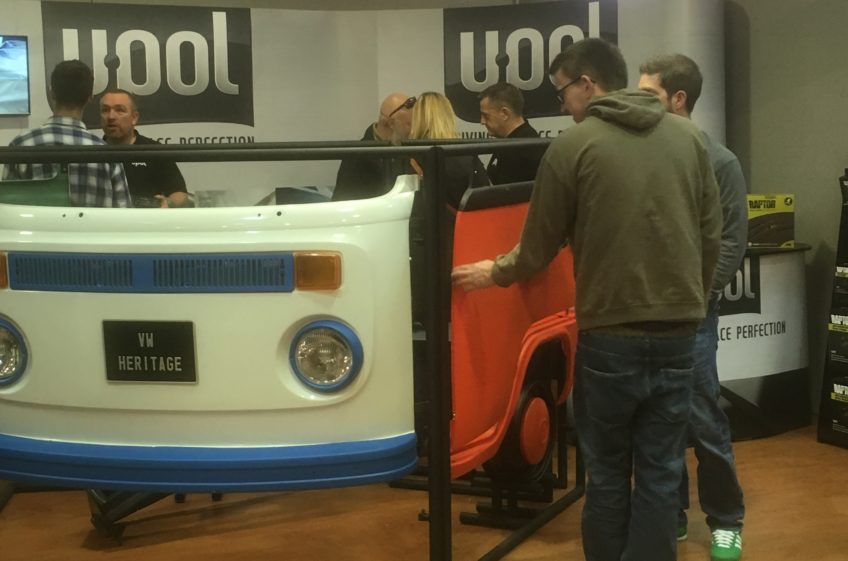 A big thanks to the guys from Volksworld magazine, and Kelsey Publishing. You certainly played a blinder with the weather, and the show wasn't too bad either! We look forward to 2018, and making it even better.. now let's get planning.
Andy
The opinions expressed here are the personal opinions of the author and do not necessarily represent the views and opinions of VW Heritage
This post is also available in: Deutsch (German) Español (Spanish)