From the moment I first saw this Bay Window I knew we should so something cool with it. so, after July's Heretics meet we waited for the sun to set, and did just that. We are super lucky to be visited by hundreds of cool Volkswagen vehicles every month. Each one is special for different reasons; this bus belongs to VW Heritage regular, and local restoration specialist Karl from Wolfsburg Wizards.
A 1969 model, it was imported from Texas, and parades its years of patina like medals on the metalwork. Dropped on a set of detailed Beetle steels, there's nothing fancy about it, it just looks so cool!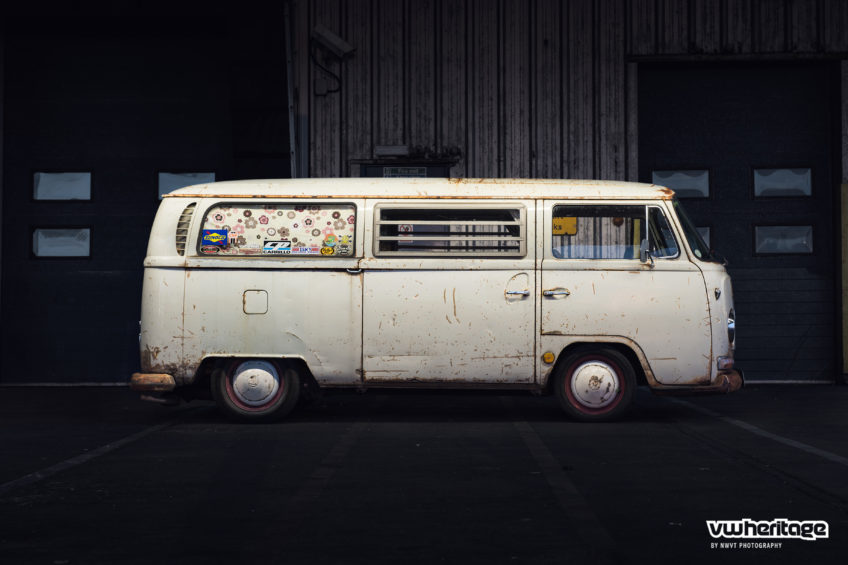 It's a keeper, for now.
Inside the patina continues to the original and well used Wesfalia interior. Karl was going to sell this van, but he loves it too much now. Until the next cool one appears at least…
Over to the photographs. We enlisted the talents of Nick Williams from NWVT. He's done a few shoots for us recently, having been behind the lens for our Golfs in the Forest feature, and also a night shoot in our warehouse too (full article to follow).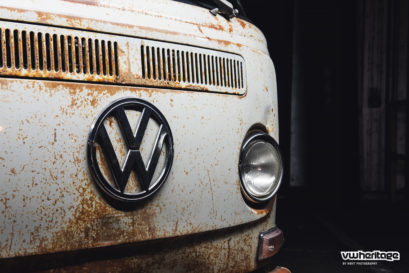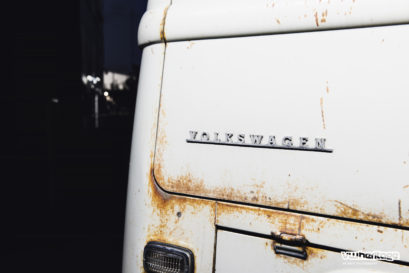 Local Hero.
I'd spotted a local building with a red wooden clad wall, and the plan was to take the van and park it up in front. The red of the wall complimenting the subtle red detail of the steel wheels. However our first trip out was halted with a Police car parked in the way. So our initial shots took place in front of our warehouse doors.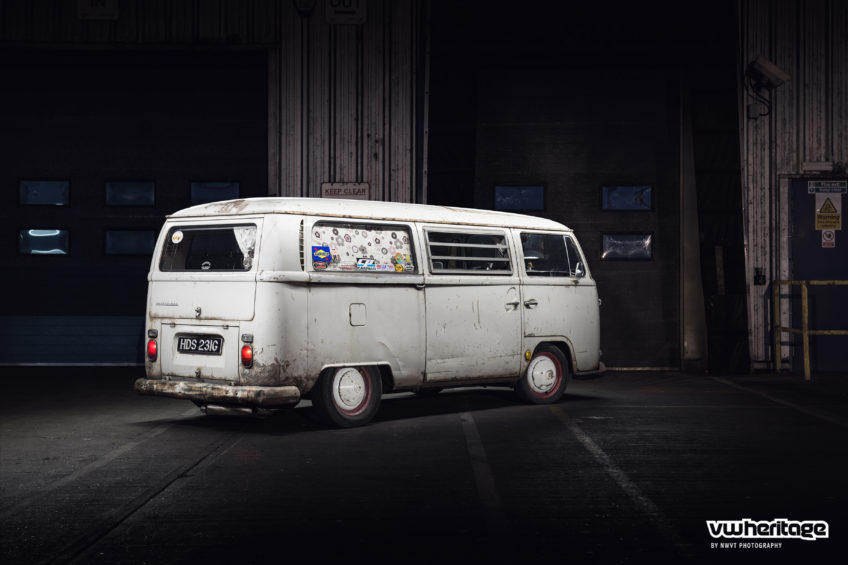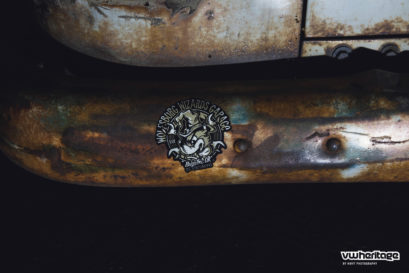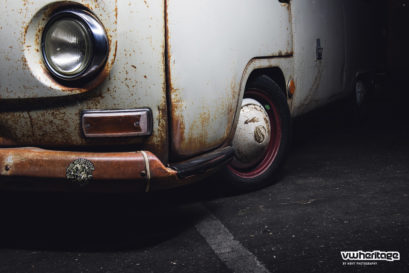 Snapper vs. searchlight.
We spent an hour or so dodging the movement sensor for the floodlights and waiting for the sky to get dark enough for Nick to work his light painting magic. (For those unaware – these shots were achieved with a long exposure, and Nick lighting up individual sections of the vehicle. He then cleverly blends it all together on his laptop, and hey presto!)
Being patient was hard, it had already been a long day, but it was worth it!
An alley, a stones throw away tempted us to try something a little different and treated us to a third backdrop for our evening of extra curricular activity.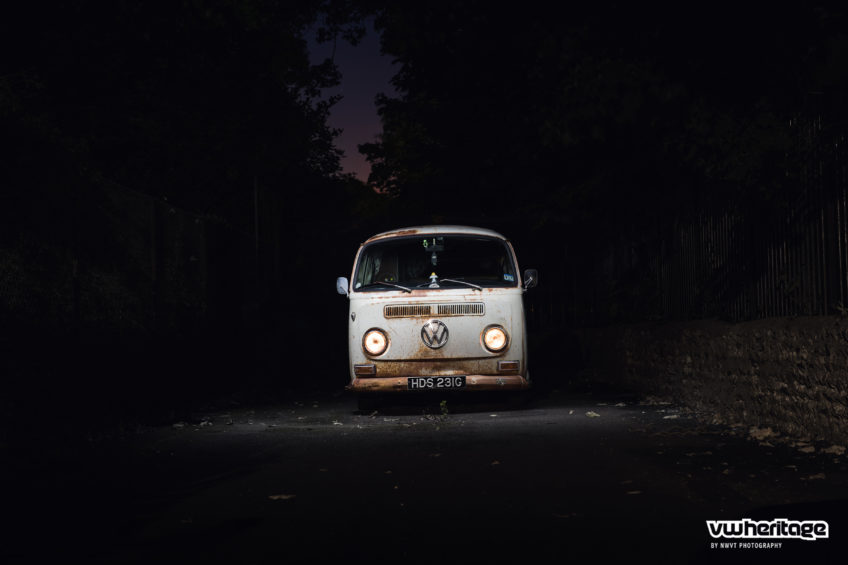 With time ticking by we took our chances again with the 'first choice' and were pleased to see the local constabulary had moved on.  Another security light tested us here too (leaving us twiddling our thumbs for five minutes at a time) and sadly we only managed a single shot, but it worked as I had hoped; although more time and a switch for the searchlight could have returned a handfull of further snaps.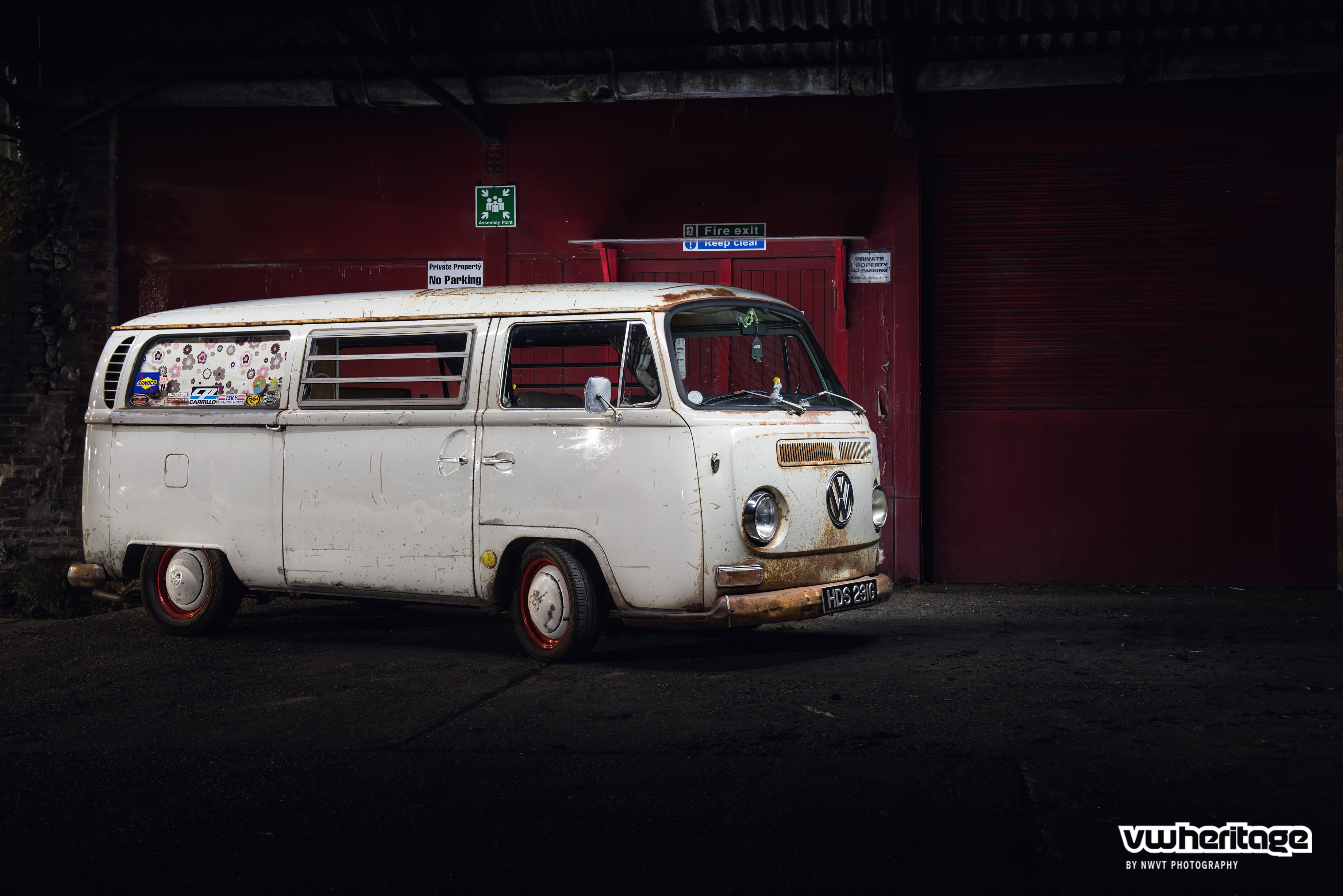 Big thanks to Karl @ Wolfsburg Wizards for the kind loan of his bus for the night and to Nick for the shots.
We're on the look out for more interesting vehicles to work with. If you have something cool to share with us, get in touch!
Andy
The opinions expressed here are the personal opinions of the author and do not necessarily represent the views and opinions of VW Heritage.