We were all massively impressed by the recent success of Bob Beales and David Vardy in Wales Rally GB. Campaigning a 58 year-old historic Oëttinger engined rally Beetle, they out drove, out lasted and basically drubbed their competition, winning their class outright and coming home in 57th overall out of 90 starters. You can read about the Beetle's return to glory here, more about the lead up here and  get a lowdown on the final result here. So what does it take to drive a Beetle fast on a tough rally stage? We tapped into Bob Beales' mountain of experience in an exclusive interview to find out…
VWH: So, Bob, how long have you been driving Beetles?
BB: Mum and dad had a Beetle back in early '60s which I used to drive on the sands at Borth (Wales) where we had a caravan. We went most weekends and I drove on sand to practice clutch control and later to play at auto tests. So that was the start of driving Beetles. I got my licence in the mid-'60s and became the owner of a new 1300 Beetle which became my daily transport. When I started driving it more spiritedly my dad had a word in my ear to the effect that it was still my work car – so a trip to see Bill Bengry resulted in me buying UWP 401 or 'Bertie'. From then on rallies, autocross, autotests and production car trials were the norm.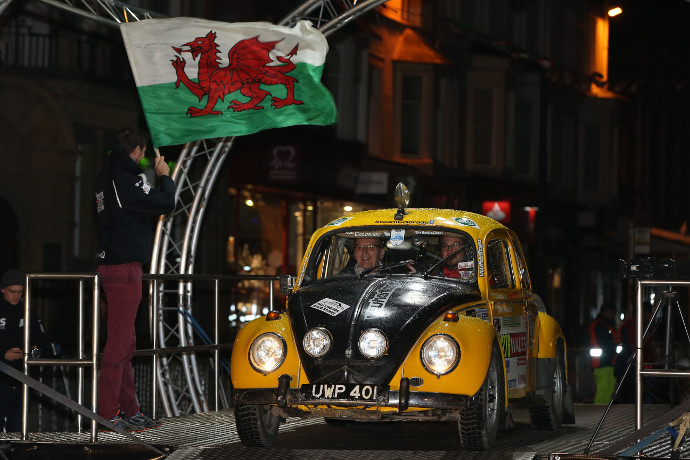 VWH: What are the Beetle's main handling characteristics?
BB: Driving a Beetle is totally different to a modern vehicle. It's not a fast road car by any means, but it is possible to maintain a high average speed. The swing axle, criticised for its poor handling characteristics by the press at the time, can be used to your advantage. When entering a corner too fast it is possible to get the back to step out by lifting off the power then quickly going back on the throttle and steering with the throttle once the correct steering lock has been applied. This technique is not recommended for beginners or on the public roads. As press reporter and autocross expert Laurie Manifold once said – in his day, if he needed to get away from the rest of the press hacks, the Beetle was the best car to do it in as none of the other cars could keep up!
VWH: So what skills have you learnt to make the Beetle into a credible rally car?
BB: Well, I guess one thing is to avoid is understeer. If a Beetle starts to understeer, it's a case of getting the back end loose and controlling from the rear. Obviously 'toe and heel' [operating the accelerator and brake simultaneously with the right foot] smooths out the gear change but on a slow hairpin it is possible to change down and then dump the clutch which has the effect of locking the rear wheels enough to set the back end out before going back on with the power. I would strongly recommend that all these things are practiced on private land not on the public highway!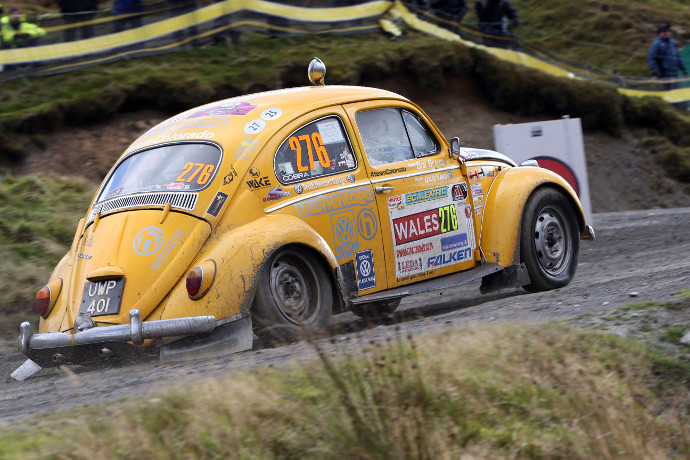 VWH: 4. Where does the Beetle score over other cars from this era?
BB: The Beetle is usually very good on rough and slippery tracks. This is where the lack of power helps – more powerful cars have trouble getting their power down effectively.
VWH: What have been your hairiest moments in a Beetle?
BB: I don't have hairy moments, I drive too slow! However, when running with pre-'65 aftermarket disc brakes the bonding on the friction material failed while going down hill too fast and we lost our stoppers! On a night rally (Welsh Historic Championship event), while again driving too fast, we crested a hill to find an ex-works Austin Healey 3000 coming the other way. We almost ended up on the bonnet, which would have been expensive!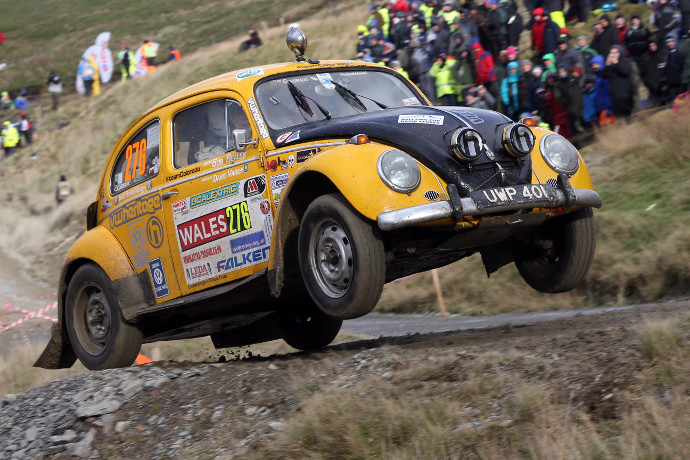 VWH: And the funny moments?
BB: Over the years there have been lots of funny moments. They all bring a smile to my face. It's just great to see the way Bertie is welcomed on rallies. This year I had to get another navigator as Dave was not available. Not wanting to compete in a full Group B Lancia S4, a lady by the name of Lorraine Nixon stepped in. After the event she said that although she had competed in a large number of rallies, including international events, she had never been in a car which attracted so much attention. We had so many laughs on that occasion.
VWH: What was the hardest bit about Wales Rally GB? The terrain, the weather? I guess visibility isn't brilliant in a flat screened Beetle?
BB: I think you've summed up the conditions at Rally Wales GB very well. All the factors mentioned came into play. The worst bit was doing the first stage on Sunday with no wipers working in the wettest and windiest day of the event!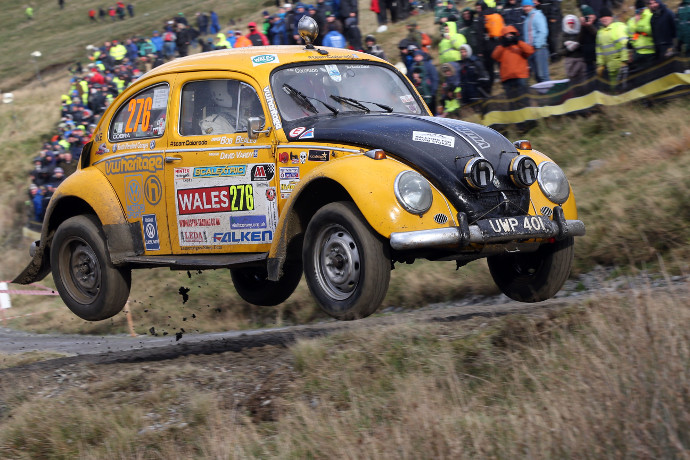 VWH: So how has your 1957 Beetle been modified?
BB: Honestly Bertie is not modified to any great extent. Obviously safety equipment like rollcage, fire extinguisher, safety seats (thanks Cobra) and five-point harness are all totally necessary. The under guarding at the front and from the front of the gearbox to the rear bumper is also important. The front axle has support brackets and the rear axle has slightly revised geometry (although you would not think it from some of the photos I've seen). The gearbox has a lower ratio third and top and clamp brackets are used to hold it in. The clutch is a paddle unit while the engine is an Oëttinger TSV 34R spec which at the moment means about 60-70bhp revving to 8000-plus RPM. The engine therefore has twin carbs, Okrasa crank and cam and standard exhaust. To be honest, there's not much more that can be done as the homologation papers will not allow it.
VWH: In your opinion what would be the best, most cost efficient way of improving a stock Beetle's handling on the road?
BB: For a fast road Beetle I would suggest a slightly lower ride height from standard (not extremely low as you need some suspension travel). I would also recommend good dampers both front and rear, possibly Leda, as fitted to Bertie. I believe a reasonably strong anti-roll bar at the front would help, and if fitted a Z bar with most of the free play removed. With regards wheel size I've always used standard 4 1/2 J rims on the front and 5 1/2 J rims on the rear. I used 165/80R15 tyres but nowadays 175/65R15 would be good. It would be an idea to check speedo error though because the different rolling diameter will affect the reading. (Not an excuse if you get stopped for speeding.) That would, in my opinion, be sufficient for most road Beetles.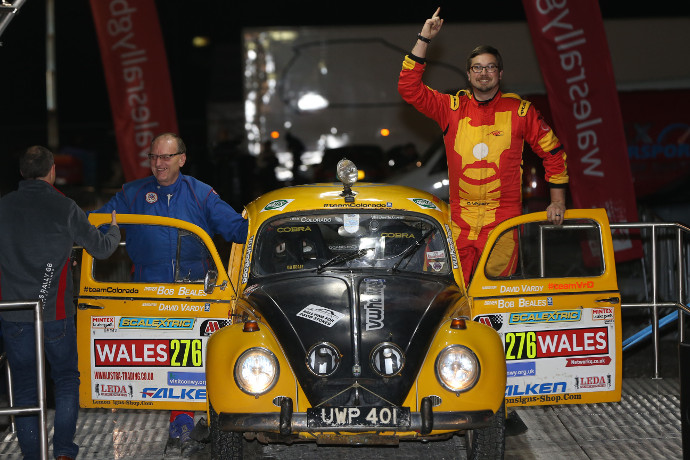 VWH: So what's next for you, David and 'Bertie'?
BB: The first thing to do is a gearbox rebuild (grabbing first and dumping the clutch has taken its toll). Also if we can get some sponsor money the engine could do with a rebuild to get rid of the excessive end float and obtain a few more horses. We would normally compete in the Rockingham Stages in December but with the work required it's a no. The North West Stages which take place in February will hopefully be on the cards. Then I'm not sure except that the car should be coming down to the Volksworld Show to appear on the VW Heritage stand. Then, hopefully, we'll be off to Spain at the start of June and Goodwood Festival of Speed at the end of the month before having a play at the Oulton Park Gold Cup event in August. There's also a rally day at Castle Combe sometime in September, plus a trip to Belgium if money allows then the Herefordshire Motor Club Showground Stages in early November depending on the car and money again. Then, hopefully if we get sponsorship, Rally Wales GB!

Take a look at Bob's Team Colorado VW Historic Racing's facebook page here. And check out the amazing in-car footage from this year's Wales Rally GB… Sweet Lamb,  Garteniog, The Great Orme,  Chirk Castle and the Brenig Power Stage
Ian
The opinions expressed here are the personal opinions of the author and do not necessarily represent the views and opinions of VW Heritage