Having received an email only a week or so earlier with details of Joseph Gibson, and his 'On the Road' exhibition, I was stood at the entrance to the gallery in London waiting to meet him, and find out why he'd chosen Volkswagen glass as the basis for his latest series. If you enjoy VW art, read on…
A new venture
The Old Bank Vault Gallery in London's East End is a new venture, having only been opened since July this year; and at the time of my visit Joseph's VW art was taking pride of place in the window and the main hall. The first thing I notice? Hanging either side of the entrance is a front and rear door from a Mk1 Golf (or Jetta). The windows etched cleverly with the patterns created by soap whilst washing them, held in place with some Mk1 Golf rubber seals we supplied for him.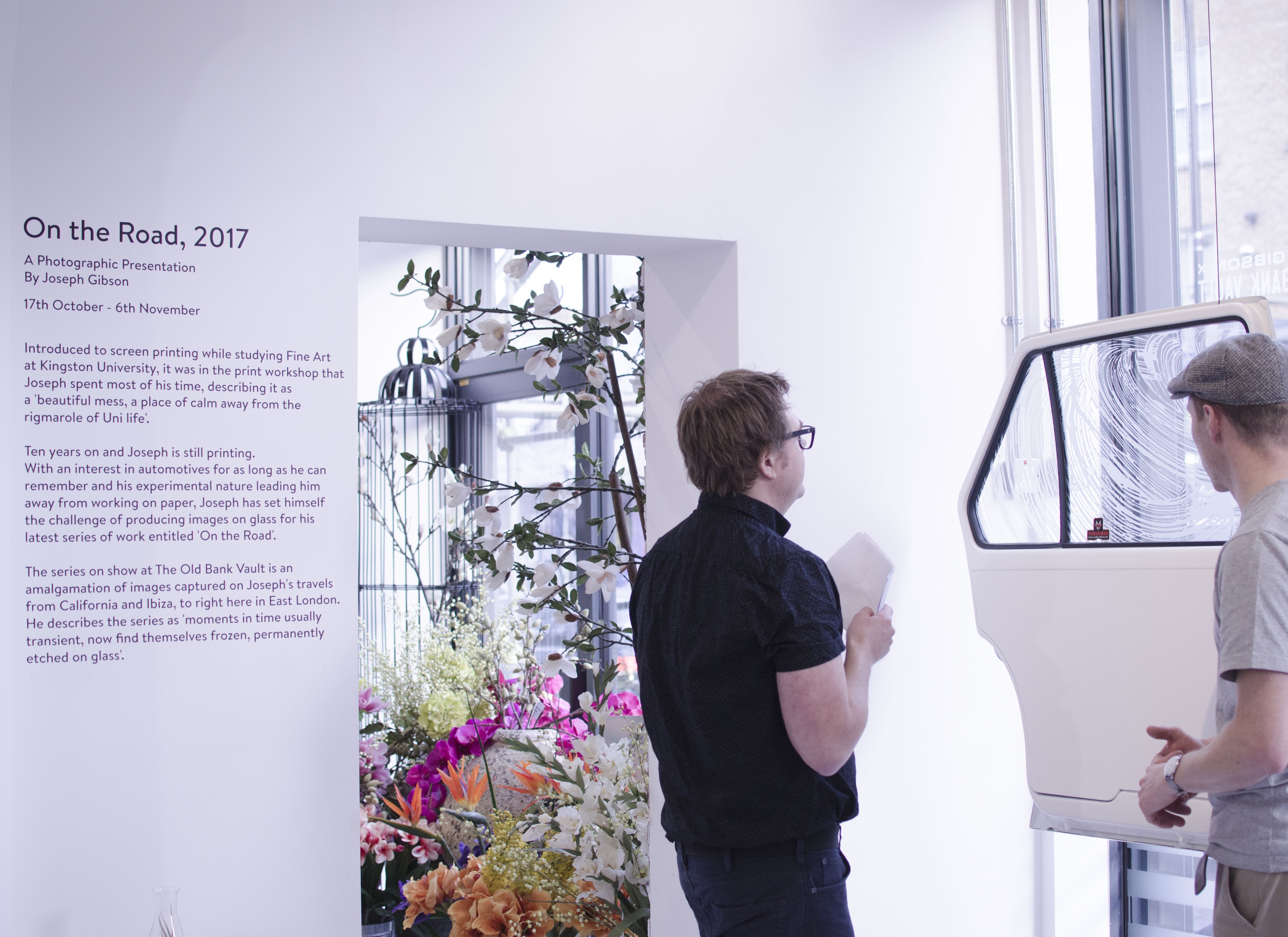 At the carwash
The concept of the collection is capturing the memories that are seen from car windows. Joseph describes them as "moments in time usually transient, that now find themselves frozen, permanently etched on the glass". The photography on display comes mainly from Joseph's travels across the United States, but in the case of 'Suds N/s front' and 'Suds N/S rear' he built a set in his studio so he could create and capture his own suds patterns before applying them to the glass.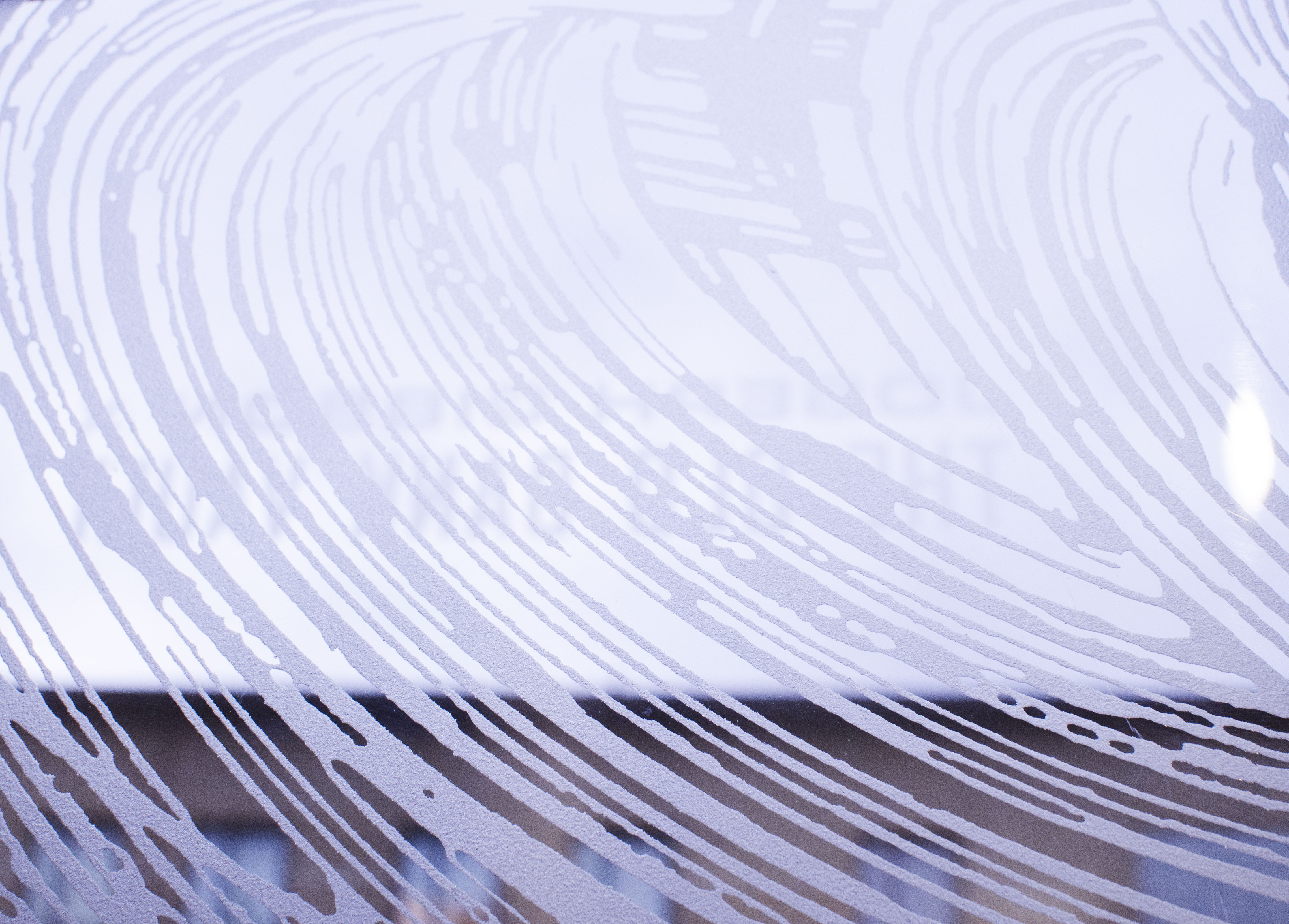 Frozen in time
Taking an image and 'freezing it' on glass is no mean feat, and Joseph told me about trying to find the right method. A similar finish could be achived with cut vinyl, but as Joseph said to me "the first thing you wanted to do was touch it, and you would lose some of that emotion and intrigue with a sticker". Shotblasting is what he chose, and whilst he doesn't do this himself, he's found an expert who can reportably strip the paint from a coke can without damaging the structure of it. Clearly from the results on glass, he's found the right guy!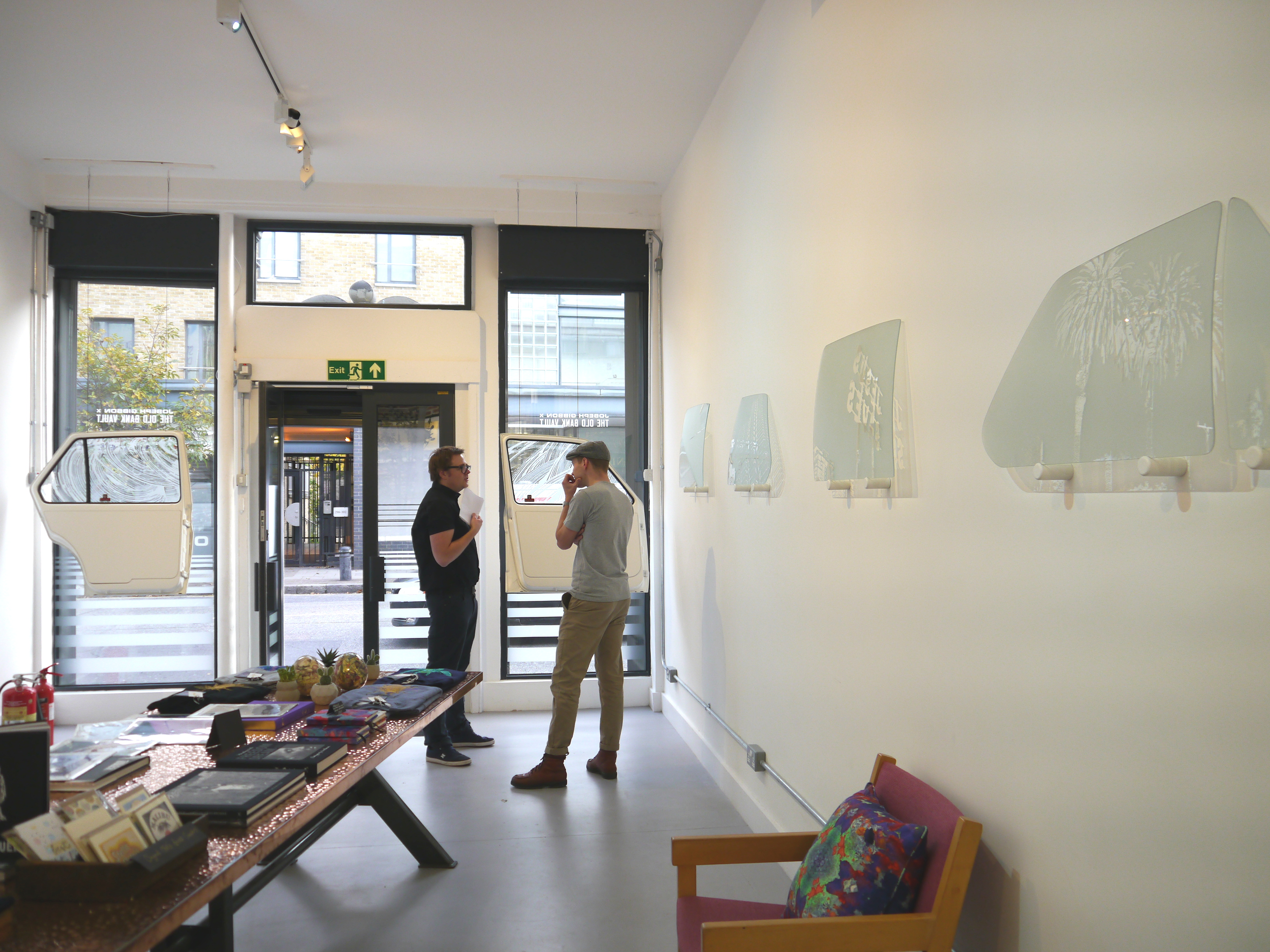 Travelling without moving
Besides the 'complete' doors, there are individual glass peices in the collection too. These have absorbed photos from Joseph's travels and display them not only on the glass, but also as cleverly placed reflections against the white of the gallery wall. The angle has been set to be the same as when the glass is fitted in the car. The dowels that the glass sits upon have also been made by Joseph, a carpenter by trade, and are the suggested method for any new custodian to display them with.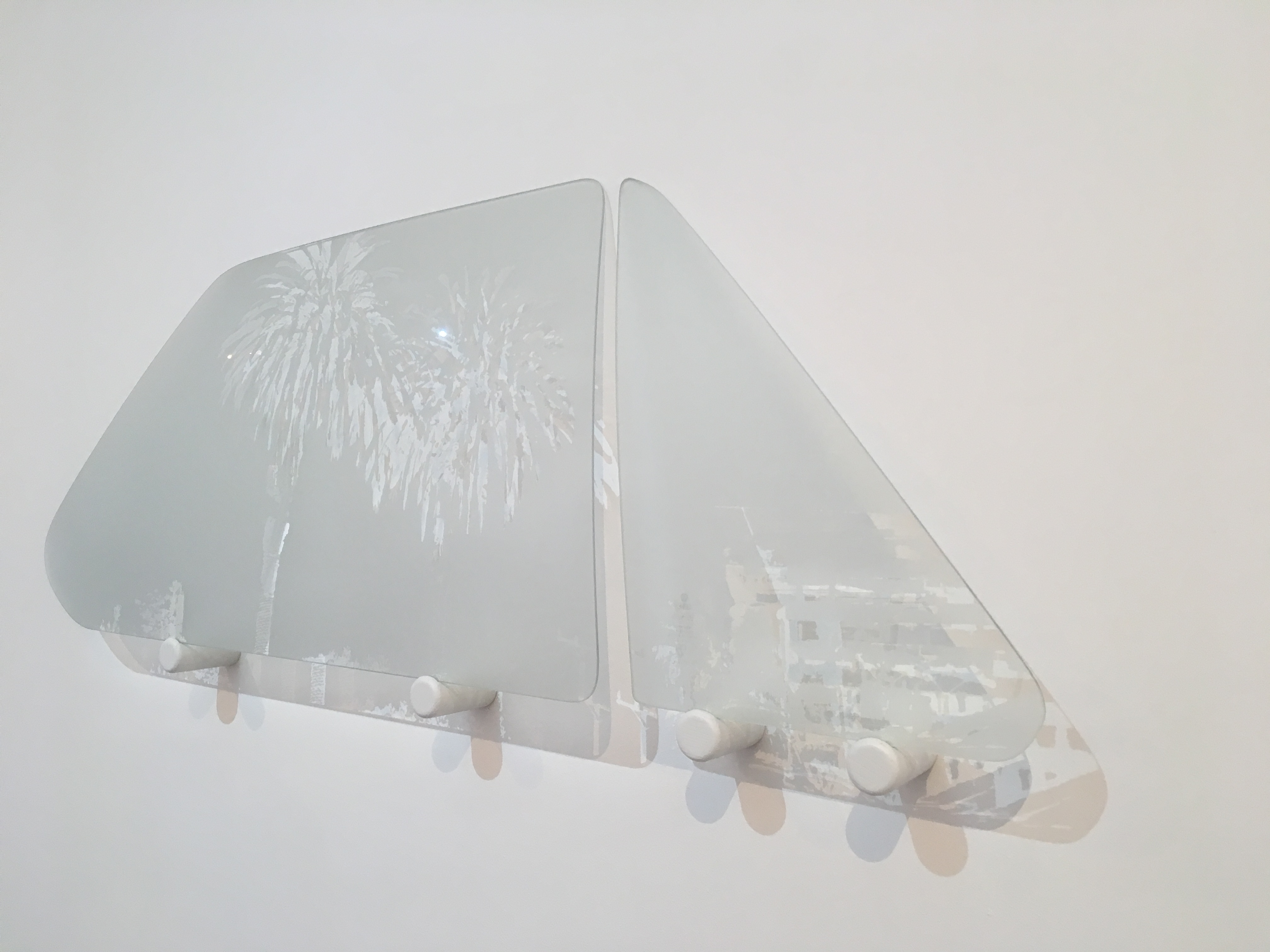 Say no to cats…
My mind starts to get creative…Could he put any image onto any glass I ask? What if someone turned up with their favourite photo and a windscreen? Joseph takes a moment "Yes it's possible, but, well, no, I wouldn't do a cat onto someones window, that's not what this is about". All joking aside, this process wouldn't work for just any photo – there needs to be enough contrast to work with. Enquiries for commissions are welcome but this isn't a service he's about to start offering to all and sundry.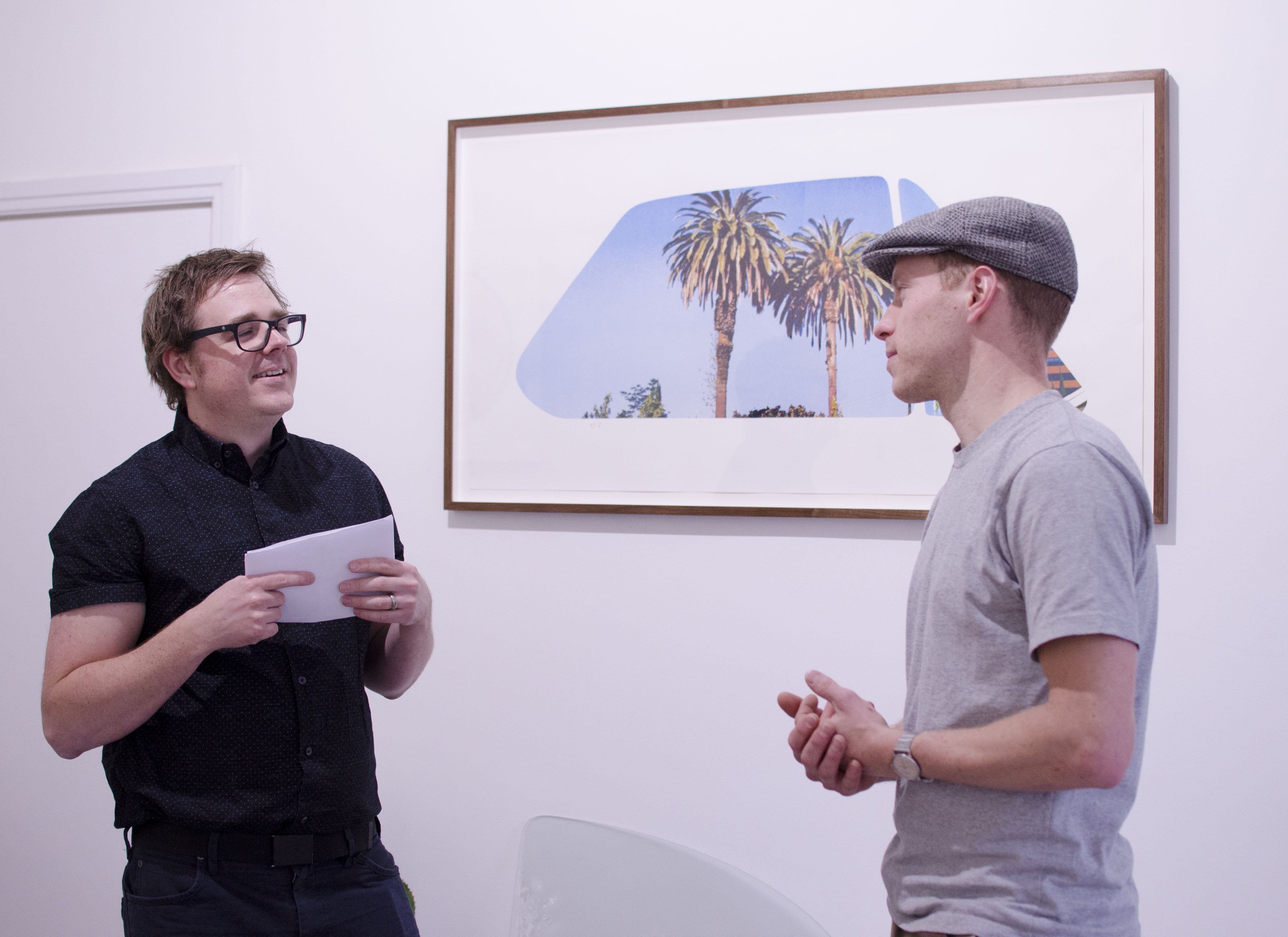 Limited Edition Palm Trees
Over on the other wall is a the only colour in the exhibition, a limited edition 4 layer screen printed piece with palm trees displayed through a front quarter light and rear side window from a Mk1 Golf. Joseph explained "I'm well aware this isn't strictly correct, as they wouldn't normally sit next to each other, but I prefered the shape that these two windows created". Throwing my VW anorak to one side for a second, I have to agree with him, and the colours and form work really well within the wooden picture frame.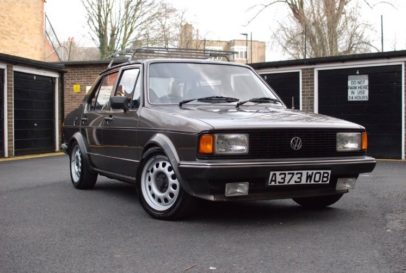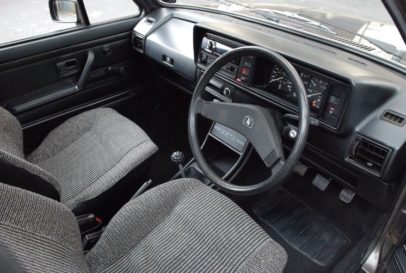 No show pony
What attracted me to this exhibition in the first place, was not just a personal interest in the artwork, but the story of the artist. Joseph owns a Mk1 Jetta, which is currently off the road receiving a 2litre 16v swap, before it's shipped off to the bodyshop for a full repaint in its original bronze hue. This won't be a show pony though. Joseph will be using it daily around London, carrying tools during the week as he works producing sets for TV programmes; and at the weekend taking his artwork to events such as the 'Art Car Boot Fair' where he was first spotted by Sim Takhar, the Co-Founder of The Old Bank Vault gallery.
Joesph has owned the car a number of years, having previously driven a Polo saloon, and a Nova saloon prior to that. His connection with 'booted' vehicles of a certain age is very clear to see, and he recalls how his first car, the Nova he actually sourced for a TV company… to smash up. He begged them to not to but they still did. Such was the attachment to the retro Vauxhall though, that when filming stopped, he took it home, fixed it up and drove it around.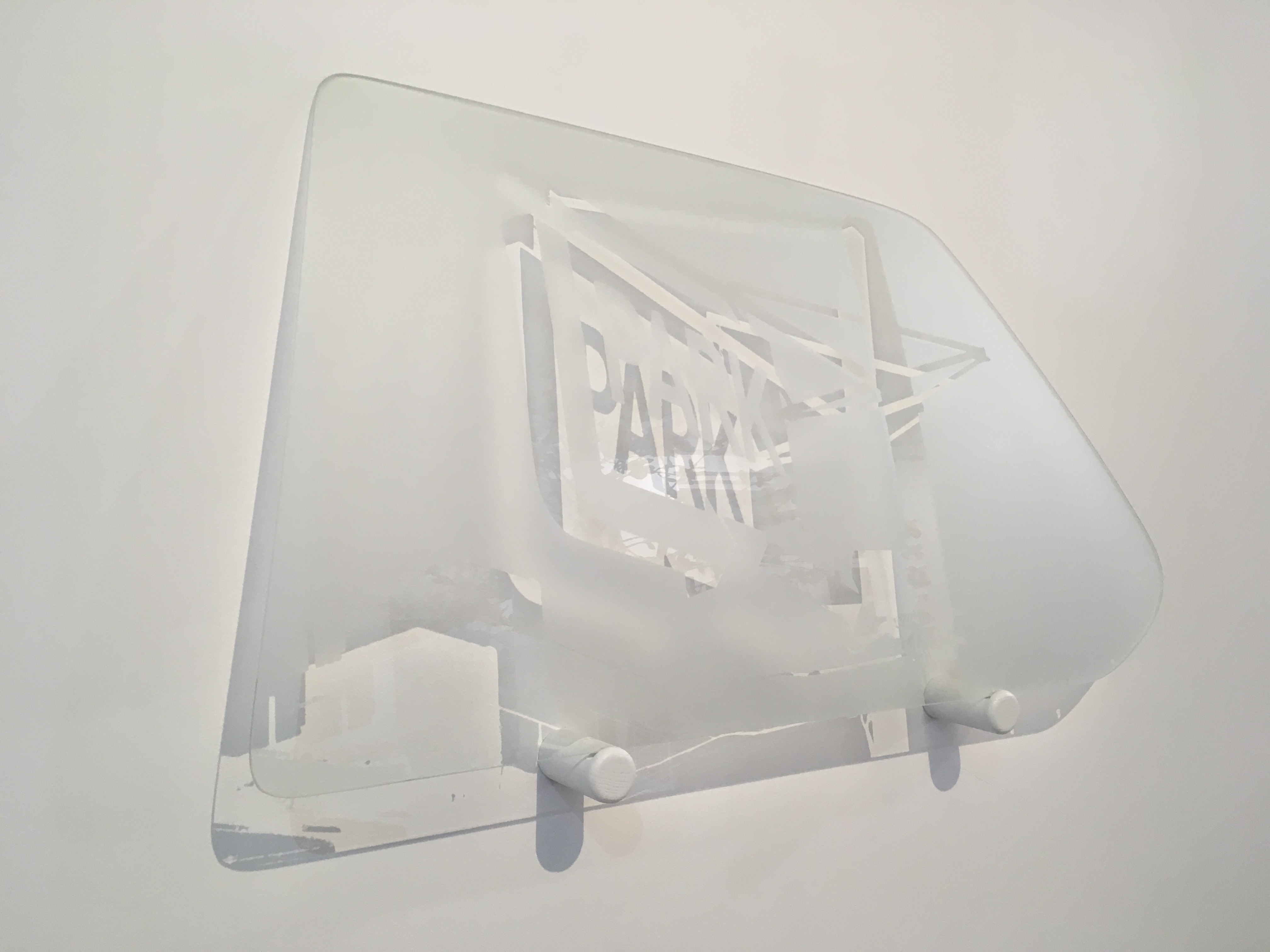 VW art for VWs
Joseph, naturally as the creator of these works has plans to produce a couple of bits for his Jetta when it's back from its makeover. "I might add a few palm trees on each side" he says "although I'll produce it as a negative, so those riding in the back can still see out".
With our conversation coming to a close I take a glance over the gallery price list. Sadly I won't be splashing out on any of this Joseph's work today. The limited edition colour screen print starts at £500, without the wooden frame, and the breakable bits are more than a 'bag of sand' each (that's £1000 for those who don't speak cockney).
Off to Hong Kong?
"It would be great if someone walks in here today and buys the whole lot" says Joseph "but it's not just about that. This is a project I felt I had to produce, and I'm pleased I've had the chance to display it like this. In reality the exhibition will be taken down and split up; a couple of pieces will remain here at the Old Bank Vault, while others may go on display in different galleries. I have a contact in Hong Kong, but I'm a little nervous they would get broken in transit…."
Thankyou to Joseph for talking me through his VW art exhibition and his Jetta project. Also thanks to Sim and Courtney at The Old Bank Vault, Hackney Road for their hospitality, and taking photos while we chatted. We look forward to seeing Joseph and his Jetta down at VW Heritage when it's back on the road again.
Found this interesting? Take a look at our blog about VW Beetle art here.
Andy
The opinions expressed here are the personal opinions of the author and do not necessarily represent the views and opinions of VW Heritage.