We all know the humble Volkswagen Beetle is a design icon in its own right, but these artists took the car's basic form a step further in their quest for artistic expression. So what do you think – would you like one of these in your garden, lounge or workshop?
Sphere we go
Ichwan Noor effectively rolled a 1953 Beetle into a ball to create this dramatic sculpture for an art exhibition in Hong Kong. Nicknamed 'The Maker' Ichwan's Beetle Sphere takes the Beetle's curvy shape to the extreme – but it's not a 'real' Beetle. Basically, he created a spherical polyurethane replica of a Beetle, then cast it in aluminium. A totally separate spherical interior was added with original Beetle parts added afterwards to complete the illusion. He's carried out the same process to create a Beetle cube!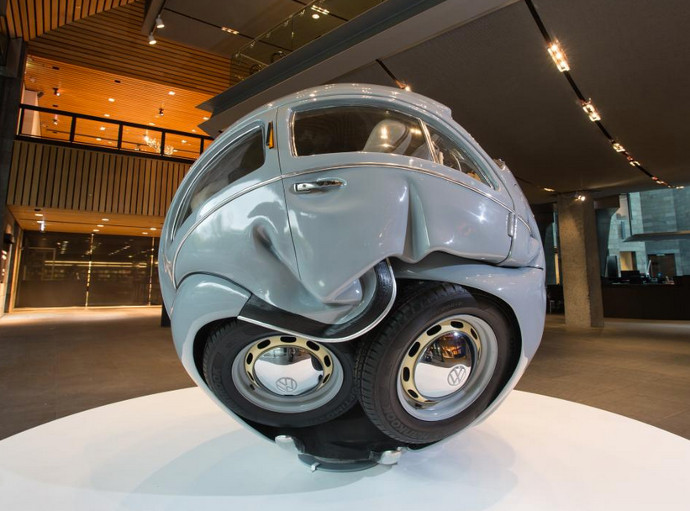 That sinking feeling
No, it's not a shot from Wolfsburg's paint dipping facility. It's actually a piece of art by Ivan Puig which forms part of a collection called Crecimientos Artificiales – or artificial growth. The Spanish born artist specialises in letting his sculptures 'drown' but the exact explanation of why a white Beetle has been partially submerged in what looks like a room filled with milk remains somewhat illusive.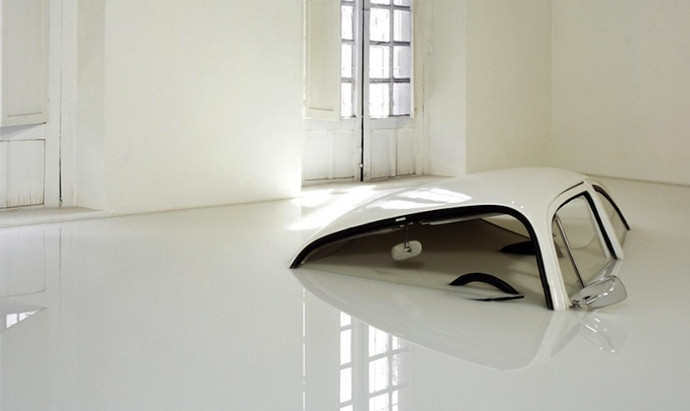 Concrete creation
Featuring a curled up woman on the windscreen, this Beetle is made from concrete and sits at the bottom of the ocean in Cancun, Mexico as part of an underwater modern art installation. Weighing 8 tons, the lifesize Beetle was created by Jason de Caires-Taylor from Canterbury, Kent and lowered to its underwater position by using special buoys. Apparently the sculpture is designed specifically to house marine life, hence the holes in the side and internal living spaces for lobsters and crustations.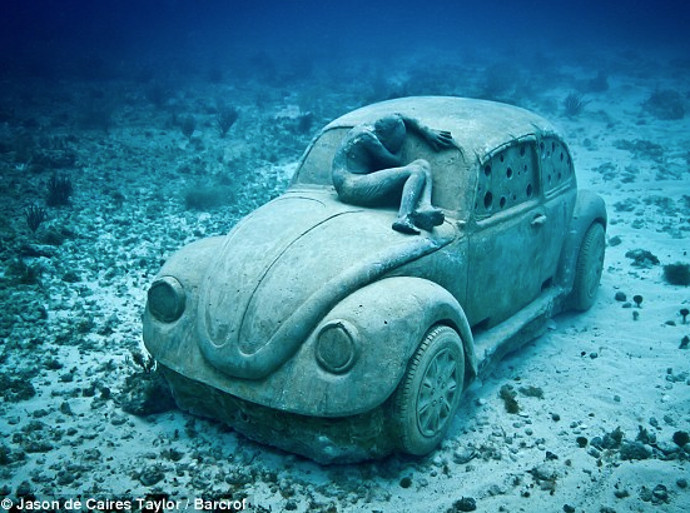 Rod Iron
Lee Miller built this intricate iron framed Beetle using bent iron tubing, basing it on a stock Beetle platform. It's fully road legal, apparently, although we're not sure how it would fair in a smash! On a positive, you would never need to wash it.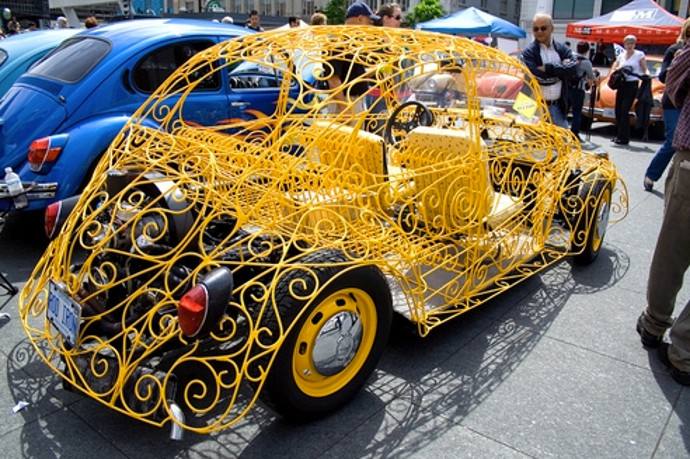 Part player
Damiån Ortega started life as a political cartoonist before stumbling on the idea of taking Beetles to bits and dangling the dismembered parts on pieces of wire. His most celebrated work, Cosmic Thing, dates from 2002 and takes on the visual form of a 3D workshop manual with the 1989 Beetle seemingly dangling in mid air. Reportedly, he snapped up a badly damaged Beetle in his native Mexico and paid two teenagers to take it to bits.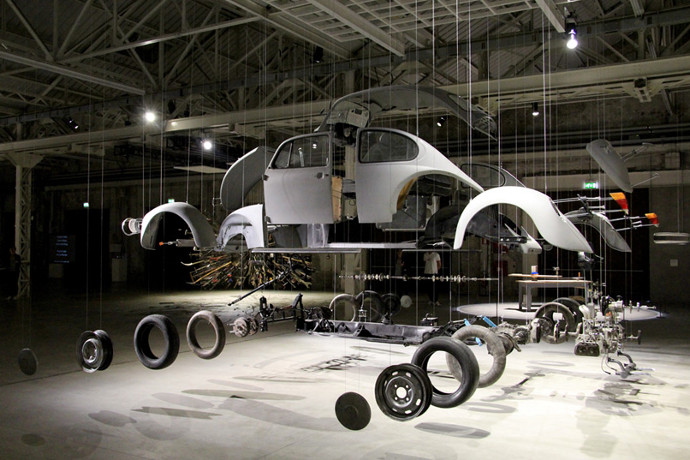 Said Ortega: "I like the idea of splitting, opening things up to try to understand that the system is not a single piece." As far as we can ascertain he's created two other variations on the same theme, one showing bits of Beetle trim and a piece with a gearbox and brake parts laid out on the floor, a bit like a skeleton.
Beady eye
Adorned with more than 2 million seed beads, along with various bits of yarn and resin, this colourful Beetle work of art was presented to the Smithsonian's National Museum of the American Indian in 2012. It was made to raise awareness of the Huichol Indians and the beads were applied by hand, the father and daughter team behind it taking eight months to complete the task.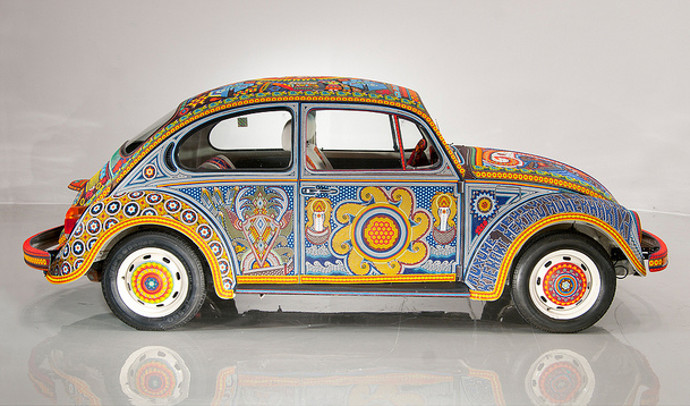 Between a rock…
This poor Beetle forms part of an outdoor sculpture park at Matera in Italy. Why they decided to crush a Beetle is anyone's guess. How they actually lifted the rock on to the Beetle remains even more of a mystery. Must have been some heck of a crane!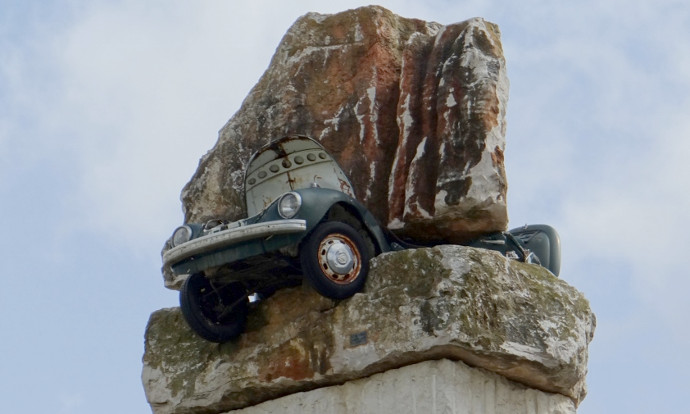 Flower Power
Taking the Beetle's organic sixties hippy appeal to the extreme, Flower Power, by Stefan Rohrer, was made for a garden show in the German village of Villingen-Schwenningen.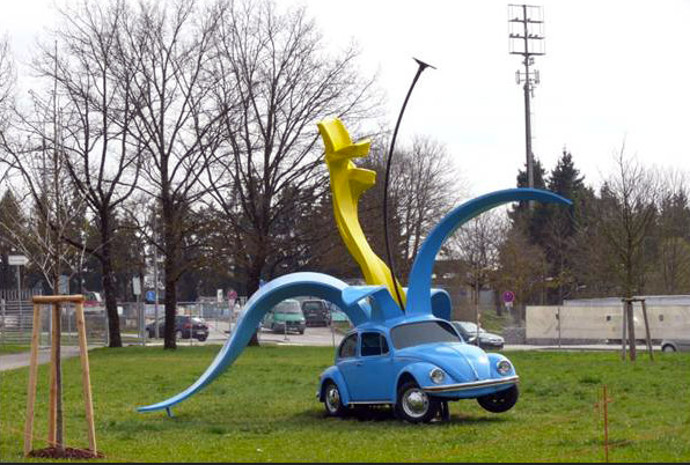 We're not sure if it was made to be climbed on, but the blue 'leaves' seem to resemble a children's slide and we can't help think kids would find it hard to resist the temptation of climbing up to that yellow perch or scaling the dizzy heights to reach the steering wheel. The Beetle itself looks to be in pretty good nick (and relatively intact) and we're suprised someone hasn't whipped off the headlights, bumpers and hubcaps.
Ian
The opinions expressed here are the personal opinions of the author and do not necessarily represent the views and opinions of VW Heritage.
This post is also available in: Español (Spanish)