Car colour is a very personal thing, and to an extent it reflects your personality. Yellows, bright reds and vibrant greens suit the more flamboyant among us – greys, blacks and silvers are for the more reserved. As a manufacturer, it's a case of catering for all tastes and as fashions change, by necessity, the colour palette being offered has to change at the same time. Here's our guide to VW colour trends and how Volkswagen always seem to come up with the perfect combinations…

Spice of life
A good example of a spanking new colour, launched to reflect changing trends, is Tumeric. The shimmering yellow, more likely to be associated with Indian food than cars, now appears on the latest Golf and Arteon. As its creator, VW's Susanne Gerken, explains: "A colour like this wouldn't have been possible 12 years ago." New trend colours such as this normally appear first in fashion, then on furniture and later on vehicles – and as VW didn't have a yellow in its colour palette, the warm yet striking shade fitted into VW's range perfectly. That said, it took them a while to get it spot on. "Finding the right shade takes two to three years, from the first draft to the finished paintwork," said Gerken.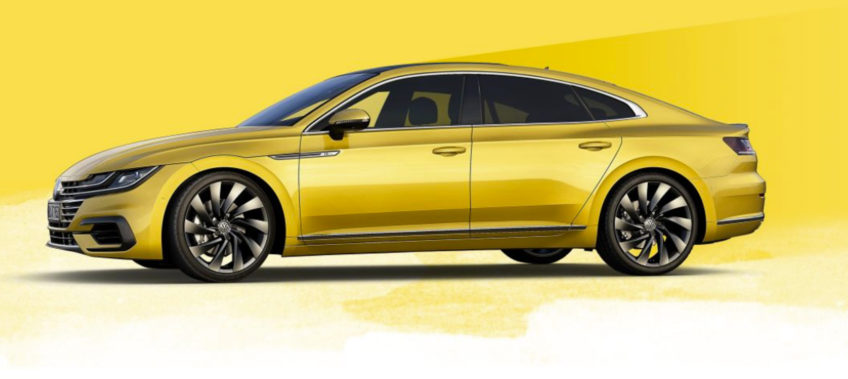 World of colour
Fascinatingly, VW has found that colour preferences vary according to where you live. Each country has its favourite hues, dependent on taste, regional traditions and social connotations. Designers need to find out whether a proposed new colour is desirable, tolerated, forbidden or even venerated. Climate also plays a role; in countries where the sun always shines, different colours have a different appeal.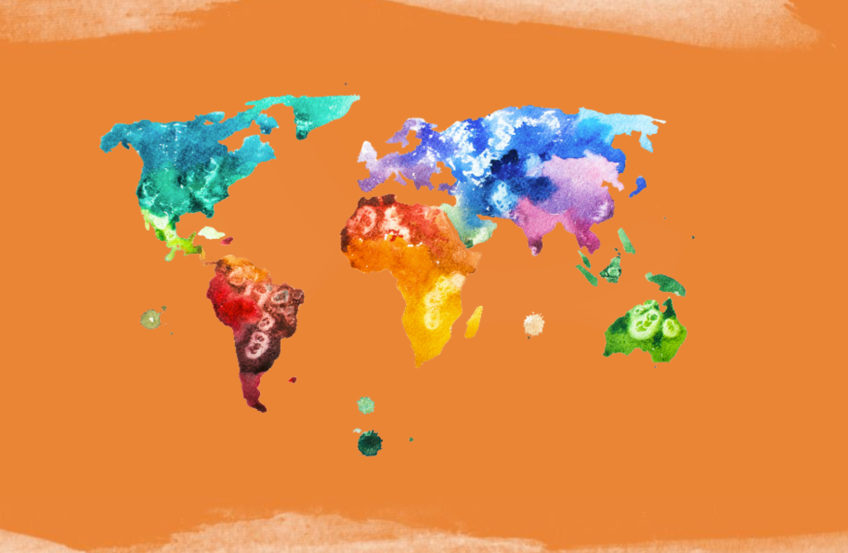 Colourful '70s
If you think we lead a less colourful life these days than we did in the 1970s, judging by the choice of Golf colours offered, you'd be right. Marino Yellow, Mars Red and Cliff Green were all par for the course when the first Golf appeared in the mid-1970s. As far as we can ascertain, the first 'black' Golf didn't become available until 1980. Colour palettes these days are much more muted, with Astrid Göring from VW's Colour and Trim Team admitting: "They weren't thinking so much of the resale value. Black, white and grey are, of course, safer colours in this respect."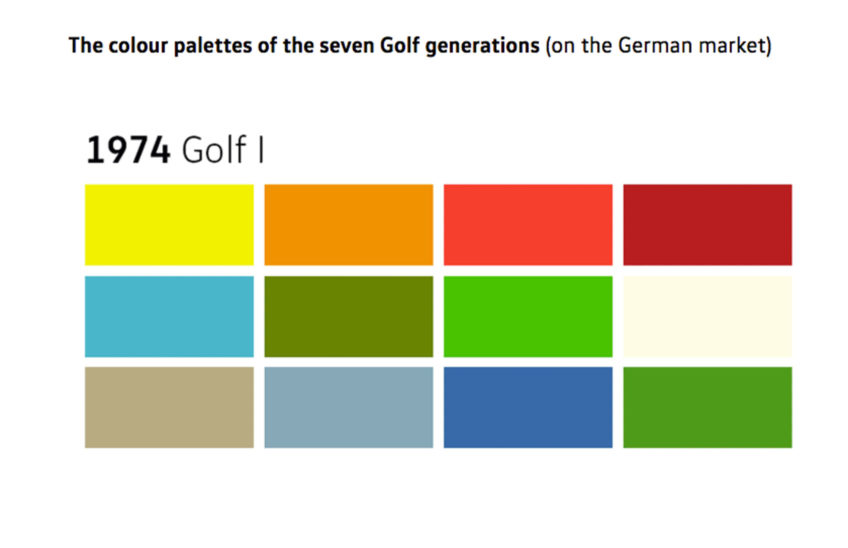 A matter of taste
Some colours just don't suit some cars. You wouldn't find a Touareg in a solid light blue or bright red, for example, while plain colours with no effect work best on cars like the Up! and the latest Beetle. White used to look rubbish on big cars, but it's surprising the number of new, bigger VWs you see in white these days.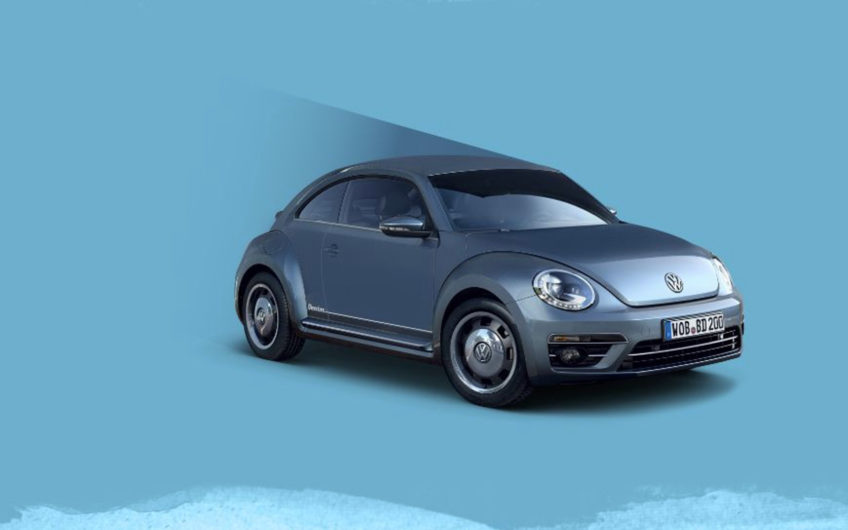 What's trending?
Okay, so what colours are most popular at the moment? Surprisingly, according to VW, green is at the top of the list and is liked for its 'positive connotations'. Said VW: "It signals hope and it's a natural colour between warm and cool, and stands for nature and growth. We published a blog about the various VW greens available here. Green was an unimportant colour for Volkswagen for a long time," says designer Susanne Gerken. "This has now changed. Everyone has become more open to it, both within the brand and in society." And there we were still thinking green cars were unlucky! Other popular colours at the moment include turquoise, Bordeaux red and orange.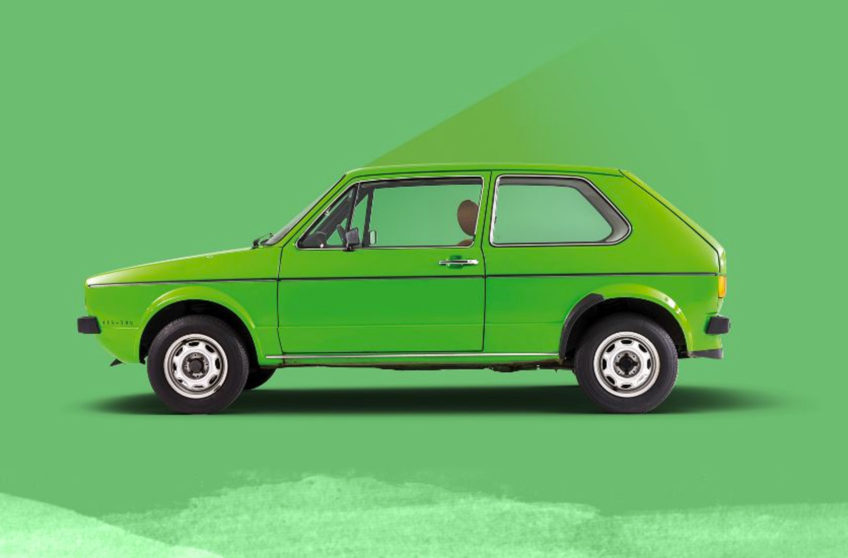 Signs of the time
VW reveals that customer demand for niche colours has increased in recent times. They even painted a Beetle for the US market in pink, apparently. However, how adventurous people are when it comes to colour choice reflects how optimistic an individual is feeling. But it's the reverse of what you might thing… "In difficult times, customers are often bolder; they feel a desire for change and positivity and buy more colourful cars," says designer Astrid Göring. "In good times, on the other hand, people become more cautious."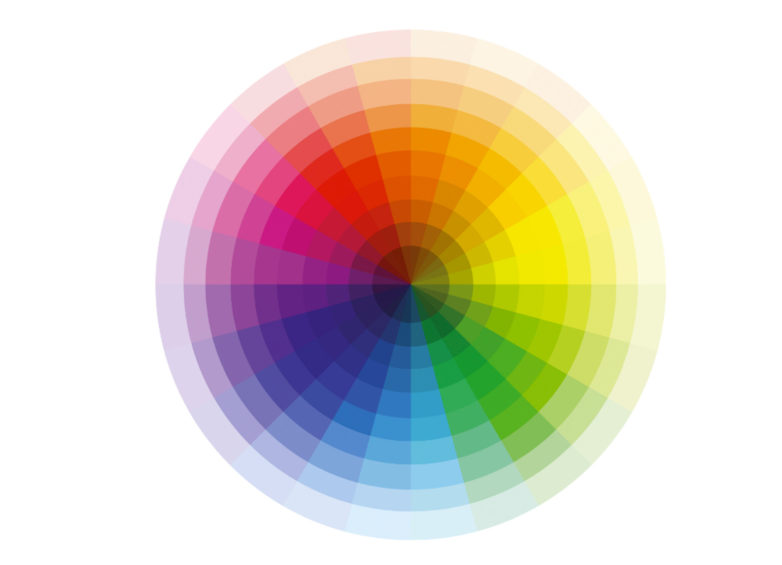 White's still all right!
Volkswagen currently offers a range of 80 different colours and are adding different shades all the time. However, some colours remain perennial favourites; Tornado Red is a good example. And the most expensive colour option in the entire range? That accolade goes to Oryx White for some reason. Since the early pastel shades on the Beetle, white has always remained popular – something that still comes as something of a revelation to those in the know at VW. "We were surprised it remained popular in all the different technologies and became a real alternative to silver," says designer Susanne Gerken.
The opinions expressed here are the personal opinions of the author and do not necessarily represent the views and opinions of VW Heritage.
Ian