Continuing where the T25 left off, in fact overlapping in production the T4 was an instant favourite. An inline front mounted engine powering the front wheels was the set up of choice for the first commercial to be officially called the Transporter by VW. Being manufactured from 1990 in Germany, Poland and Indonesia, the production spanned 14 years. There are 6 main body types that can be found on the T4 models.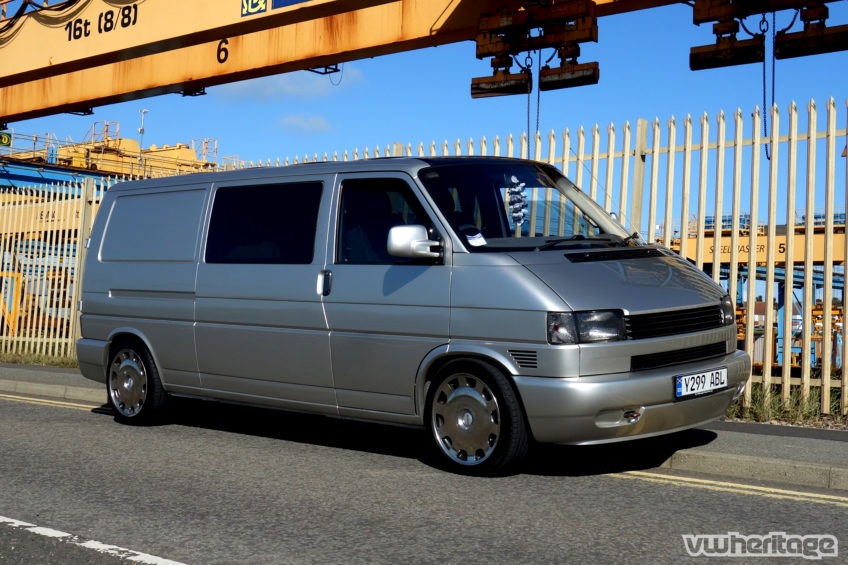 Kombi
These have rear side panels, and windows between B and C pillars.
Panel Van
These have no windows in the sides behind the cab, used mainly as a commercial vehicle.
Caravelle/Eurovan/Multivan
These have windows all round.
Single Cab
As the name suggests, with the back being a pick up, and one row of seats in the front
Double Cab
Or Crew Cab, these have seating behind the driver for additional passengers, and a smaller pick up bed.
Camper
Originally only offered as the Westfalia conversion by VW, many Camper conversions have followed, some with high tops, others with pop up roofs.
All models were offered as either short or long wheel base.
1996 saw the introduction of the VR6 engine in the T4 range, and as a result a facelift to the Caravelle models that were to receive it in order to accommodate the larger V6 engine.
Commonly referred to as the "Long Nose" the facelift was exclusive to Caravelle models until 1999 when the option was offered on all of the range as a replacement to the earlier "Short Nose".
Know your Model!
As well as having a unique chassis number, each T4 has a list of PR codes. These codes are used to identify the parts used on each unique vehicle. They can be found on the sticker either on your service book or in the drivers footwell on the underside of the fusebox. Having these numbers to hand will really help when ordering parts for your Transporter due to so many changes in specification over the years.
Decoding your chassis number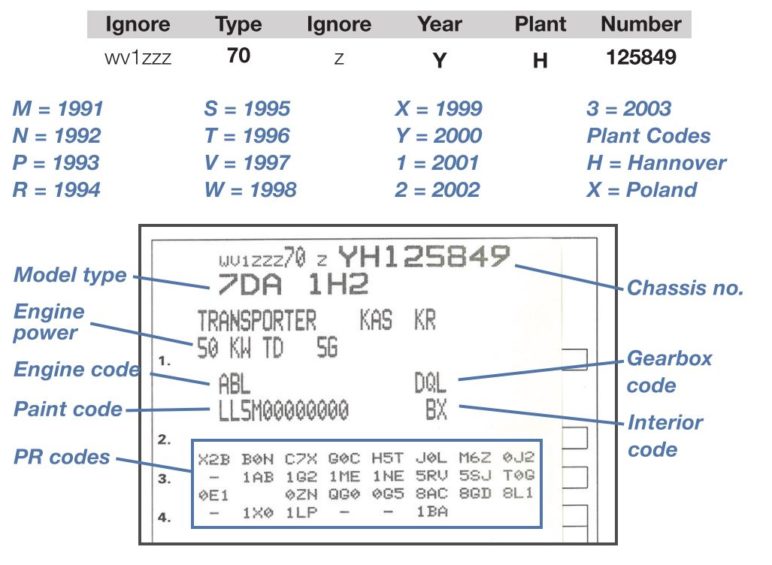 The opinions expressed here are the personal opinions of the author and do not necessarily represent the views and opinions of VW Heritage.
This post is also available in: Deutsch (German)Español (Spanish)