VW brake fluid is clever stuff. It's virtually incompressible, has a high boiling point and yet costs buttons to buy. So why then do we find it so easy to ignore?
VW Brake fluid has a fair bit of responsibility heaped upon it, doesn't it? When we step on the anchors, we rely on it to do the necessary, work under pressure and bring things safely to a halt. Yet, like virtually ever other car component, it has a definite lifespan and shouldn't be overlooked as an essential element of a routine maintenance schedule.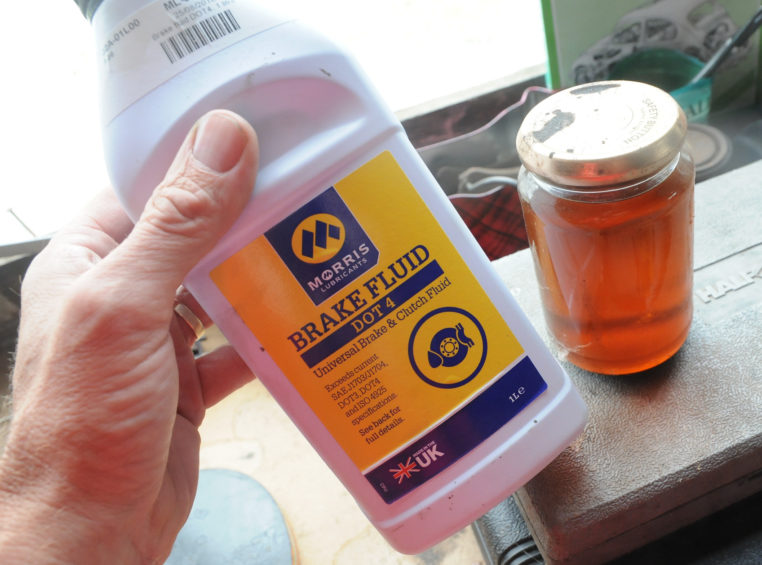 Water shame…
The problem is, despite its complexity, brake fluid is hygroscopic – in other words, it absorbs moisture that permeates through the rubber hoses, seals and via various fittings. And as soon as moisture's been absorbed, the fluid becomes less efficient at its job. Not only that but the moisture can corrode the brake system's internals, causing pistons to seize and metal brake pipes to rust from the inside. Which is why brake fluid should be replaced every two years.
Which VW brake fluid?
All brake fluids must comply with North American DOT specification and most cars use either DOT 3 or DOT 4 glycol ether-based types. The latter has a slightly higher boiling point and is said to absorb less water, so it is often seen as an upgrade for cars that were originally designed to use DOT 3. Both are compatible, so you can mix them together if you should so wish.
3, 4, 5, 5.1…
DOT 5.1 has an even higher boiling point, but is considerably more expensive to buy and really only for competition cars. DOT 5 is different again, being a silicon-based fluid – so you can't mix it with other brake fluids. It won't strip paint, but it is slightly compressible, which might compromise the braking efficiency of cars with ABS and traction control systems.
Incidentally, don't pay more for fluids that shout about being 'synthetic' – they're all synthetic.

Assessing condition
Fresh brake fluid is a light straw colour (as on the right, above) – but as it becomes contaminated with water or failing internal seals, it becomes much darker. As moisture is absorbed, the fluid's boiling point becomes lower. There are specialist devices to assess a brake fluid's boiling point – but they're expensive and only bigger garages are likely to have them. Either way, adhering to the two year regime and flushing the whole system through with fresh, new fluid is always the best, most fail-safe method of ensuring it's still able to do its job properly.
Some brake fluid reservoirs have a filter that traps debris, so make sure it's clean before changing your fluid. And don't forget, brake fluid will strip paint in seconds so be careful of any drips.
Let it bleed
To change your VW brake fluid, it's simply a case of flushing the new fluid through, which is done by following the brake bleeding process. There's several ways to bleed brakes. The conventional method is to ease a clear piece of flexible pipe over the bleed nipple on the brake cylinder, open it, and get someone inside the car to pump the brake pedal. You should generally start at the caliper furthest from the master cylinder and regularly check the level in the reservoir – topping up if necessary. Never let the reservoir become completely empty, and pour new fluid in slowly to avoid introducing any bubbles. The other end of the pipe needs to be immersed in a jar of clean brake fluid. Bubbles in the pipe indicate the presence of air, all of which must be bled through before your helper holds the pedal to the floor and the nipple is retightened. You continue to do this at all three corners until fresh, clear fluid starts to come through. Once you've done this, the brake pedal should feel nice and firm and not at all spongy.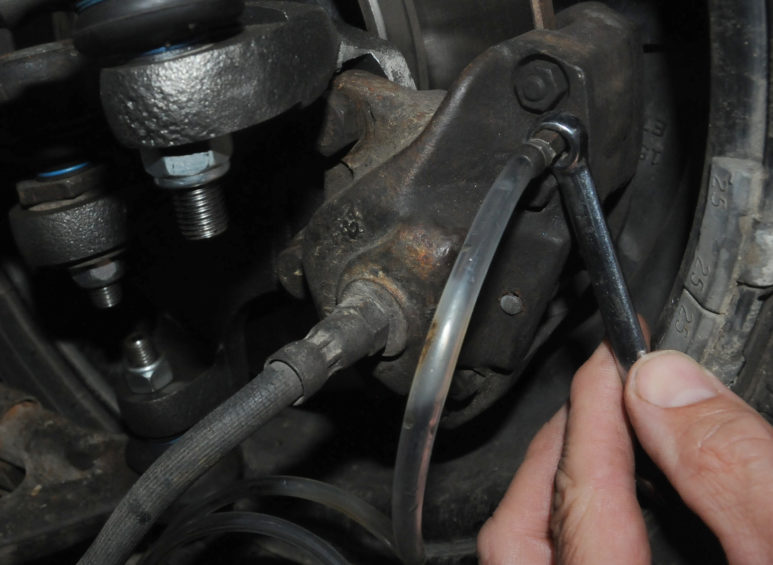 All by myself…
You can also buy a 'one-man' kit that features a one-way valve in the pipe which makes life easier if you can't find an assistant; we offer a version by Gunson's called the Eezibleed brake bleeding kit here.  Another method which enables you to bleed the brakes on your own is to use a pressurised bleed kit, powered by compressed air from a car tyre (as below). These supposedly reduce the risk of damaging the master cylinder seal, which can happen when the brake pedal is fully depressed.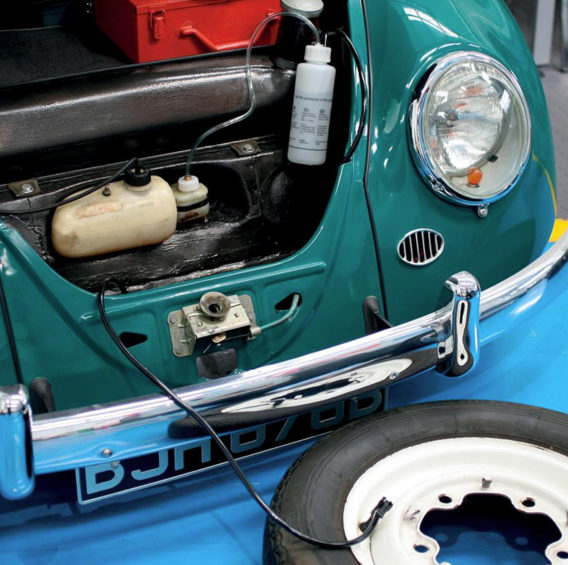 Another option, instead of pressure bleeding brakes, is to vacuum bleed them instead. The principle is just the same, but instead of pushing fluid through the system, you drawer it out using a hand-held pump.
Like all things, though, you might find the old methods often work out simpler and cheaper!
Ian
If you want some tips on how to improve your brakes, read our post here.
The opinions expressed here are the personal opinions of the author and do not necessarily represent the views and opinions of VW Heritage.