Having had her first Beetle tragically crushed by the local council, VW Heritage customer Kate Kingshott made it her ambition to buy another. This time she'd get round to undertaking a full restoration, even doing some of the work herself, adding some carefully considered accessories along the way. Here's the story of 'Mr Tickle' the '67 Beetle…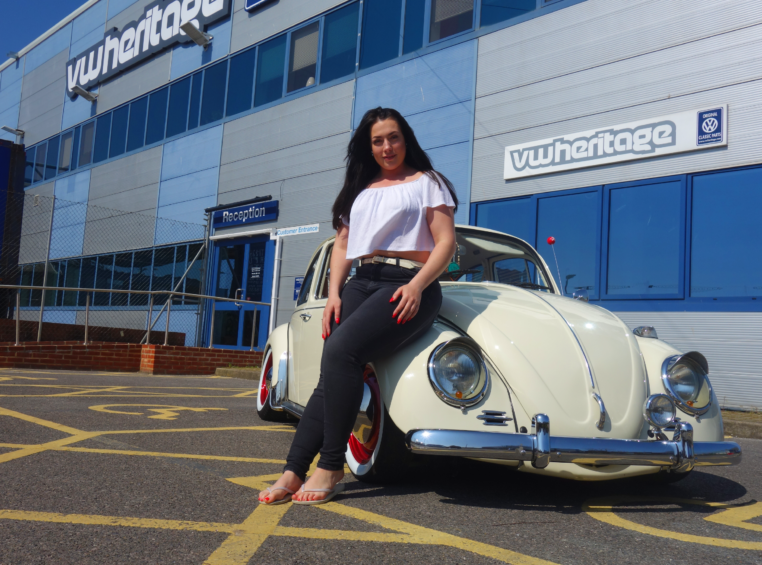 No doubt we all remember our first VW. Kate Kingshott from Sussex certainly does because it was a bright red 1969 Beetle and it got crushed by Thames Valley Police. To cut a long and obviously very painful story short, she hadn't passed her test back then, her dad was looking after the car, and despite having an MoT appointment booked for the following day, her dad was stopped in the car while on his way to a garage and the car subsequently impounded. "I was living in Cornwall at the time and couldn't get to it in time to save it," explains Kate. "I was devastated."
The experience scarred her, obviously, but it did nothing to dent her enthusiasm for one day owning another Beetle and when she came across a '67 online, as a penance for his earlier mishap, her dad was duly despatched to go and buy it. "It was in pretty good condition, it had the usual rust but there was nothing untoward," smiles Kate.
That was in 2008, and back then the Beetle was painted a metallic green and was sporting minilite style alloy wheels. "The car and I moved up to Sussex in 2009, and still being my daily driver endured a fair amount of wear and tear thanks to the terrible Sussex road and equally terrible Sussex drivers," explains Kate. This, and a rather condemning MoT fail, prompted its first dose of restoration work in 2010/2011 which was carried out by Karl McCarthy at Wolfsburg Wizards. "Karl replaced the rotten floorpans, sills, suspension mounts and heater channels, as well as fitting a new fuel tank – but as it continued to be my daily driver, the sea air continued to do it worst," remembers Kate. "Soon, the lower left hand corner of the windscreen had completely rusted through, the doors were shot at the bottom and the rear valance was so full of holes, you could almost see through it. The windscreen had duct tape around it at one point, which looked horrible."
Feeling a bit downbeat about how her Bug was looking, in 2014 Kate got in contact with Jimmy Lindsay from Bear Bodyworks in Portsmouth. "We talked about repairing all the rust and making it roadworthy again. I couldn't really afford it at the time, but we decided to go ahead anyway."
As you'll probably be aware 1967 Beetles are a bit unusual, being a crossover model with many unique features, so Kate made the decision to return the car to its original colour – Lotus White. As Kate puts it: "The green was nice, but perhaps a little dated."
In March 2016, she excited went to collect the car from Portsmouth and was thrilled with the result. "It looked lovely. But as I was doing 500 miles a month, I didn't want to spoil it, so bought a 52-plate new Beetle as a daily driver which allowed me to lavish more attention on Mr Tickle."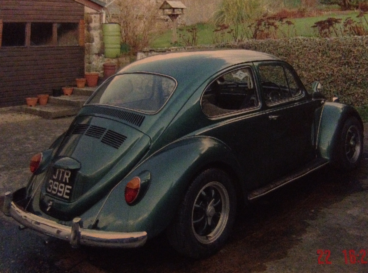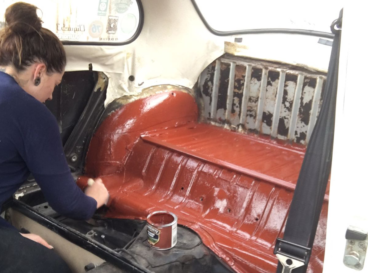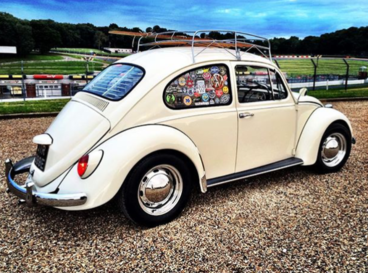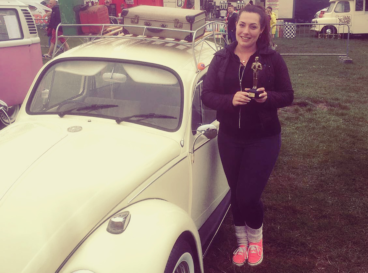 Indeed, during 2016 Kate admits she spent quite a bit of time at VW Heritage buying new parts and accessories, including new wheels with baby moon hubcaps and whitewalls among other things. Mr Tickle and Kate's first show was Bug Jam that year. "I'd never intended for Mr Tickle to be a show car, but we ended up attending quite a few events last year. I even won a top 10 trophy at VW Action."
Pleased with how her Beetle was looking, Kate couldn't help think something was missing. "It looked great but the beige cloth interior was really letting it down, so I ripped it out, prepped and painted the floorpans inside and out and ordered a new set of seat covers and door cards from VW Heritage. I got Andy Baron of Coastal Cushion in Worthing to fit them as well as a new biscuit coloured square weave carpet."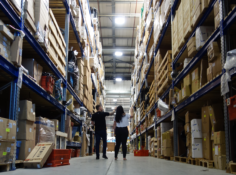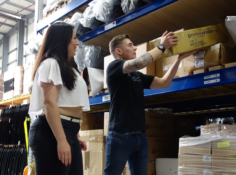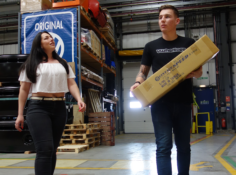 Most owners would sit back at this point and breath a huge sigh of satisfaction at what they'd achieved. But not Kate. "He still wasn't quite there. I wanted to lower him but didn't want to narrow the beam so in 2017 I opted for some 4.5in smoothie steel wheels with a big offset at the front and 6in rims at the rear, with new Dunlop Winter Sport tyres. I had the beam adjusted down, dropped spindles fitted, the torsion bar turned one spline at the rear and adjustable spring plates fitted. I had tried to fit the dropped spindles myself, but it really didn't go to plan so I took the car back to Bear Bodyworks for them to finish it."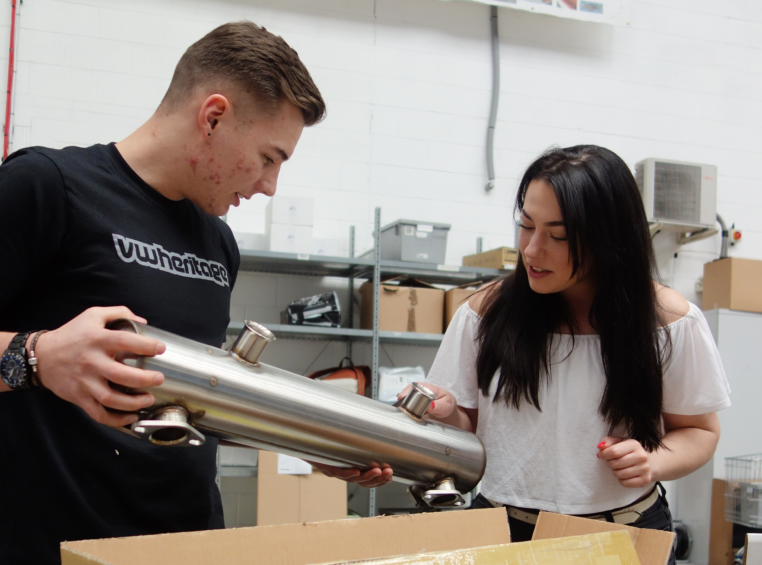 Kate wanted to tie the red interior to the rest of the car and ingeniously came up with the idea of painting the wheel rims in red metal flake paint. "I couldn't be happier with the outcome," she remarks.
As a reward for all her hard work the car was accepted in the '67 line up at this year's VolksWorld Show at Sandown Park. The car's also received sponsorship by Auto Finesse.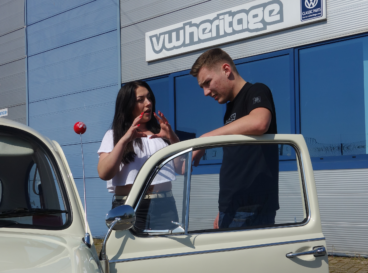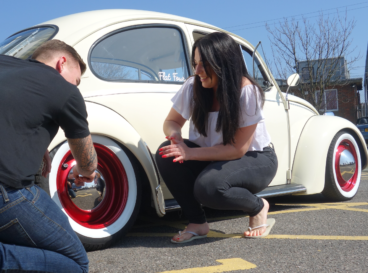 As for future plans, Kate's still got lofty ambitions. "June/July 2017 will see him having the bonnet area upholstered to match the interior and a twin carb conversion and much needed engine revamp! The engine is pretty much as I bought it, a 1600 single carb that runs brilliantly. It's not without its fair share of running issues, as with any air-cooled car, but he has certainly served me well."
She intends spending the rest of the year adding the final touches as well as being sure to keep him in good working condition. She mentioned something about air suspension for next year, but adds "that's a long way off yet."
Asked about what 'look' she was trying to achieve, she sums it up by saying: "I think in a nutshell I wanted to keep him looking original, classic and tasteful with a little personal twist – and I think I'm getting there with him, slowly but surely. It's been a true labour of love. I get the work done as and when I've saved up enough so there's been a lot of overtime and second jobs over the years!"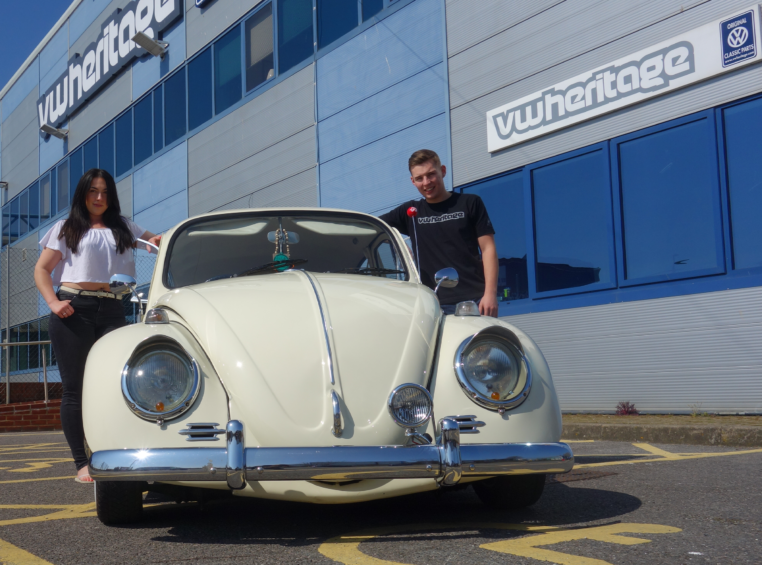 Regarding any aspiring VW owners out there, thinking of carrying out their own classic makeover, Kate has a final nugget of advice. "I'd have to say, it is helpful having some mechanical knowledge (I do not have this but I am learning!) and not to live by the sea!"
Ian
This post is also available in: Deutsch (German)Español (Spanish)