There's been a tidal wave of interest in T25s in the last few years and as everyone begins to look forward to the sunny weekends ahead, now's the time to buy. But before you start searching, here's our top 10 T25 nuggets of buying advice…
DIY project?
Predominantly, your T25 buying decision will be based on the condition of the bodywork. Virtually everything else is secondary. Check the wheelarches, sills, the step into the cabin, the bottoms of all the doors and the horizontal section immediately behind the front bumper. The seams between the panels on the T25 are particularly prone to rust and are difficult to make good again. All the panels are available, but it depends how far you want to go, what you're prepared to take on – and yes, your budget! If you're likely to have to pay someone else to do the work, spend a little more if you can and buy a better van in the first place.
Air, diesel or water?
Now think about what engine you want sitting out back. If you're an air-cooled purist, you will probably want pre-1982-cooled T25 – you'll spot one straight away by the absence of an additional grille just above the front bumper. Be warned, though – the 50bhp 1.6 will struggle on a motorway and the 70bhp 2.0 isn't much better. Moreover, both are quite thirsty. There was a water-cooled 50bhp diesel from '81, and a better 70bhp turbodiesel after 1985. The former is very slow, making the latter an altogether wiser choice for those who like the idea of slightly better fuel economy. Performance is on par with the bigger air-cooled unit. The water-cooled petrol models are generally more refined and pokier – the post-'85 2.1 fuel-injected unit option being the real firecracker of the range. More likely, it will be the 1.9 – but that's smooth and quite quick. See our full guide here for a more comprehensive guide to T25 engine options.
Future classic?
You might see buying a T25 as a bit of a potential investment. And why not because if it's something you can use and enjoy while watching its value rise, that's a win-win situation. The thing is, you have to buy wisely in the first place – and that means buying a clean example with a good history because these are the ones that will become more of an asset later on. Westfalia conversions will always command a premium, and if you look at the way Bay Window Buses have rocketed in value, we wonder whether the very early air-cooled T25s will go the same way soon (see comments above). The four-wheel drive Syncro is also likely to become a collectable in years to come. You can find out more about this model here.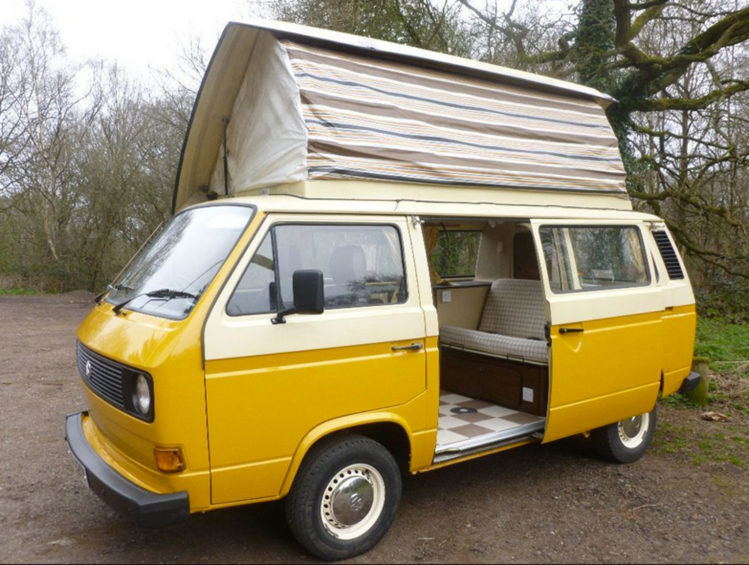 What roof?
When looking for a T25, decide whether you want one with a permanent high top or an elevating roof. Arguably the former is more practical (you can store things in the roof area), while the latter look nicer, give better fuel economy (due to lower wind resistance) and offer the opportunity of being stored in a standard garage. You won't have to worry about supermarket height barriers either.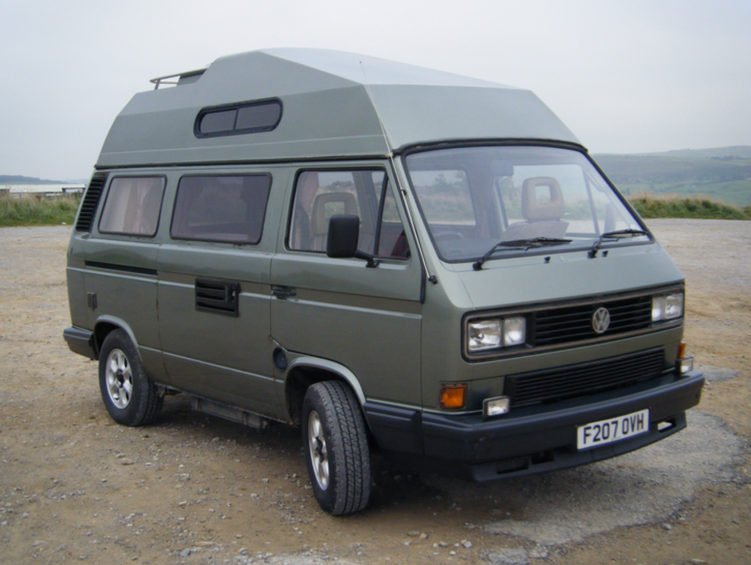 Original or custom?
Unsurprisingly, lots of T25s have been modified already courtesy of lowering springs, different wheels and vastly modified interiors. It's called personalisation, and it's a big reason why people love owning VWs. But, having put their individual stamp on a vehicle, owners can sometimes struggle to find a buyer who shares the same taste come resale time. An upside is that if you find a Bus that has all the equipment and upgrades you would have fitted anyway, then you'll save yourself a fortune.
What accessories?
There's a vast range of accessories you can buy for when you go camping which includes everything from rear bike racks to standalone awnings and porta-loos. So see it as a plus if a Bus is being advertised with lots of these. When doing a deal, it's always worth asking if things like electrical hook-up leads, picnic tables and cooking utensils are being thrown in with the sale.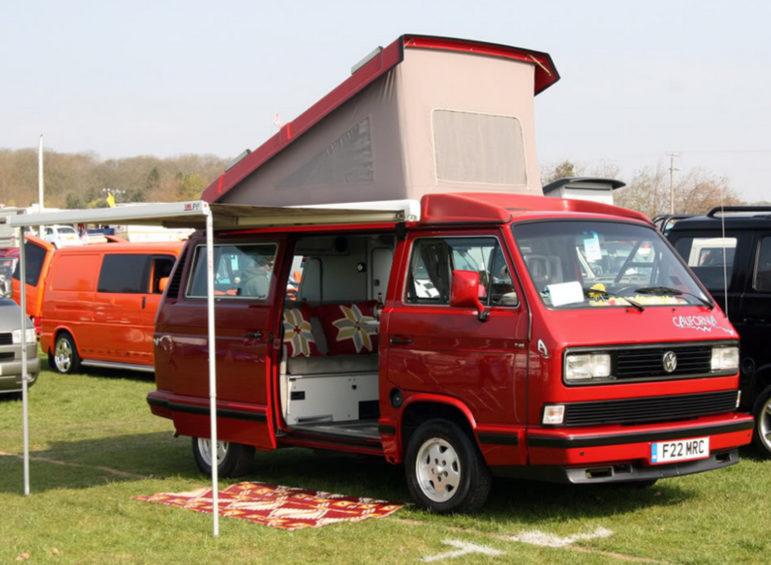 Left or right?
Quite a few T25s have been imported from the mainland continent and these will have their steering wheel on the left, not the right. It may not be a problem, especially if you're planning long European journeys. However, if you are likely to do a lot of town driving in the UK think about the implications of sitting on the other side of the road.
Older or newer?
Before buying a T25, ask yourself – is it really going to be suitable for your needs. And is it really what you want? If you've always promised yourself a classic Bay Window or a Split Screen Bus, why compromise. On the other hand, if you're contemplated long, fast trans-continental travelling – a newer T4 or T5 might be more appropriate. Be realistic.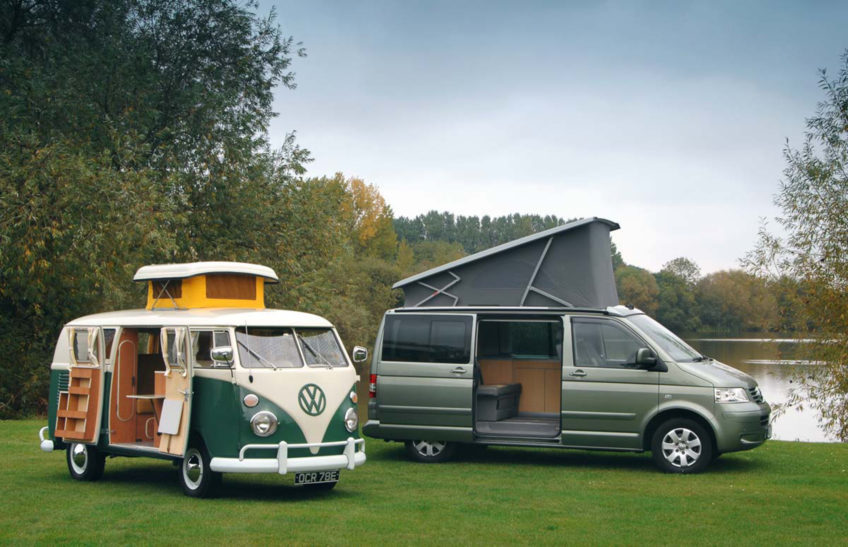 How much?
Of course, at the end of the day everything comes down to money. And precisely how much you have to spend. Early air-cooled T25s and scruffy water-cooled campers with body issues usually begin at about £2500, but more realistically £5,000 will be your starting price for something reasonably clean that you can jump in and get going. The nicest post-'85 Westfalias could easily be £8,000-£10,000, while late Westfalias with the rectangular headlamps and the 2.1-litre engine are now touching £15,000 if they're in immaculate condition.
Sooner or later?
Shrewd T25 buyers will have already got in before Christmas, picking up a bargain while the weather was rubbish and sellers were desperate for a sale to raise funds for the festive season. But that shouldn't put you off buying one now. Prices are only going one way from here on – so why delay?
For further advice, read our full Type 25 buying guide here.
Happy hunting!
Ian
The opinions expressed here are the personal opinions of the author and do not necessarily represent the views and opinions of VW Heritage