If you want to create a bit of a stir at your next Dub get-together, check out the auction listing for this rare as hen's teeth coachbuilt forties gem.
Joseph Hebmüller and Sons was granted permission to build a series of prototypes in 1948 which it hoped, with VW's approval, would make it into full scale production. Having been given the nod, the first production example duly rolled out of the factory in 1949, based largely on very early post-war Beetle underpinnings. Sadly, just one month into production, their premises at Wulfrath caught fire and despite something of a miraculous recovery which saw production restart after just a couple of weeks, Hebmüller never properly got on its feet again. Indeed, operations ceased altogether in 1951 with production of their elegant two-seater transferring to the Karmann works at Osnabrück where a further 14 were built.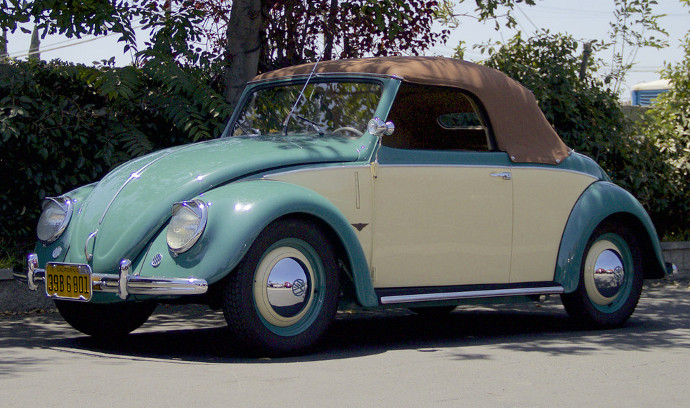 This one dates from 1949 and is one of just 696 made. It has undergone a ground up restoration courtesy of Bata Mataja from Californian outfit BAD, who's attention to detail is legendary in VW restoration circles. Reportedly, in order to maintain authenticity another Hebmüller was located and used as a reference guide during the restoration.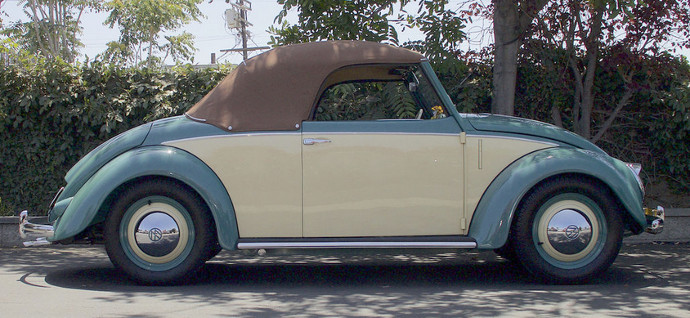 Hebmüllers were offered in a multitude of single tone and two tone colours: one could also custom order any colour or interior material of choice. This particular Hebmüller is painted in a custom green/ivory colour scheme. Likewise, the interior is fitted with Cognac coloured Ostrich leather with maroon piping. It might look a little too exotic for the forties, but bear in mind the Hebmüller was a custom coachwork car and this example reflects that level of exclusivity.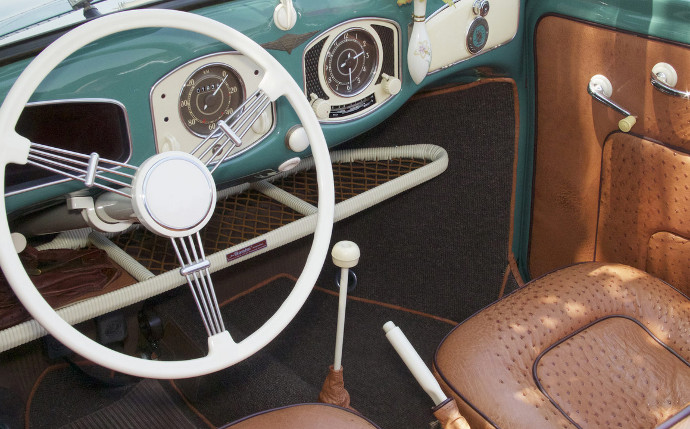 Somewhere along the line this car has been upgraded with a superbly detailed 50bhp Okrasa engine and disc brakes although the winning bidder will be given the period correct engine, crash gearbox, drum brakes and shocks which are all being thrown in with the sale.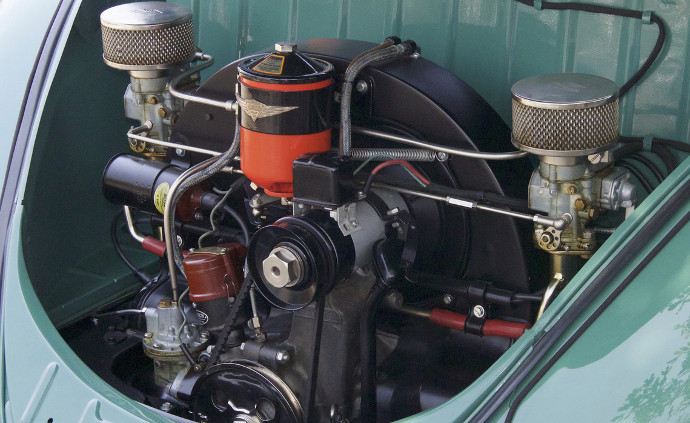 With fewer than 100 thought to be in existence, it's rare so Mecam's Monterey auction on August 18-20 is expected to attract interest from across the globe. And of course this level of finish doesn't come cheap. In fact, it will be interesting to see if it exceeds its estimate of between $300,000-$350,000 (£227,000-£265,000) when it goes under the hammer later this month.
Ian
The opinions expressed here are the personal opinions of the author and do not necessarily represent the views and opinions of VW Heritage.
This post is also available in: Deutsch (German)Español (Spanish)