Last Tuesday turned out to be not 'just another day in the office' for us. At about 1.30pm the rain and the roof had a little fight, and unfortunately for us: the rain won. Flooding at VW Heritage!

As we were working hard on processing and dispatching orders, oiling the marketing and IT cogs and purchasing pallets of VW parts to keep our ship afloat, the sun made way for  a dark and cloudy thunderstorm.
As the rain poured down ever harder, we were disturbed by a slightly different sound: rain inside of the office. At first it started with a slightly amusing drip, but it soon grew to be a downpour, coming in through the ceiling tiles. Litres of water had settled on the suspended office ceiling and had gained in weight until it burst right through in a waterfall-esque moment.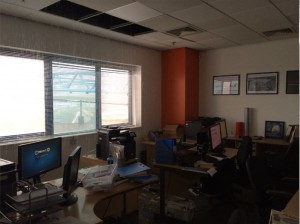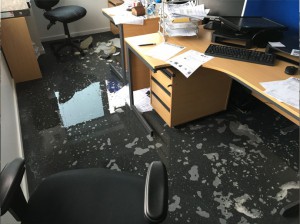 Running on adrenalin and trying to do as much damage control as we could, we moved the desks and computers away from the leakage (where we could) and then hurried to the downstairs canteen as the tiles began to fall to the ground – the sky really was falling down. Some machines had to stay put, since there was no way we were going to try unplugging live sockets sat in puddles!
Luckily, the rainstorm only lasted for twenty minutes, in which time our team had recovered from the initial shock and were quick on their feet to help where ever they could. Due to our great team spirit and resourcefulness the phones were being answered in a dry corner of the office in less than half an hour, and with the whole office mopping, cleaning and vacuuming, the rest of the building was mostly back to its original state after only half a day.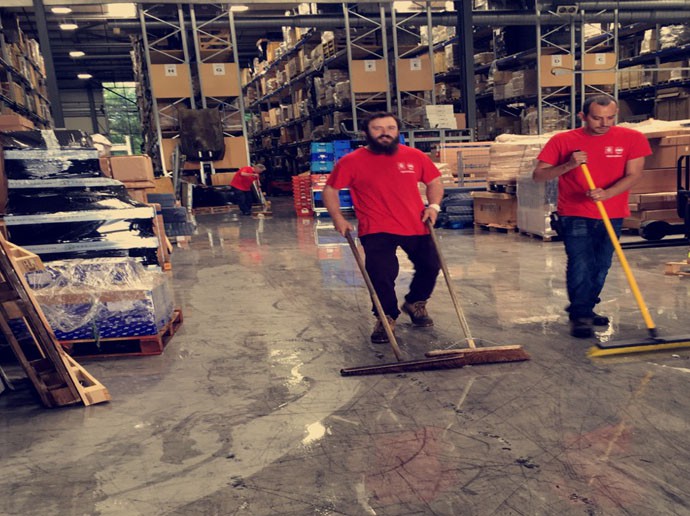 The rest of the day the warehouse music theme was pretty obvious, with songs like November Rain and Umbrella blasting through the speakers. This definitely helped improve our moods and with patching up everything as quickly as possible. All told we are very relieved about the limited damage (a few poor computer devices did not survive the flood) and about the fact that no one was harmed – although there were a few people with a cold the next day…
We would like to thank all our customers for their patience during our little breakdown, and our apologies for the inconvenience. Here's to more summer sunshine!
Marije