Southern California has traditionally been the place where rules are bent, boundaries pushed and VW trends are started. But there were two quite different car cultures to come out of SOCAL in the late seventies and they're easily confused. So here's our at a glance interpretation of the main differences between 'Cal-style' and 'Cal-look'
Cal-style originated in downtown Los Angeles and was more of a 'gangster' or 'low rider' look epitomised initially by lowered ride height, polished Fuchs or stock wheels with whitewalls, extra chrome mirrors and a more glitzy chrome radio aerial or 'antenna'. Club members from 'Bugs Buddies', the 'Vintage Volksters', 'California Volksmen' and the 'Dukes' all actively raised eyebrows with the first true 'Cal-Style' VW generally acknowledged as being Rene Ruelas's lowered red 1967 Karmann Ghia built in 1979.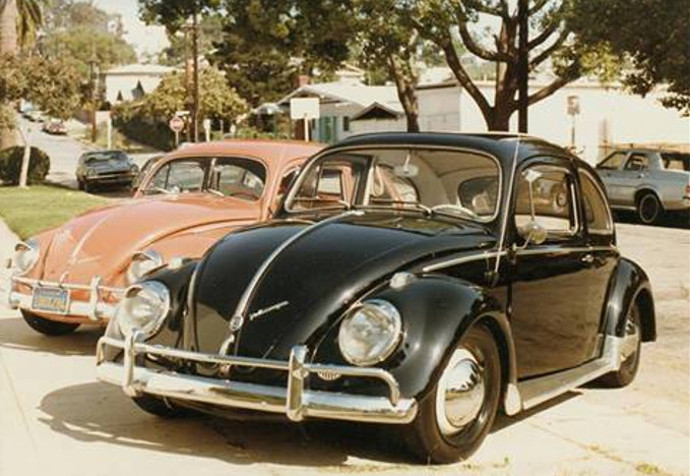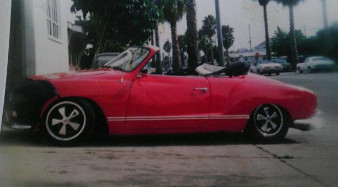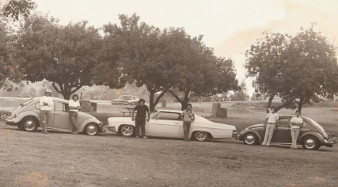 The first 'fully slammed' VW is reckoned to date from around 1981. Cruises and get togethers at legendary LA haunts such as Tommy's hamburger joint gave owners the opportunity to display their radical looking dubs which upset purists and also attracted the attention of the local police no doubt.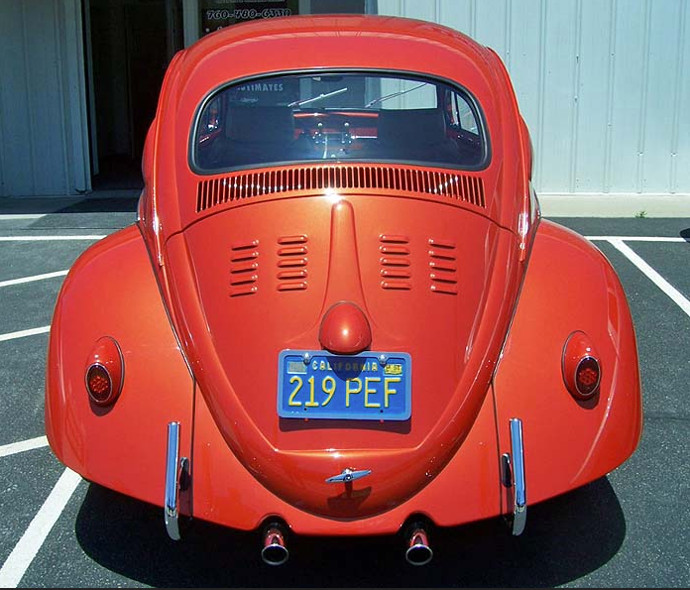 A bit further south in Orange County there was a slightly different influence, this time from the high performance street race scene. The 'Cal-look' or 'H.P' contingent shared the low rider look but used styling cues from motorsport instead – hence the involvement of companies such as EMPI and racing legends like Gene Berg. The cars often ran on BRM Speedwell or EMPI 8-spoke rims and featured competition style mirrors and a stand off bootlid to aid cooling which was another nod towards the vintage race scene. A side exit tuned exhaust was de rigueur, too, as was a trick engine to enable owners to out-gun unsuspecting challengers during grudge matches and traffic light drag contests.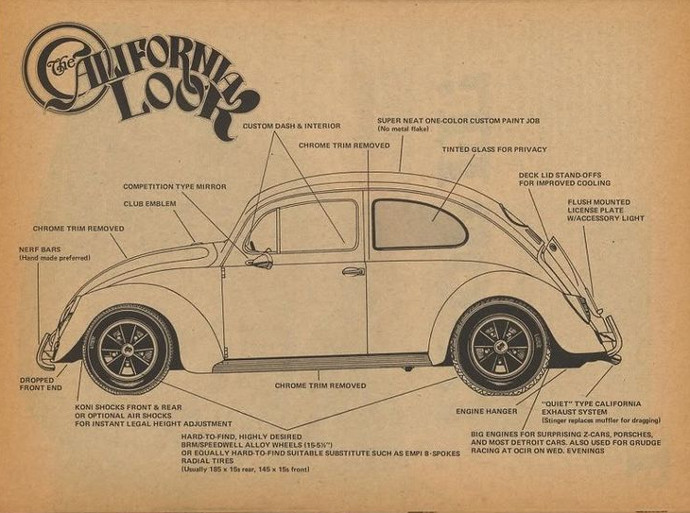 Obviously the most significant visual identifier, apart from the sometime lurid custom paint jobs, was the lack of chrome. The side and bonnet trim was either removed or painted over, while the front and rear bumpers were replaced by more subtle (and lighter) nerf bars.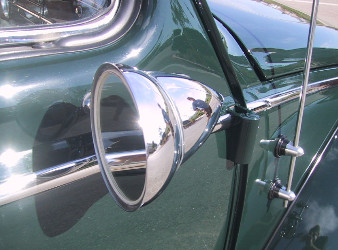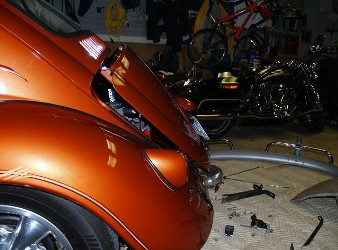 We're not exactly sure when the first Cal-look Beetles appeared here but no doubt they would have made their debut at an early Bug Jam. Of course since then the look has continued to evolve with Vintage, Rat and Resto-look all picking up on the original Cal-look influences. And if you want the Cal-look, it's relatively easy to achieve. You can get copies of those wonderfully retro BRM-style wheels here and of course there's plenty of ways to lower Beetle ride height at the front here and slam the back here. You can even get nerf bars here.
At the end of the day though and what's nice is that there's always scope to mix and match and make your own interpretation of whatever's gone before. And that the brilliant thing about this hobby of ours.
Ian
The opinions expressed here are the personal opinions of the author and do not necessarily represent the views and opinions of VW Heritage
This post is also available in: Español (Spanish)