It might look like a B3 Passat, but the Auto 2000 prototype predates that car by almost a decade. Here's the story of the fuel-efficient and totally innovative VW Auto 2000 concept…
The Auto 2000 story starts in 1980 when the Federal Ministry for Research and Technology in Germany challenged manufacturers to come up with a fully working prototype that put fuel saving at the top of its agenda. The brief given was that the vehicle had to use no more than 9.5 litres of fuel per 100km (29.7mpg) if it weighed between 1250-1700kg and do no worse than 25.6mpg if they exceeded this. The vehicle also had to carry four adults and 400kg of luggage, while performance had to be broadly equivalent to other family cars available at that time.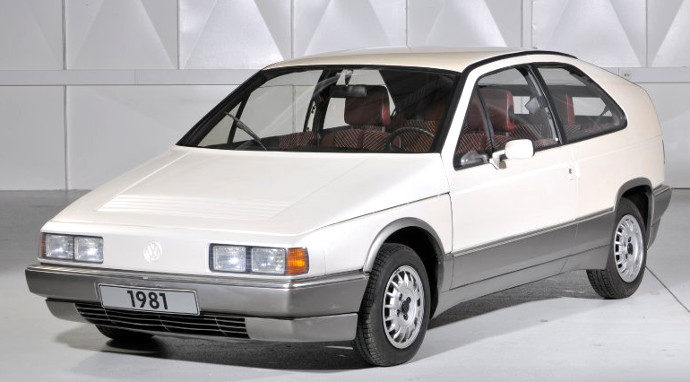 VW unveiled its efforts at the 1981 Frankfurt Motor Show. The futuristically named 'Auto 2000' sat on a modified Golf platform and featured a tall, fastback profile with a wide C-pillar and a glass hatchback. Looking at it now the blunt rear end side profile bears an uncanny resemblance to the similarly ground-breaking Honda Insight hybrid that appeared many decades later, and don't you think the glass tailgate effect is just like the 2004-era Citroen C4 coupe? Radically, there was no front grille, a feature adopted by the later Passat, while special wheel covers fitted to the 13in rims helped further reduce its drag coefficient to just 0.25. Judging by the picture above, these have since been swapped for GTi alloys. Thanks to the use of lightweight materials, the Auto 2000 tipped the scales at just 780kg which is unbelievably feather-like for a car of this size.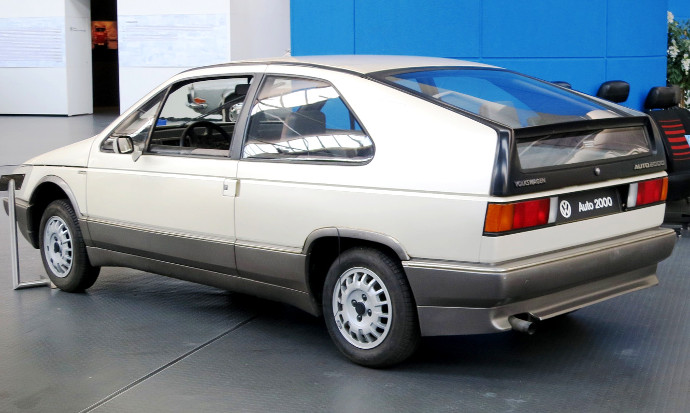 Inside, styling cues had obviously been taken from other members of the VW family at the time, although the digital instrumentation was a totally new and innovative feature. That wheel also appeared in the Mk2 Scirocco if I remember correctly.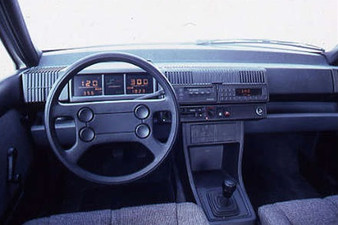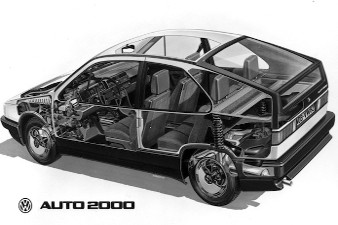 The first prototype was fitted with a 1200 three-cylinder turbocharged diesel engine producing 53bhp which enabled it to reach 62mph from rest in 18.2 seconds and go on to 100mph. When a supercharger was added, power increased to 60bhp and the 0-62mph time was slashed to a more acceptable 15.8 seconds. Interestingly, both oil burners had an engine stop/start system to save fuel – a feature used on VW's very latest range of Bluemotion models. A third engine, this time a petrol 1.0-litre four-cylinder with a supercharger was tried and this produced 75bhp. VW even experimented with an auto gearbox incorporating a freewheel function with this unit.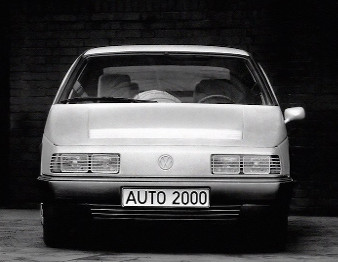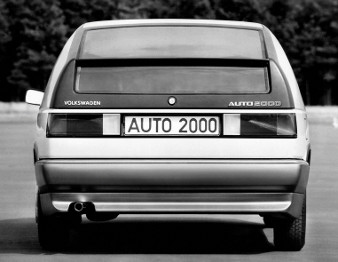 During testing, the turbo diesel managed 67mpg on a combined cycle, the supercharged oil burner 61mpg and the petrol powered car a less promising 35.7mpg. Alas, despite making a good fist of things nothing became of the project and the car never went into production. The original concept sits in the Autostadt in Wolfsburg.
There'sno doubt it was a potential gamechanger – and a car that deserves far more recognition than it got; not only did the front end inspire the third generation Passat that arrived in 1987 but it also debuted a variety of clever fuel saving features that were adopted by VW many years later. And then there's the obvious design inspiration it gave to later cars such as the 1999 Honda and 2004 Citroën. For that reason, who knows – perhaps it was just a bit too far ahead of its time…
Ian
The opinions expressed here are the personal opinions of the author and do not necessarily represent the views and opinions of VW Heritage