The LT is VW's forgotten and usually overlooked bus gem, so if you're fed up with paying high split and bay window prices and need a bit more space for a custom camper conversion, look no further…
The Volkswagen LT broke cover in 1975, the LT standing for Lasten-Transporter – or cargo transporter. What it lacked in charisma, it certainly made up for in terms of load lugging capacity, its commodious boxy shape and the clever space saving feature of locating the engine over the front axle (forward control), making it the perfect light commercial for business use. Indeed, the short wheelbase LT offered an impressive 7.85m3 of load space and a floor area of 5.6m2. Of course, the fact that the sides were virtually flat, a sliding side door was standard and there were double 180 degree opening rear doors added to it flexibility.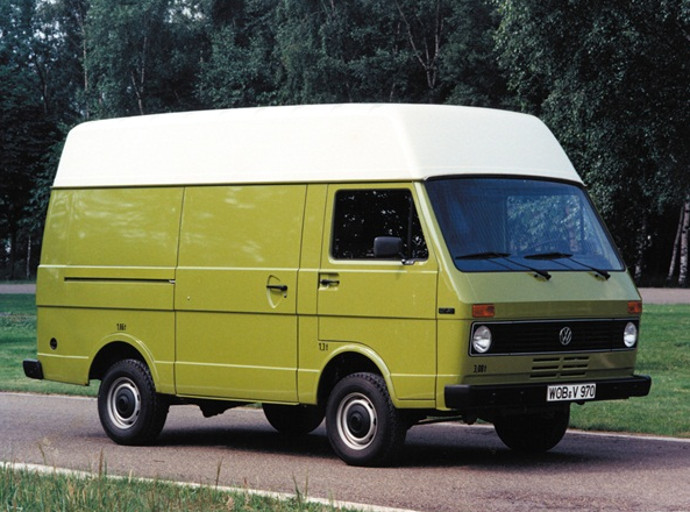 It initially came in three versions, the LT28, the LT31 and LT35 – the numbers referring to the gross vehicle weights in tons (2.8-3.5). And there were two roof options – high and low top – with a variety of body options including a pickup. Of course there were also a number of camper conversions available, including the VW sanctioned Westfalia (the Sven Hedin and later Florida) and the Karmann, as well as a number of custom coachbuilds.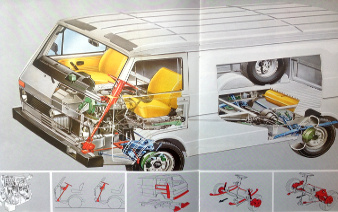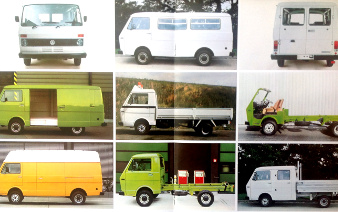 The first facelift took place in 1983 and mainly featured improvements to the interior. In 1985, VW released the LT55 with a gross vehicle weight of 5.6 tons. A four-wheel drive version was also made available, courtesy of Sülzer initially, then VW after 1985. The next facelift in 1986 resulted in the original round headlamps being replaced by rectangular units, then in 1993, minor styling changes were accompanied by the introduction of a more efficient non-turbo ACT and the turbocharged DV was given an intercooler to become the ACL. It was replaced by the altogether more modern looking Mk2 in 1996.
Engines
At launch the LT featured a modified 2.0-litre Audi 100 engine which produced 74bhp. A four-cylinder 1.6 diesel making 64bhp was also available, which was joined by a 2.7-litre diesel from 1976. In 1978, a 2.4-litre six-cylinder diesel delivering 74bhp, an engine shared with Volvo, replaced the four-pot unit. In 1982 a 101bhp turbodiesel was added as well as a 89bhp six-cylinder petrol option. An intercooler was added in 1993. None of the engines are exceptional, but given the size of the vehicle, the later six-pot diesels work best – especially when given the benefit of a turbocharger. Apart from the usual valve guide wear and the prospect of bust turbos, problems should be relatively few and far between – and the good news is that service items are still cheap and readily available.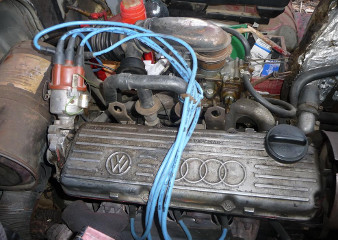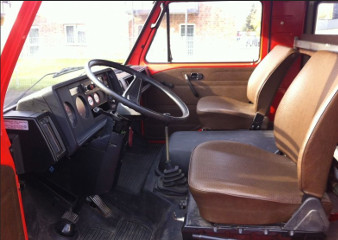 Bodywork
The condition of the body will inevitably be the real deal breaker on the LT and to be honest you'll struggle to find one that hasn't had some restoration work done. The main areas to concentrate on are the sills, the front footwells, the rear arches and the door bottoms. The body seams should also come under close scrutiny as making good corrosion here can be a tricky procedure. Take time up on a ladder to inspect the gutters too – often they get clogged with muck and rot out. The bottom corners of the window frames can also corrode badly, so give these a good eyeball while you are at it. The bottom of the sliding door can also rust. Bear in mind, if an LT's totally rotten, it won't be worth undertaking a long and expensive restoration – you'll never get your money back.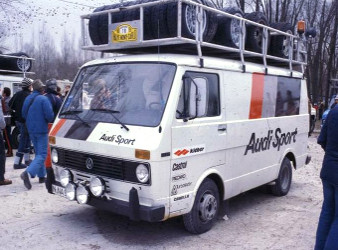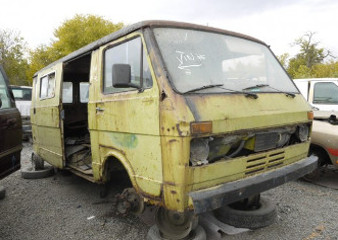 Running gear
There's shouldn't be too many surprises when it comes to running gear, and an LT that's suffered abuse in a former life as a working vehicle can usually be brought up to scratch as long as the body is ok. Suspension wise, the LT28 and 31 has coil springs at the front, the bigger vans have a leaf-sprung beam. There's leaf springs and a Panhard rod on the back. Really it's just a case of making sure the vehicle sits evenly (not sagging on one side) and that there's no leaks from the shocks or broken springs on vehicles with them fitted. Brakes are all good, although watch for duff automatic adjusters and leaky brake pressure regulators at the rear. Meanwhile, transmissions are generally bombproof, with most issues responding well to fresh fluid. Incidentally, early LT's had a four-speed 'box – but don't be put off because the final ratio's the same as the five-cog unit. Rear axles were available in different speed ratios, so it's a case of taking a vehicle on a motorway to make sure it's able to cruise comfortably. As for the electrics, it's a case of making sure everything works, not forgetting the fact that the youngest looms are now 20 years old!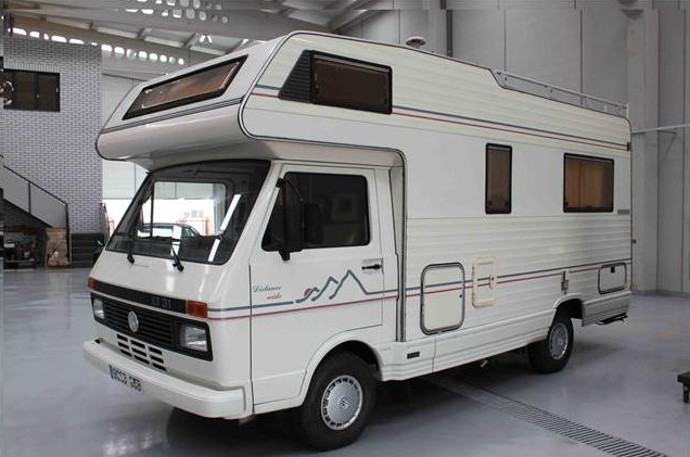 What to pay
Condition is everything and our advice is to buy the best LT you can find. Projects will start at just a few hundred pounds, while the sensible starting price for one with a camping interior will probably be between £2500-£3000. The best coachbuilt conversions might be as much as £8,000 – but for that you're getting an awful lot of camper for your money. If you want one – move fast. The way Split, Bay and T25 values are going, it's only a matter of time before LT prices start going the same way and the early round-headlamp examples now have plenty of classic appeal.
Ian
The opinions expressed here are the personal opinions of the author and do not necessarily represent the views and opinions of VW Heritage