If you're scanning the classifieds for a potential classic Dub project for 2016, call off the search because this early Ghia is crying out for some loving care and attention…
A definite air of romance surrounds the Type 14 Karmann Ghia and the early lowlight models made before 1957 with their miniscule tail lights, bulbous nose and lower more rounded wings are undoubtedly the most alluring. But they're hen's teeth rare – and expensive when fully restored.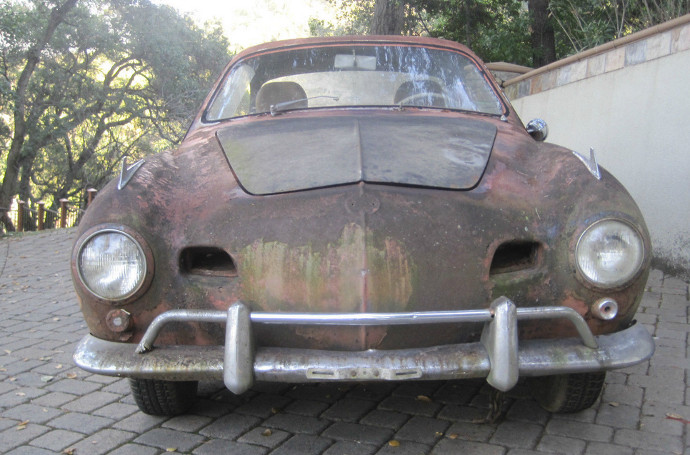 However, here's a chance of owning one for probably not very much money. We spotted it for sale on ebay here and while several people had already expressed an interest and placed their bids, the auction's still got a bit of time to run so if you're quick, there's still a chance to make it yours. The listing says it's for sale in Haywards Heath.
What's nice is that it looks 'as found' – in other words, while it's likely to have rust in all the usual places such as in the sills, inner wings and floorpans – no one's bodged it so there's every opportunity to start from scratch and do things properly. The other plus point is that the vendor suggests that it's not been accident damaged which helps.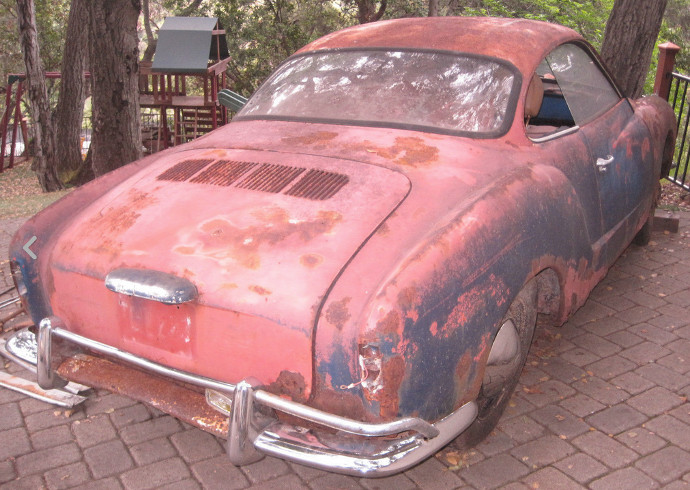 It looks like it's been stood outside for a while and it's missing the front fresh air grilles, some of its chromework and a few other bits, but there seems to be a pile of other parts being thrown in – including what appear to be a pair of new sills – which should make restoration of such an early model that bit easier. Those elegant early chrome bumpers will definitely need work as the back one looks shot – or replacing altogether.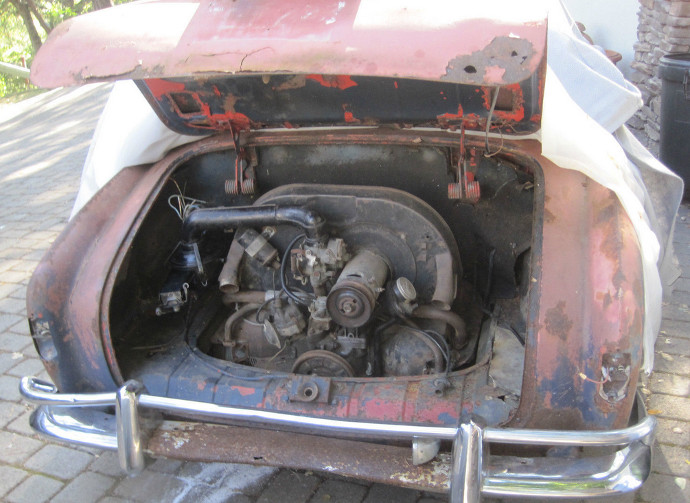 The front seats are non standard (the vendor thinks they're from a Porsche 924) and as you can see it was painted red originally. A glimpse of the insides of the doors with the trim removed makes us think it's not totally rotten – and of course because it's not been 'got at' there's a good original pattern to work from. The underbonnet area looks similarly untouched.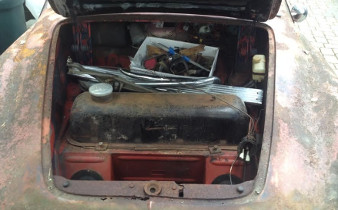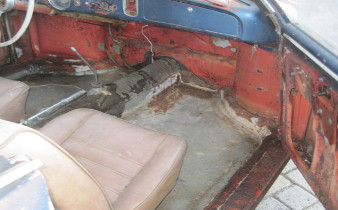 We're not entirely sure of the car's origin, although the towel rail bumpers, elegant chrome appendages on the top of the front wings and the fact that it's a left-hooker suggest it may have come from the States. One thing's for sure, though – it's a full-on restoration but one that's undoubtedly worth doing and worth doing well!
Ian
The opinions expressed here are the personal opinions of the author and do not necessarily represent the views and opinions of VW Heritage