A Jetta from the original Fast & Furious, driven by Jesse in the 2001 mad hat road race epic, sold at auction recently for an astonishing £31,650.

Set mostly in Los Angeles, the film centres around a crew of miscreants who get involved hijacking trucks and pinching expensive electrical gear which inevitably attracts the attention of an undercover cop, guns and a rip-roaring Race Wars car chase.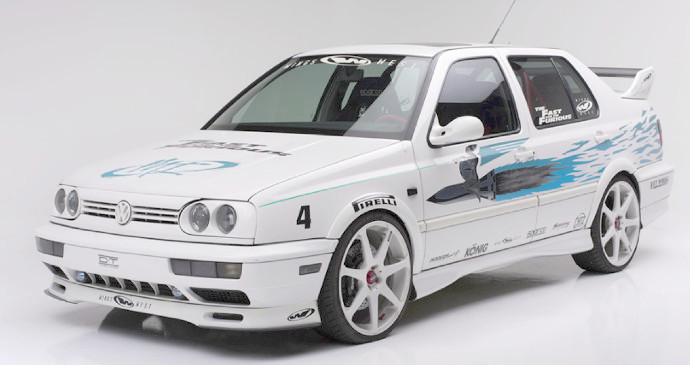 Jesse (played by Chad Lindberg) is one of the crew and gets shot, but that doesn't detract from the excitement Dub lovers the world over still get from seeing his trick looking 1995 Jetta III GT doing its stuff on the silver screen.
When filming for the first epic was over, the Jetta was snapped up by American actor, musician, writer, producer and racing driver, Frankie Muniz. Apparently, he was just 16 at the time. He owned it until it went up for auction at Barrett-Jackson's sale in Scottsdale, Arizona on January 28.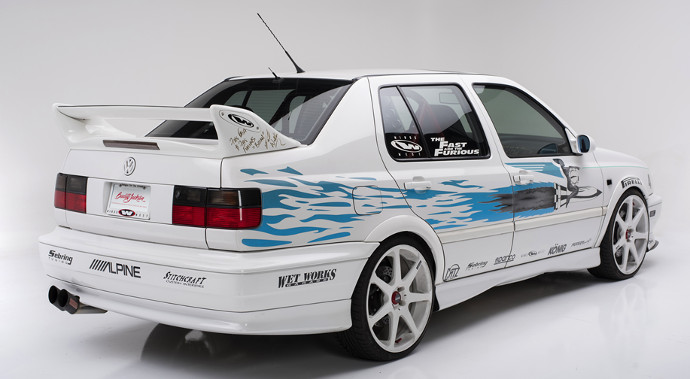 It sure looks the boy racer part with its Wings West RS Racing Series four-piece body kit, huge boot spoiler, flared arches, Hagus Sport mirrors, Hella twin round headlamp conversion, super sexy seven-spoke 19in Konig Tantrum rims and menacing twin-exit tailpipes. To complete the street racer look, it's been dropped on H&R coilovers and if you look carefully you can just catch a glimpse of the Brembo calipers (four-pots at the front, two-pots at the back). Mention of fake drilled discs being stuck on to drums (you can't see the rear calipers in some photos) relates to the real car's denuded 'stunt double'.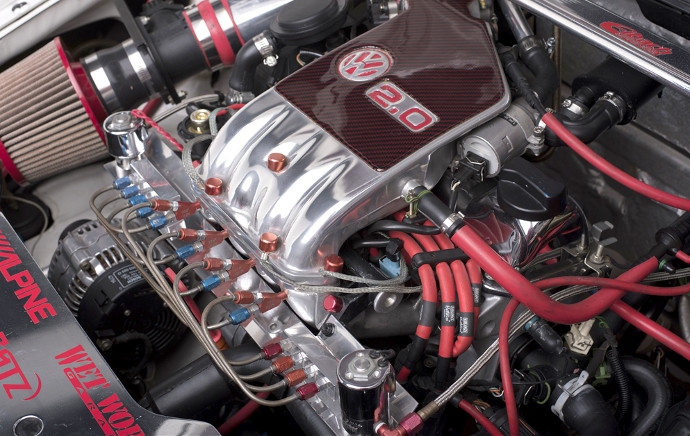 As you can see, a fair bit's been to the humble Jetta's 2.0-litre engine as well. A wilder cam's been installed, a custom Eurosport manifold's been fitted, it's got nitrous, thicker ignition leads, a mahoosive K&N filter kit, a Bosal Brospeed header and a Sebring cat-back stainless exhaust. But get this, it's an auto!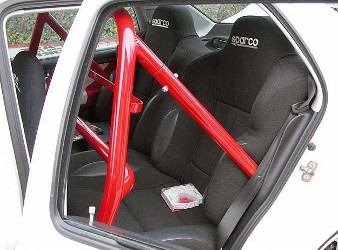 Inside is also looks suitably tricked out with hip hugging Sparco Supersport bucket pews, Sparco racing steering wheel, four-point shoulder harnesses and a full AutoPower rollcage. In tune with the times, Alpine features heavily in the in-car entertainment spec list and there's even a built in PlayStation 2 console. Remember, it was 2001! To add street cred, the glovebox has been autographed by the late Paul Walker (who played Brian O'Conner), Chad Lindberg and director Robert Cohen.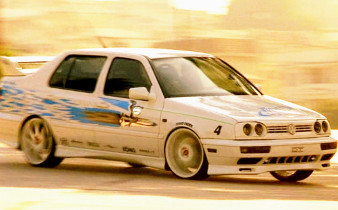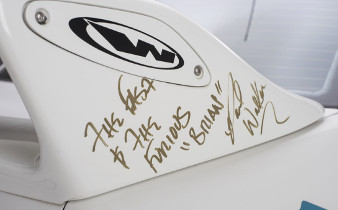 The big question is, would you have bid over 30 grand for this car? I guess if, like lots of us, you grew up watching it on DVDs or if you wished you could have picked it on PlayStation you might have been tempted…
Ian
The opinions expressed here are the personal opinions of the author and do not necessarily represent the views and opinions of VW Heritage