Whether you're an air-cooled purist, like the idea of a fuel-sipping diesel or prefer the smoothness of a later 'wasserboxer' there's a VW T25 engine in the line up to suit all tastes and driving styles. But the million dollar question, and something we're being asked all the time by prospective T25 buyers is – which one is best? Here's our warts 'n' all guide…
Air-cooled – simply the best?
The first T25s from 1980 were available with either a 1.6 (50bhp) or 2.0-litre (70bhp) air-cooled engine and you can instantly identify these by the absence of a second grille just above the front bumper. Air made way for water and was eventually dropped altogether in 1982.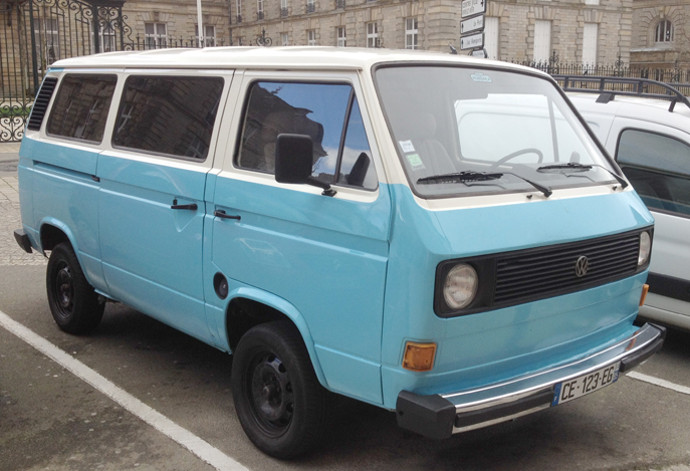 The early 50bhp air-cooled units (carrying a CT code) were derived from the Beetle engine but had hydraulic tappets, conventional oil filter and a cooling fan on the end of the crank. These engines are robust but painfully slow and worryingly thirsty – when buying it's mainly a case of looking for cracked cylinder heads and evidence of overheating due to stuck thermostats.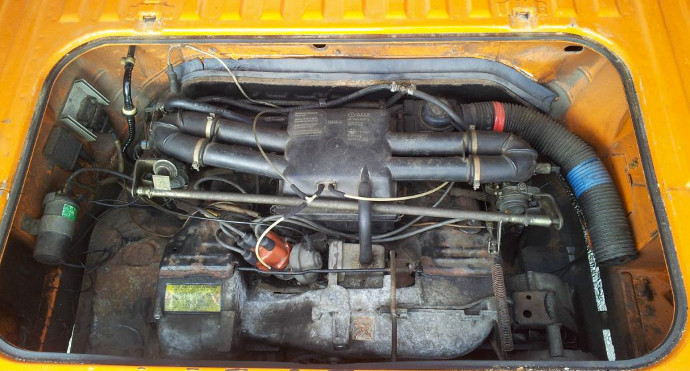 Despite being even more thirsty the 2.0-litre 70bhp CU engine (above) was the better of the two air-cooled offerings. It was based on the Type 4 unit and first saw VW bus duties in the later Bay Window. Its twin Solex carbs, however, are troublesome; they are prone to air leaks and tricky to balance and often replacement is the best remedy. Oil leaks from the pushrod tubes is also common (but relatively easy to sort) while rusty heat exchangers should be viewed with caution because they are pricey to replace. Meanwhile, blue smoke on the overrun points to worn valve guides or general bore/ring wear. Nasty knocks from the crank bearings aren't a good sign either. It's not as easy to check for end float because there's a mesh guard over the fan. We sell remanufactured CU units here for £2,494.95.
Diesel do the trick…
The water-cooled 50bhp 1.6 diesel unit (below) was fitted to the T25 from early 1981. An altogether much better 70bhp turbodiesel was introduced from 1985.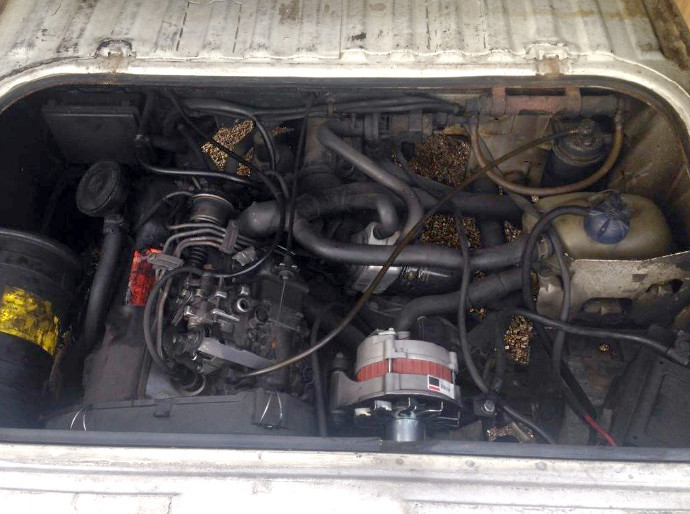 People like the diesels because they suit the nature of the T25 and most were derived from the Golf, tilted over to fit the lower engine bay. A word of warning, though, the early 50bhp CS 1.6 is dangerously slow and many diesels will have endured a hard life as it was the obvious choice for commercial use. The 1.7-litre KY engine (57bhp) was slightly better, but parts are scarce, which makes the JX codenamed 70bhp 1.6 turbodiesel (below) the one to go for. Performance is about on par with the air-cooled petrol unit but with far better economy.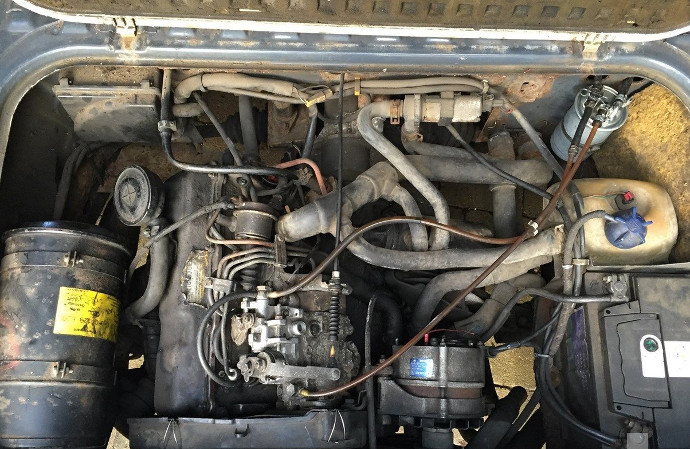 Some owners have managed to eek out 40mpg on a run but between 30-36mpg is probably more realistic. However, cylinder heads crack and turbos can fail, so beware misfires and worryingly sluggish performance. We sell JX cylinder heads here for £549.95 while replacement turbos are £508.96.
Water way to go?
By the end of 1981 there was a switch from air to water-cooling for the petrol units with a 60bhp and 78bhp version being offered (below). The 60bhp DF 1.9 feels a little underpowered, making the 78bhp DG unit a much better option – although beware any with leaky exhausts as it's a complex system and tricky to fit. Economy from these engines is likely to be in the region of 25mpg.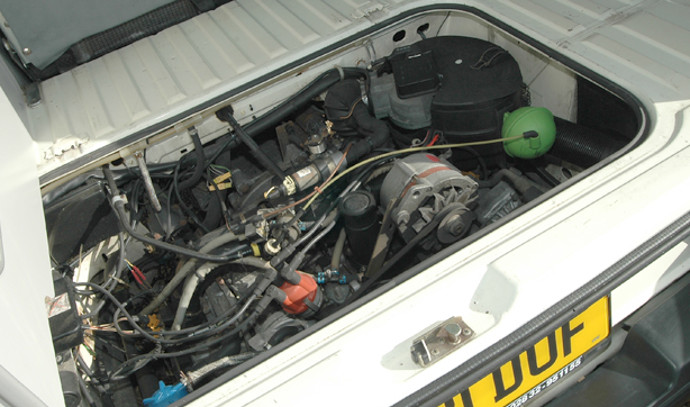 Unfortunately, all 'wasserboxers' suffer from a design fault by virtue of the fact that the cylinder head bolts pass through a water jacket and can corrode if the anti-freeze (containing rust inhibitors) hasn't been changed regularly. Some owners swear by the use of pink phosphorous free antifreeze (G12), but basically it's a case of ensuring it's been changed every two years on the dot. If the bolts go and the gasket starts leaking coolant (you might see a feint crystalised trace initially), then a full rebuild or replacement engine is the only option. Our full range of T25 water-cooled petrol engines are listed here.
The fuel injected 2.1 from 1985-on (with 87-95bhp) is brilliant and can be made to produce a bit more poke if you (legally in the UK) remove the catalytic converter. The pick of the bunch, if you can find one, is the 2.1 carrying the DJ engine code which produces an eye-watering 112bhp and has a surprising amount of usable torque. Being fuel injected any running problems are likely to be a result of faulty sensors, so make sure it idles nicely and doesn't cut out when warm.
Other options
If you've got this far and still don't feel particularly impressed by the factory T25 offerings, there's always the option of upgrading to newer technology. With a different bellhousing a Mk3 Golf diesel engine can be made to fit (below left), although its extra height means you would lose a bit of space in the back unless you angle it right over. You can even fit a later PD diesel unit – anything is possible if you have deep enough pockets. The flat-four EJ22 Subaru Impreza engine gets round the height issue and while you'll appreciate the extra kick in the back from the turbo version, economy would be similar (or perhaps a little worse) than the original VW water-cooled unit – and it would still involve a fair amount of work. That said, you could always fit Subaru's turbodiesel…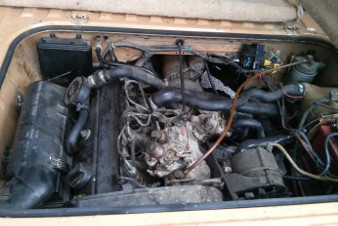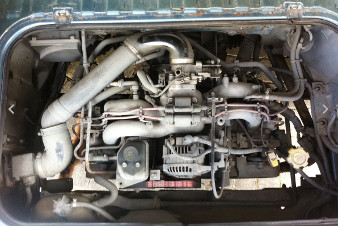 Verdict
To be honest, none of the T25 engines were particularly strong so a vehicle that's just had a freshly reconditioned unit fitted is likely to be the safest bet. Arguably, the non-turbo diesels and early air-cooled units are possibly more reliable than the later water-cooled lumps, but they're not nearly as smooth to drive and a fully kitted out camper with elevating roof will struggle to keep up with  modern traffic.
Of course every T25 owner has their favourite engine, so expect to hear lots of different views on this matter. In our humble opinion though, the two best options are the 1.6 turbodiesel and the later 2.1-litre water-cooled unit. The best advice, though, is to try one of each before you buy and make your own mind up…
Ian
The opinions expressed here are the personal opinions of the author and do not necessarily represent the views and opinions of VW Heritage