If bolting a 5000bhp engine to the flat bed of an early VW split window pick up sounds totally nuts, wait until we tell you that it could theoretically do 0-270mph in under seven seconds! We talked to the creator of this 1958 pick up, technical genius and VW Heritage customer Perry Watkins…
We say 'theoretically' because the fully functioning jet engine's just there for show – and although he hasn't ruled it at some point in the future, drag racing wasn't main aim for Perry Watkins' totally insane but meticulously executed classic VW build. "Having created 'Flatmobile' the world's lowest street legal car and fitted it with a jet engine, I wanted to take things a step further," explained Perry from Perrywinkle Customs. "I wanted a bigger jet and although I wasn't into VWs at the time, I thought an early split window pick up would make the ideal vehicle to display it on," said the Aylesbury man who's actually a shoe repairer by trade.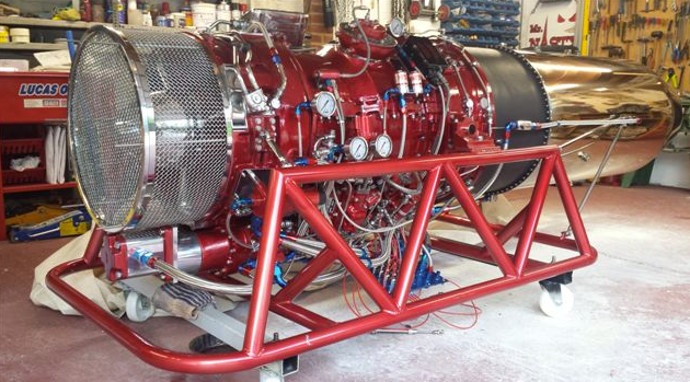 First though Perry had to find a suitable jet engine for the project. "I made contact with Justin Woolgar who specialises in decommissioned fighter aircraft engines and ended up with a 1986 Rolls-Royce Viper 535 jet engine which came out of a BAC 167 Strikemaster jet. I picked it up on the back of a trailer," he quipped. "The thing is, it wasn't in working order when I bought it so I was on a huge learning curve," comments the master of understatement. "Thankfully, there's a lot of information on the internet and I managed to hook up with a few jet and turbine experts who helped. Which is just as well because I had to design the entire afterburner system from scratch." Perry's cleverly made the start up and shutdown procedure completely computer automated, so it's all very safe.
Once he had restored, rebuilt and totally repainted it, Perry mounted the jet engine in a special chassis, built by Hauser Racing.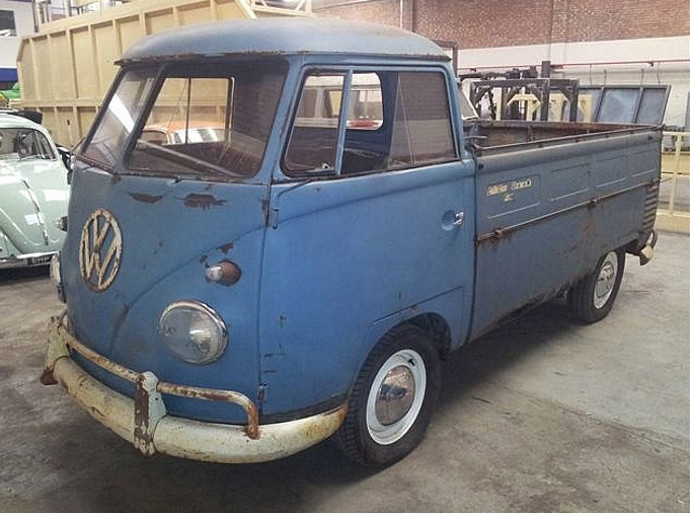 As for the bus, Perry found that on eBay. "It's a 1958 and it originally came from a farm in Oklahoma – hence its nickname 'Oklahoma Willy'. It was imported into the UK in early 2013. Initially I thought it only needed an outrigger to pass an MoT, but in the end I've ended up replacing a total of 68 panels, most of which I've obtained from VW Heritage! Indeed, the only original parts left are the doors and main chassis. Replacing the floor and bed was probably the worst bit," confirms Perry, "that took ages and ended up costing a fortune."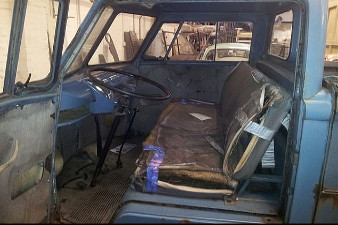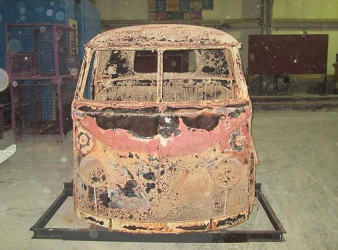 Once he had carried out a stripdown, to enable him to differentiate between sound metal and rust, Perry had a firm called Enviro-Strip in Tamworth work their magic on the bodyshell. "They came and picked it up in the back of a big lorry and took it back to Birmingham. There they baked it in an oven which turned all the paint and filler into ash. It was then dipped to clean everything off. It wasn't cheap, but I'd highly recommend having it done because at the end you are left with zero rust."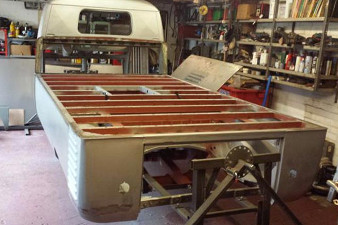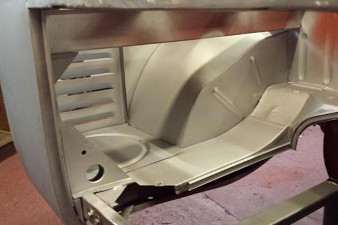 So, with the jet engine fired up and ready to go work began on the vehicle build proper, with Perry fitting a full air suspension system with air front beam, a different steering rack, hydraulic clutch, trick calipers and beefy drilled and grooved discs all-round mated to a split brake system. He also took the plunge and fitted Safari opening front windows and set of chrome Fuchs – which again came from VW Heritage. The final touch was to construct a full cabin rollcage to add rigidity and help keep him safe.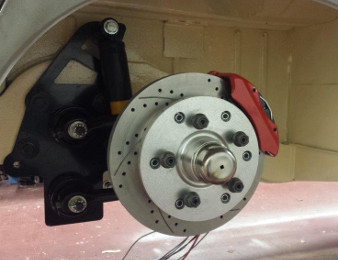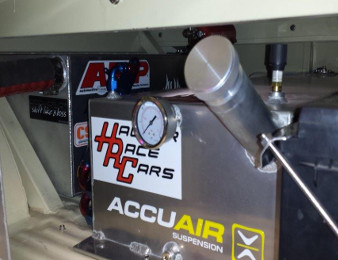 As we write, the now totally solid shell is up at Custom Motor Bodies in Birmingham having a candy apple red and cream paint job which will match the jet engine. They're likely to have it for a few months but once it's back, no doubt Perry will be itching to get it put back together again. "My plan is to do the rebuild and have it all up and running by June at the latest. It will be totally road legal, so I'll be able to take it to Santa Pod as well other VWs shows, and I've already booked it into Essen in November."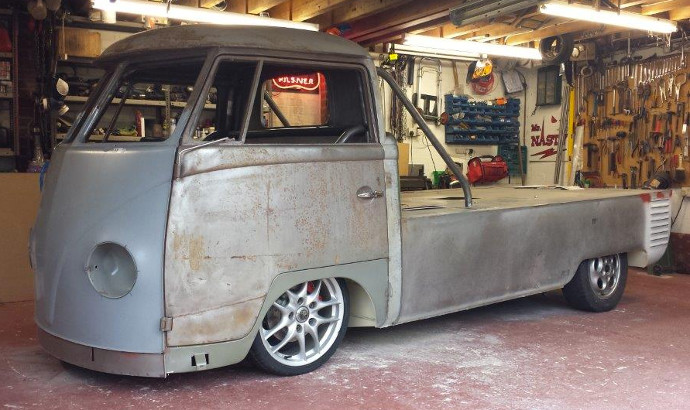 While it would be fun to imagine Perry and his early pickup roaring along at warp factor leaving flames and an impressive vapour trail in its wake, the VW will rely on a more humble 1995cc air-cooled unit instead. "It was never developed as a race car, it sits too high really," muses Perry. "It's going to be totally road legal and I'll only fire up the jet engine at shows. That's not to say I haven't ruled out the prospect of running it under jet power at some point in the future, though."
Given the fact that the 5000bhp jet engine could potentially propel the ancient VW from rest to 270mph in under seconds, that's a pretty scary prospect. Perry's obviously not only a very clever chap, but also awfully brave… If you want to keep updated on progress, check out his build website here.
Ian
The opinions expressed here are the personal opinions of the author and do not necessarily represent the views and opinions of VW Heritage