A lot of you took the time to create a VW Heritage wishlist in April, with the promise that one lucky winner would scoop £1000 worth of parts come 1st May, and, well, someone won..!
A big congratulations to Paul Booth from  Suffolk. He owns an Arizona import Early Bay, which is now on the final stages of rebuild thanks to a pretty extensive year of ordering from our catalogue!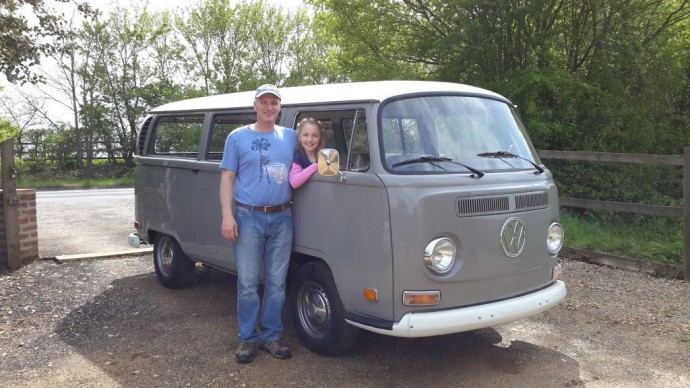 Paul's winning wishlist was a real mixed bag. Some items like the seal for type 2 splash guard were clearly a practical choice where as others like the Z Bed hinge conversion kit, that allows the stock rear bench to turn into a bed, a bit more of a treat – after all, we're paying, not Paul!
Elsewhere on the wishlist, a rear seat cover from TMI to match the newly covered fronts has been chosen, along with some seatbelts to keep Paul and his family safe once they get out on the road. A thermo-mat set for the windows will keep the heat inside on nights away camping; a new steering box and tie rods enlisted to ensue the destination is achieved with ease.
We broke the news to Paul last Friday who said "this was a great surprise and really made my day" he went on to tell us that "My Van is almost on the road as she passed the MOT a couple of weeks back, and I'm now just waiting for the registration process to be finished. The interior of the cab is complete but the rear of the van is empty so the parts will go towards finishing that area off."
Well, from us all at VW Heritage, Paul, congratulations. We're sure your prizes will be put to good use, and make your summer trips out a little more enjoyable / comfortable than they could of been.
If you took part in our competition, we would like to apologise for not announcing the winner sooner, some technical problems got the better of us for a few days! Hopefully you will be able to take advantage of the 10% off discount this month to make up for it a little.
Stay tuned to our newsletters for more chances to win parts, or trips to shows; you've gotta be in it to win it!
Andy
The opinions expressed here are the personal opinions of the author and do not necessarily represent the views and opinions of VW Heritage