Back in the eighties when Audi had its own lethal rally weapon in the form of the quattro, VW tried to develop a credible four-wheel drive contender of its own – and the results were bizarre and impressive in equal measure…
Obviously VW couldn't let Audi have it all their own way with the all-conquering quattro, so Volkswagen Motorsport was called in to work on a competitor to battle it out on the European rally scene – and the first such project appeared in 1981 called the Twin-Jet  (below). It was a lurid yellow twin-engined Mk1 Jetta with an extra engine in the boot.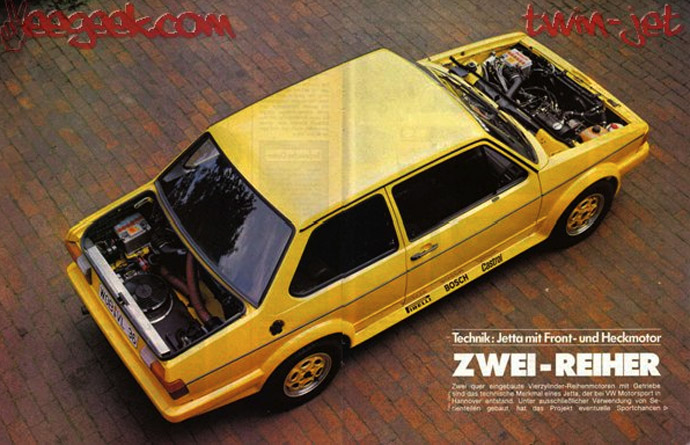 It was the brainchild of Klaus-Peter Rosorius, head of VW Motorsport from 1972, and custom car builder Kurt Bergmann, and modifications included serious structural reinforcement at the back, of course, to take the additional transversely mounted powerplant, along with 6in wide alloys, ventilated discs all round and a hydraulic handbrake.
Both engines were pretty stock 1588cc GTi affairs with Bosch K-jectronic injection. Combined output was an impressive 220bhp and it produced a useful 232lb ft of torque. The ignition and fuel systems were independent of each other, although a beefier front mounted radiator took over cooling responsibilities for both engines, assisted by an additional rear mounted fan. Stock GLi close ratio gearboxes were used with a taller final drive, and a limited slip diff was added to cope with the extra power.
Although the project was a PR success, it wasn't much cop on the rally scene. VW Motorsport decided that more power was needed and for that they looked towards repeating the exercise with a twin-engined Mk2 Scirocco.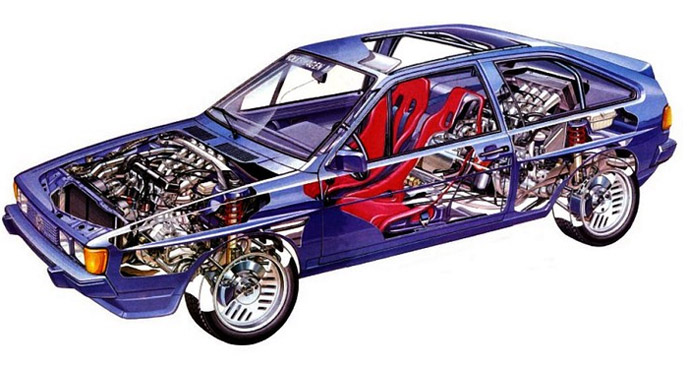 The new 1781cc engine planned for the car, however, wasn't yet available at the time so VW Motorsport asked its contract engine builder, Eckhart Berg, to rebore the existing 1.6 instead, the larger engine having a capacity of 1791cc. Thus, in twin engine configuration, the 'rocco was on par with a 3.58-litre V8 unit! With wilder cams and Zenith Pierburg racing fuel injection with one throttle body per cylinder, output was a hair-raising 180bhp for each unit giving 360bhp in total. Doing the sums, that gave it 54 more horses than the Audi Sport quattro rally homologation special, which it equalled in speed and acceleration. Top speed was 180mph and 0-60mph took a mere 4.5 seconds.
Ingeniously, both engines were 'synchronised' via an 'E-gas' electric hookup, featuring a single throttle cable that ran back to the rear engine where a potentiometer measured throttle position and sent a signal forward to the front engine. Bilstein shocks, vented discs all round and meaty Centra 7in alloys shod with 205/50 VR15 Pirelli P7s completed the package. Two twin engined Sciroccos were built, one for evaluation and testing and another to do the show circuit.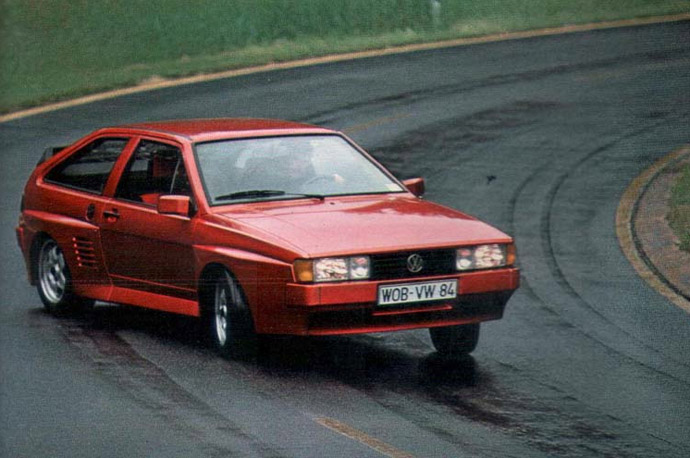 The second throw of the bimotor dice, a prototype of which appeared in 1983 (above), was a totally different beast. Now under the auspices of Dr Ulrich Seifert at VW's Development department, the car was bought to a state of finish where limited production could have been possible. It looked radically different too, with its quattro styled boxed wheelarches. It even wore the same wheels as the early quattro. Inside it was equally quirky with a console specially made by VDO with futuristic LCD readouts replacing the conventional Mk2 Scirocco setup.
Engine wise, now the 1781cc unit was on tap, top German tuners Oettinger got busy on the heads and 141bhp was achieved. But the big difference was the transmission; this car had a pair of three-speed auto 'boxes with torque converters which worked better with two engines and made up for any anomalies in power synchronisation. Mahoosive 10in ventilated discs with four-pot light alloy calipers did the stopping.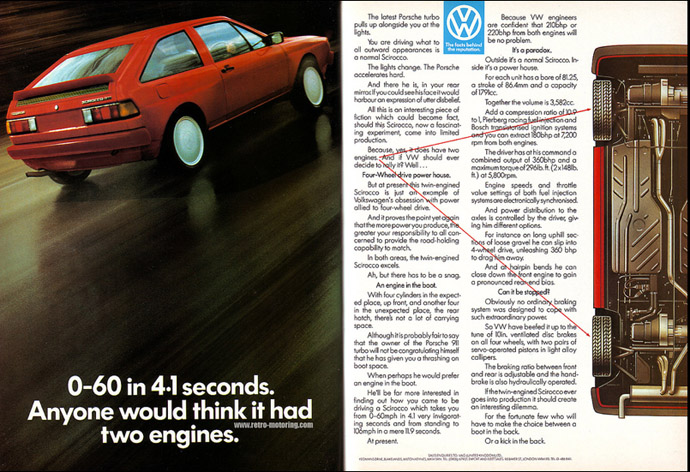 Interestingly, although the car was never made available to the public, VW put together an advert for the car, asking potential buyers to imagine themselves out-dragging a Porsche turbo in a traffic light sprint contest. "If you could see his face, it would harbour and expression of utter disbelief," VW proudly predicted. And then there was the trademark witty sign off suggesting that the car was "For the fortunate few who will have to make the choice between a boot in the back. Or a kick in the back." Priceless.
Ian
The opinions expressed here are the personal opinions of the author and do not necessarily represent the views and opinions of VW Heritage