The competition where you pick the prizes is back! The VW Heritage wishlist competition has up to £1000 worth of parts up for grabs, but you've gotta put them into a wishlist to stand a chance of scooping them!
It's easy to create a wishlist if you haven't made one before. As you browse the website you will discover an "add to wishlist" button on each part. Clicking this will add that item to your wishlist.

Once added to your wishlist you can manage the list from your account, and directly by clicking the wishlist button on the top navigation of the website here.

When you have all the parts you could possibly want or need in this list, you are automatically entered into the competition, and in with a chance of winning up to £1000 worth of parts from your list. Only got £50 worth of stuff? Then you'll only win £50 worth of stuff – got £3000 worth of goodies? Then we'll give you £1000 worth for free when you are drawn the winner!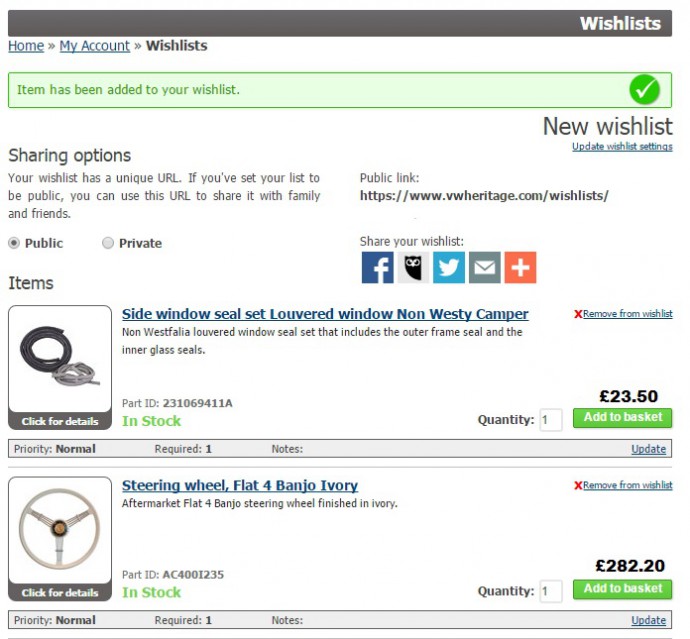 The wishlist isn't just a great opportunity to win VW parts for your project, it can also be used as useful planning tool. Separate lists can be created, and named for different jobs, or vehicles you may be working on. You can click to buy from the wishlist too…. It's like going to the supermarket and finding the trolley already loaded for you!
The competition closes for entry on April 30th 2015, and we will draw a winner at the beginning of May, so, best of luck…….Now get thinking, clicking and wishing!
Andy
For terms and conditions please see website page here.
The opinions expressed here are the personal opinions of the author and do not necessarily represent the views and opinions of VW Heritage