There's a lot of hogwash spoken about seatbelts in classics, so what are the regulations – and how do you go about retro-fitting them in your classic VW if you haven't already got them? We have the answers…
The first seat belt law came into force in January 1965, which made it a requirement for all new cars in the UK to have seat belt anchorage points, and the effectiveness of seatbelts as a life saving device is without question. Safety considerations aside, drivers caught without a seatbelt face on-the-spot fines of £100 and three penalty points. If prosecuted, the maximum fine is £500.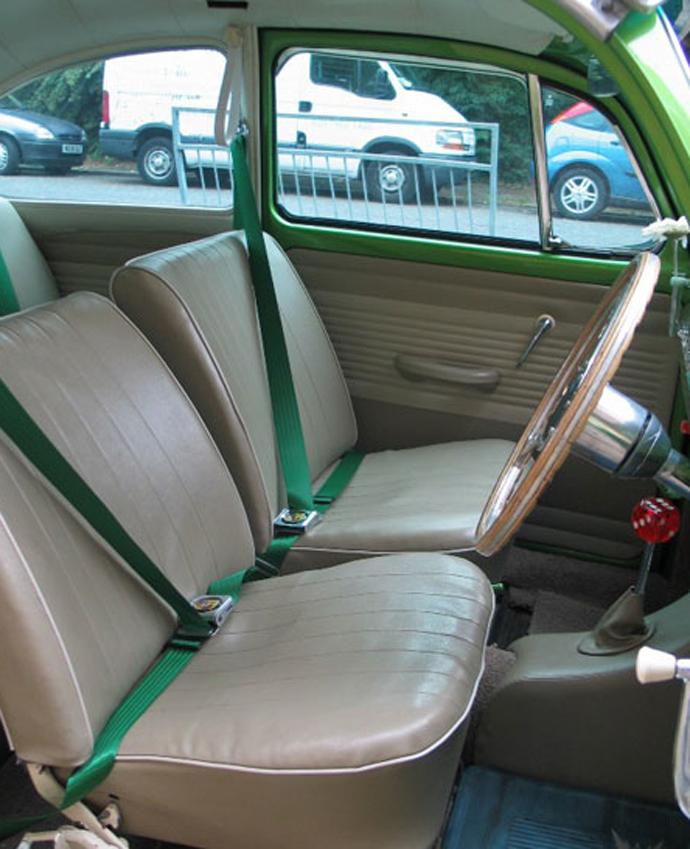 While from '65 there had to be anchorage points, it wasn't until 1967 that the law was changed so all new cars were required to have seat belts fitted. In 1968, seatbelts were required to be retro-fitted to all cars sold from 1965. The biggest development in seatbelt regulations, however, came in 1983 when it became compulsory for front seat occupants to wear one if fitted. Meanwhile, in 1989 it became compulsory for all children under 14 to wear a seatbelt in the rear, and finally in 1991 it was required that all rear seat occupants wear a seatbelt.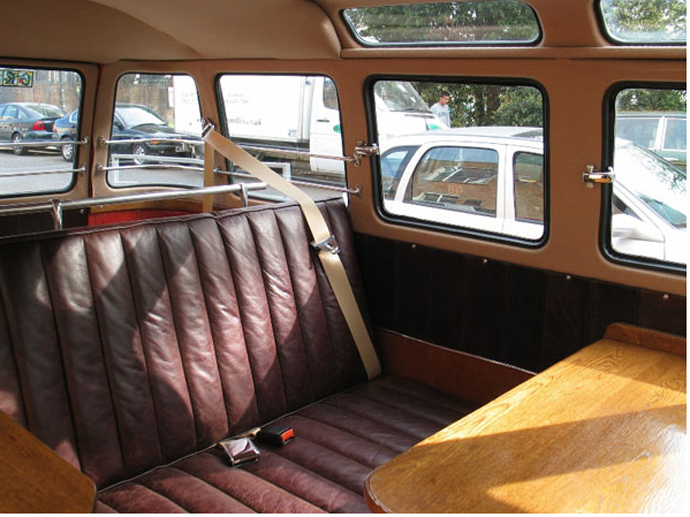 So how does all this affect owners of older VWs? Pre-1965 vehicles aren't required by law to have seatbelts fitted but if seatbelts are fitted to a seat, they must be worn. In other words, if you have seatbelts in your pre-65 car, you are required to wear them – even though there is no requirement to have them there in the first instance. But there are other important issues for owners of older cars. For instance, if a car doesn't have seatbelts fitted, due to its age, then you aren't allowed to carry any children under 3 years old in it. Children over 3 are only allowed to sit in the back seats. Moreover, legislation demands that children under the age of 12 or under 1.35m tall should not only wear a belt but must also use a booster seat. Cars and light vans made after 1 April 1987 must be fitted with seatbelts for each seat. Central seats may have a lap belt, otherwise a three-point belt must be fitted.
Now, purists may feel fitting seatbelts spoil the aesthetics of an older car, but if you use a classic regularly, common sense suggests you need to fit them. What's more, we supply a great range of seatbelts here.
Retro fitting a belt, however, isn't always simple – especially on vehicles where there are no existing anchor points. You may well have to fabricate a custom mounting bracket, ensuring that the metalwork nearby is structurally sound in order to meet MoT standards. If the metal isn't thick enough to bare the load, it may also be necessary to fabricate extra strengthening. We sell an  FIA approved seatbelt base plate which should help though.
Obviously, a mounting point for an inertia reel belt must located in order to allow the belt to retract properly. The height of the various mounts, reels and strap mount must also be correct so there's not excessive force on the shoulder, for example, in the event of a smash.

The good news is that all the necessary period looking belts, fittings and brackets are available to make the job possible – and if you don't feel confident enough to do it yourself, you can always call on the expertise of a specialist such as Quick Fit Safety Belt Solutions in Middlesex.
And that's where the rear belts were fitted to my T25 camper when I owned it. Inertia reels were fitted beneath the rear bench with an existing mounting point hidden behind the trim being utilised as well as an anchorage point created on the top lip of the tailgate shut. The whole process was done while I waited – and it wasn't expensive. Not considering the peace of mind it provided!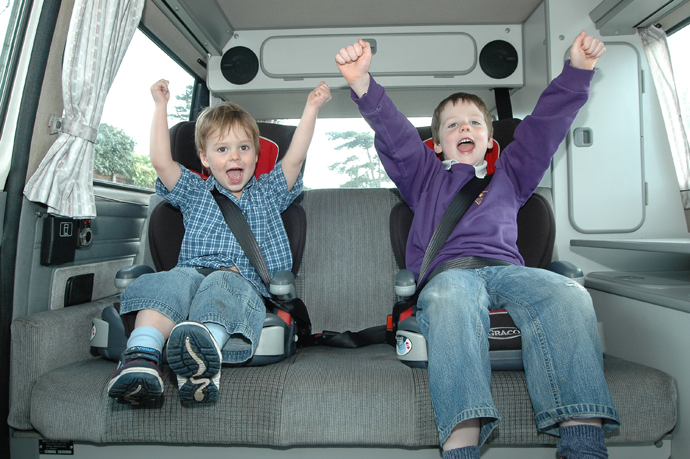 Boss Stuart Quick told me that the only real headaches he encounters is when anchor points are too rusty to provide a secure anchor point – and here welding in new plates is the only solution. VW buses where the upright of the rear seat is located over the front of the engine inspection cover also present headaches, but Stuart says a rod can be welded in across the width of the van to which belts can be fitted. On conversions where the seat cushions are fixed with Velcro, Stuart recommends making a more secure fitting to prevent submarining. Meanwhile, on early Bays where the rear seat is made of thin ply, he often beefs them up with structural reinforcement to make them a safer base for belted passengers.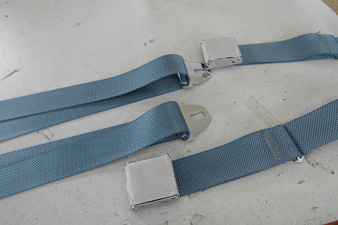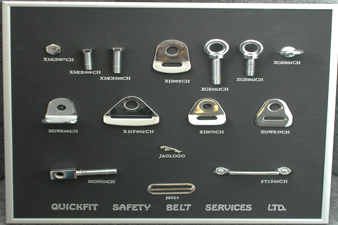 To add to the confusion a little, camper vans with an unladen weight not exceeding 1525kg made prior to 1967 don't require front seat belts, while those made after that date up until April 1981 only require a two-point belt to be fitted. After April 1981, the driver and passenger furthest away from them must wear a three-point belt. After 1987, all front seat passengers must wear a three-point belt.
Legally seatbelts are not required on fold down seats in the back of camper vans, providing the vehicle is not overloaded, but the Department of Transport says it is vital passengers remain safe when travelling and recommend that they remain "strapped in".
But dodging the regulations is missing the point, because where your family's safety is concerned it would be daft to look for loopholes.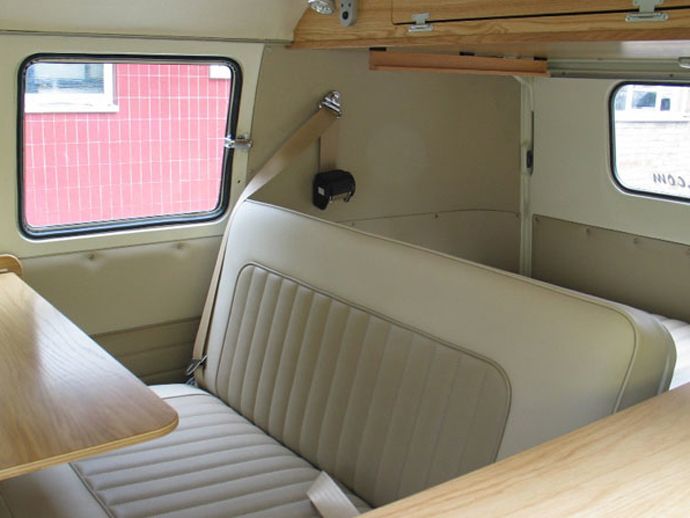 It's obviously important to establish whether your van has seatpoint anchor points, and much of this will depend on whether your camper was supplied as a panel van or a caravelle – you can tell by the fit and shape of the rear side windows; on converted vans there will be a section of rubber between the outside panel where the glass rubber sits, and the inside panel which will have a plastic covering strip to hide the edge where the hole for the window was cut. With the former you may need to add your own anchor points. Whichever, fitting new anchor points isn't a problem – it's a case of getting hold of the mounting plates. You drill out the holes in the two flat sections on the sloping surface under the bench seat and fit the plate behind.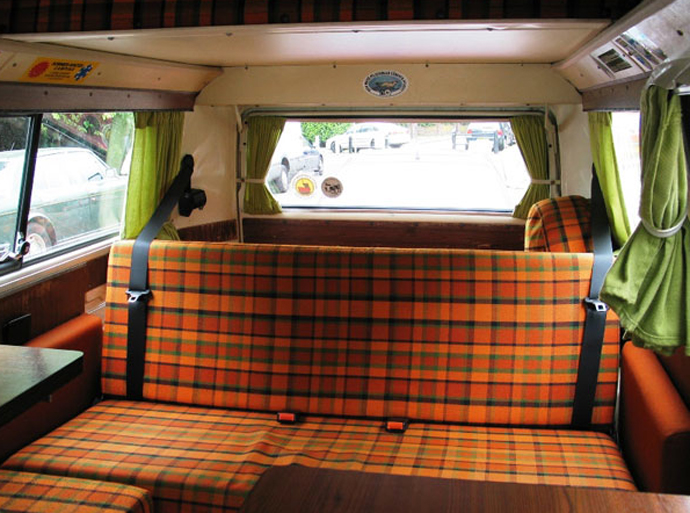 At the rear, there's sometimes a seatbelt point behind the trim on the panel behind the side rear window, but this is only for a static belt and is usually too low to properly guide a belt over your shoulder. A common remedy on the side without furniture is to fit what's called a 'single sense' belt which can be mounted horizontally. The reel bolts directly to the anchor point and the webbing travels straight over your shoulder. The problem is, not only is it still too low, but also because it functions on belt speed alone, it really isn't very comfortable – or efficient – as a conventional dual sense reel. Needless to say, the other side, where there's usually a wardrobe, presents a bit more of a challenge.
Either way, there's a solution out there somewhere…
Ian