Putting Porsche power in a Beetle is nothing new, but when the people's car inherits a beefier engine in a mid-engined position along with most of the Porsche's running gear as well, we just had to take a closer look…
Wolfgang Hornung, director of Hanover tuning business Autohaus Nordstadt, was one of the first to dump a Porsche engine in the Beetle's midriff when he created the fearsome 210bhp 2.7-litre VW Carrera way back in 1973 (below).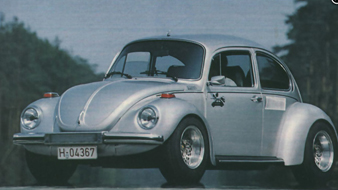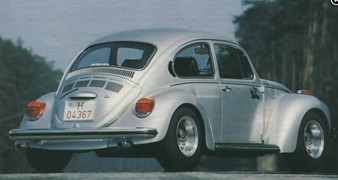 Now, Austrian VW Porsche specialist, Siegfried Rudolf, director of CarMaxx, has had another stab at creating a mid-Porsche-engined Beetle – and the end result, appropriately called the Bugster, is nothing short of stunning…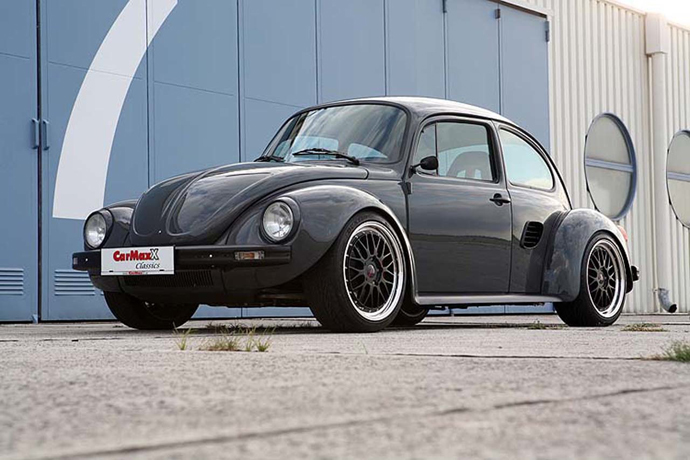 The idea came about, says Siegfried, when he parked his 1303 Beetle Cabbie next to his wife's Porsche Boxster S. "I noticed that the wheelbase was surprisingly similar, which gave me the idea of merging the two cars," he explained.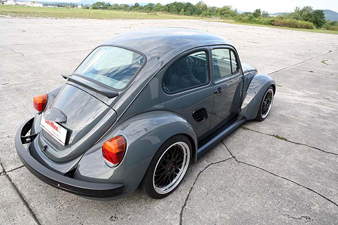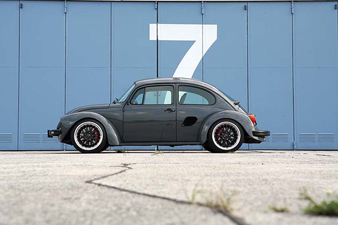 A 1973 1303 Beetle was found, along with a donor 2000 Boxster S (hopefully not his wife's!) and the body from the first was basically welded to the chassis of the other. All the Boxster's running gear was carried over, including useful gadgets such as the ABS, ESP, its mahoosive brake servo and airbags. The car was then painted in a gorgeous Lamborghini Grigio Telesto Metallic.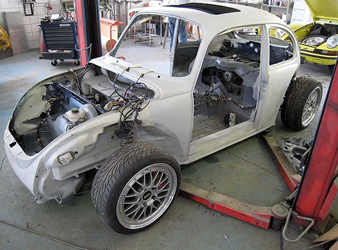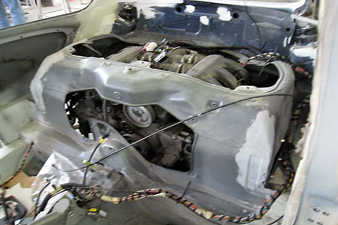 Of course the Bug body had to go through a few changes too. In order to accommodate those 18in rims, the wings had to be modified and air vents have been cut in to the rear quarter panels in order to provide the necessary ventilation for the 3.2-litre Boxster powerplant which sits in a cradle where the rear seats would normally be. The original Europa style bumpers have been retained, but had to be lengthened and the rear apron has been modified to take the Boxter's beefy oval tailpipe. A spoiler below the rear windscreen provides another subtle hint that this isn't just another tuned European look 1303.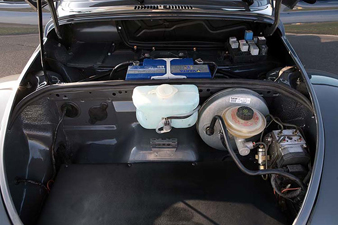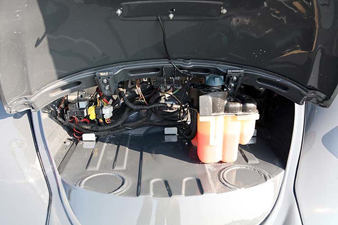 Inside the Bugster has borrowed the Porsche's distinctive dashboard as well as its highback bucket seats. However, the doorcards are unmistakably Beetle, as are – it seems – the original wind-up windows and opening front quarter lights, representing a beautifully intoxicating mix of old and new technologies.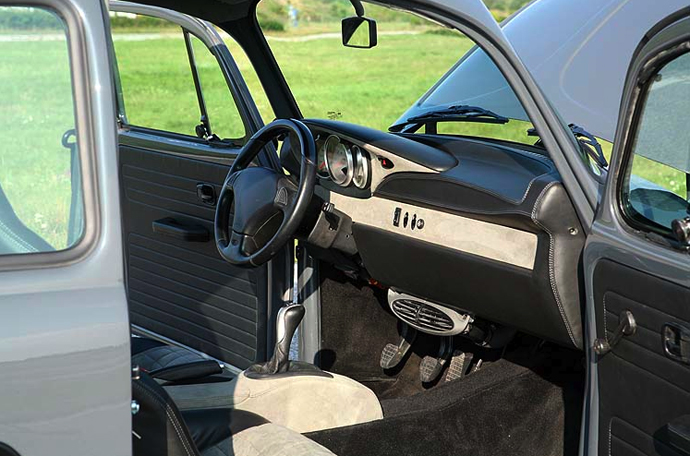 The result is something that looks pretty stock from a distance but goes like stink (0-62mph in just 5 seconds!), has six-gears and the handling prowess of a mid-engined supercar. It's just a shame we didn't know about this a few months ago, because it would have made a wonderful Christmas present!
If you've got a taste for this, check out a UK built example we featured in 2013 here…
Ian
The opinions expressed here are the personal opinions of the author and do not necessarily represent the views and opinions of VW Heritage