Talk about extreme road trips! Steve and Wendi Robbins have toured North and South America, Europe, India and Nepal, taking in 42 countries on route in their beloved 1972 Westfalia camper 'Pumper', covering a whopping 76,000 miles in the last four and a bit years. The intrepid couple even made it over to our HQ a few years back to buy some parts! Here's a quick update on what they've been up to since…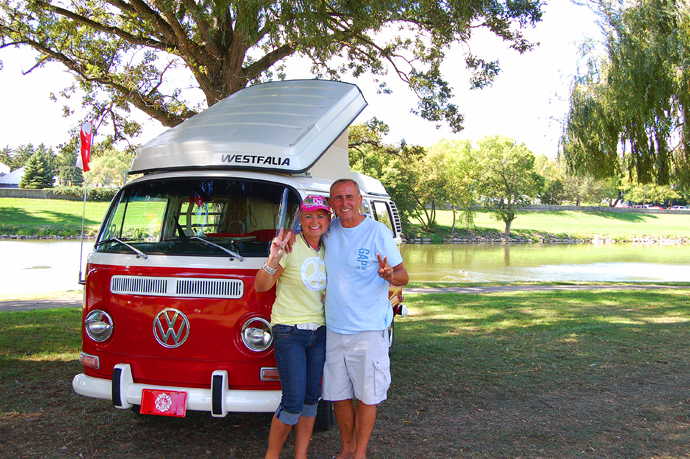 "Three years into our worldwide odyssey, having traversed the United States through 46 of the lower 48 states, every country in Central America and a few in South America, the pull to revisit our roots in the UK and explore mainland Europe was too powerful to resist. After a month in soggy England we were ready for the short ride to France and horizons beyond.
"While winding our way through Europe it was a relief not to be concerned about where we would 'stealth camp' each night. We rarely pay for camping and have enjoyed million dollar views everywhere and a few spots we wouldn't give a dime for! Even in Croatia, despite having been told that we would need to use one of the hundreds of campsites that line the Adriatic, we paid for camping for just two nights during the month we wandered south. Choice downtown spots in Split and Dubrovnik and every other town on the coast, with the elevating roof down who knew we were camping anyway? It was the same in Paris where we slept in the shadow of the Eiffel Tower – we were only bothered once by a Gendarme… to take a picture of Pumper. That's where we had the untimely breakage of the clutch cable and needed to do some emergency repairs outside the Louvre with the police watching in amusement, or disbelief!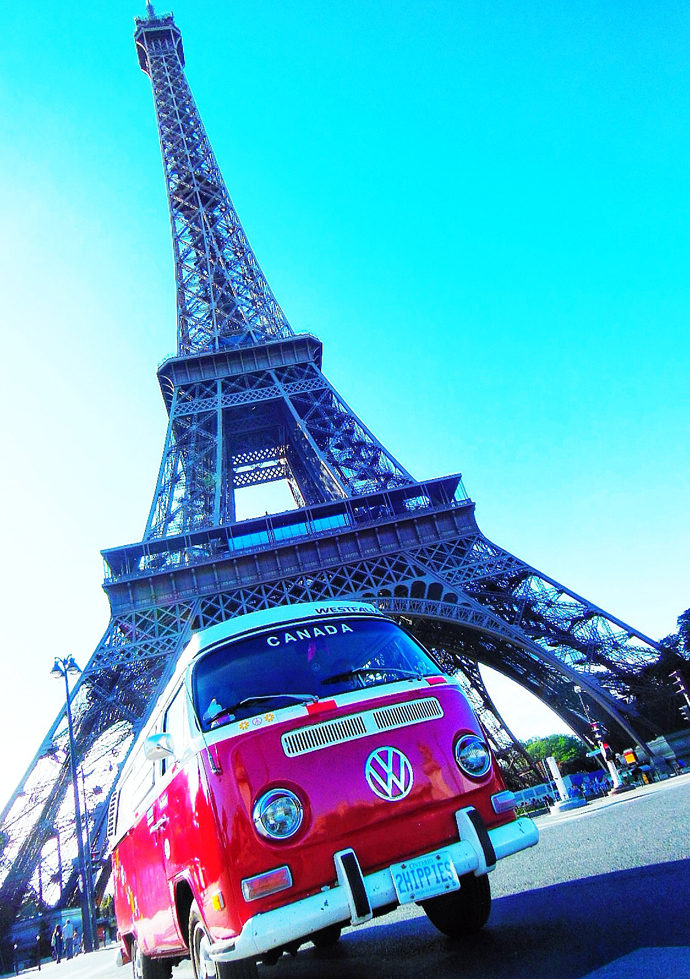 "After enjoying the last of summer in Greece and not being too keen on cold weather (yes, we are Canadian!), Pumper was snuggled up in a container in Athens while we flew to our winter escape in India and Nepal. While we are always sad to be without our trusty Pumper we decided it was not the time to drive from Cairo to Cape Town with Egypt being in a state of emergency and south Sudan near civil war. Maybe another time!
"In India we ran into some health problems so with Wendi flying directly back to Canada, I returned to Athens, drove back across Europe and shipped Pumper back to the US from Southampton.
"As it happened 2013 turned out to be an eventful year for Pumper as we toured the East coast of Canada and the New England states. With over 70,000 miles since we started our journey in November 2009, perhaps a few things were getting tired! With a noise that sounded like someone was trying to get out of the engine using a hammer, we knew it was serious and not something we would be able to repair on the side of the road. We had experienced breakdowns before – it's to be expected – but this was different! $3000 later (it would have been cheaper to put a new one in) we had virtually reconditioned the engine. The hammering noise was the gear flopping around on the camshaft. I had wondered why the timing kept changing! We were stranded in a small two restaurant town in Eastern Canada while the repair was completed.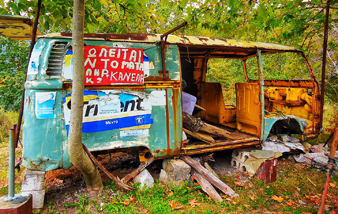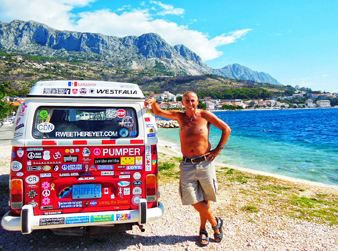 "Two months later we were again headed somewhere warm, Mexico, driving through the central mountains and the numerous spectacular Spanish Colonial towns, the elevation changing from close to sea level to 4000m, all the time watching the GPS to determine when the timing should be advanced or retarded to compensate for the oxygen fluctuations.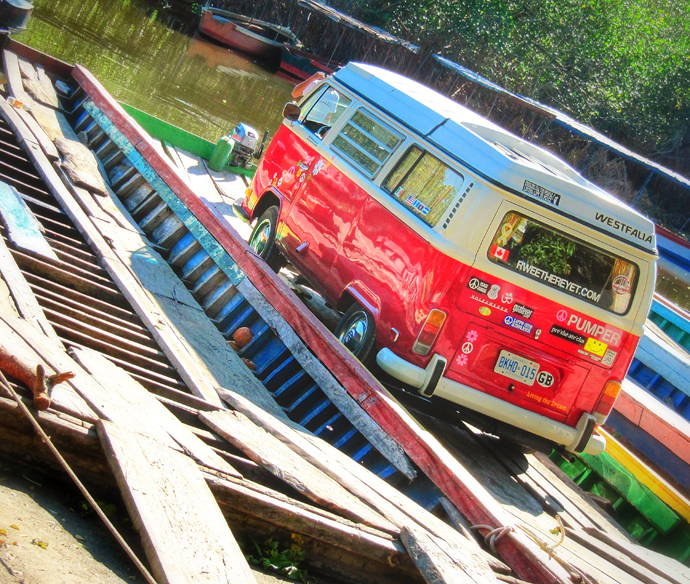 "Headed toward the Pacific coast, she just wasn't running well and as much as I tinkered with the twin Weber carburettors it wasn't happening. Firing on three, I knew there was a problem with number two cylinder or the valves. Yep, the same ones that had been replaced just two months earlier. We just managed to limp into Zihuatanejo, six hours south of Mexico City. The good thing about Mexican towns is that they all have a 'gasoline alley', a road where you can get anything for, or done, to your vehicle, and always on the main road into the town. Finding a repair shop was not hard. Finding spares for a Type 4 engine in Mexico where most kombis were produced in Brazil is a different story. A valve seat had dropped and scarred the head and after two fruitless weeks of trying to source one we machined the head and fabricated an oversized valve seat. Another thing about Mexico: the mechanics are very resourceful, they don't always have the right parts but they find a way. Fortunately, thanks to our travels, we now have a reasonable command of Spanish which also helps.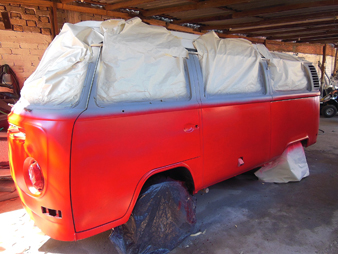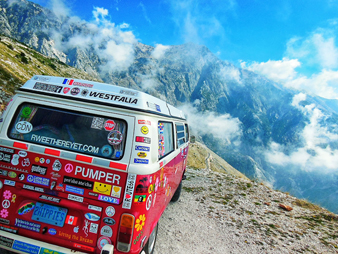 "After four years of driving everything from German Autobahns to stone rutted mountain roads in South America it was our intention to do some bodywork in Mexico where labour is cheap and quality would be good. The fender bender on the way south was added motivation! Through the 'Club VW of Zihuatanejo', (clubs are everywhere and a great source of friends and local knowledge) we were recommended a painter, and what an amazing job he did. The cost was probably a third to a quarter of the cost in Canada. So with all this going on we decided to rent an apartment in the area and hang out for a few months, which is now quickly drawing to a close.
"Next stop over the Easter weekend is the largest VW Show in Texas where we will be showing off Pumper's new paint.
"Where next? We don't know – remember our plan is to have no plan. With 85,000 miles driven there's no end in sight. We would sure love to return to Europe and cover some of the ground we missed first time around. Perhaps in a couple of years…
"Living the Dream and sucking every ounce of passion and enjoyment from life is a daily ritual we work hard at perfecting! Doing that together and experiencing the joy of so much and so many rocks our world!"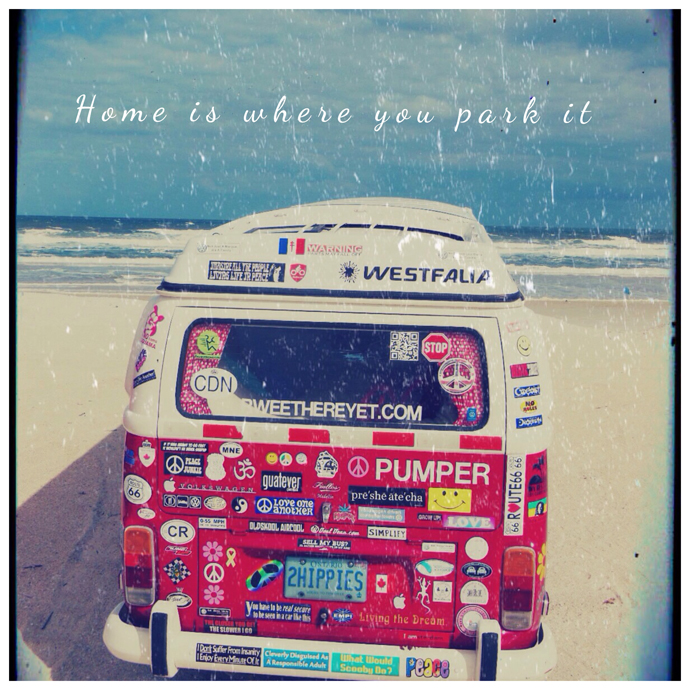 You can read more about the travels of Steve and Wendi Robbins on their blog www.rweethereyet.com