Car museums are great – but you can't help feel a tad sad for the exhibits destined never to turn a wheel, denied the thrill of ever taking to the open road again. If they had a voice, they'd be pleading, "hey, don't tell me you're going to keep me parked up in this place for the rest of my life!" Well, you'll be relieved to know things are a bit different with VW's factory collection where the cars not only get driven, they get rallied as well…
Instead of being left to gather cobwebs in the corner of an exhibition hall VW grabbed the keys for a 1302 Beetle and Mk1 Scirocco and bunged them to a top VW executive and racing legend Jacky Ickx so they could take them for a spin. Only the 'spin' would be in China and involve the two cars taking part in the country's biggest classic car race from Beijing to Shanghai, covering over 1,600km in a week against 50 other vehicles, including entries from Aston Martin, Porsche, Maserati and Bentley….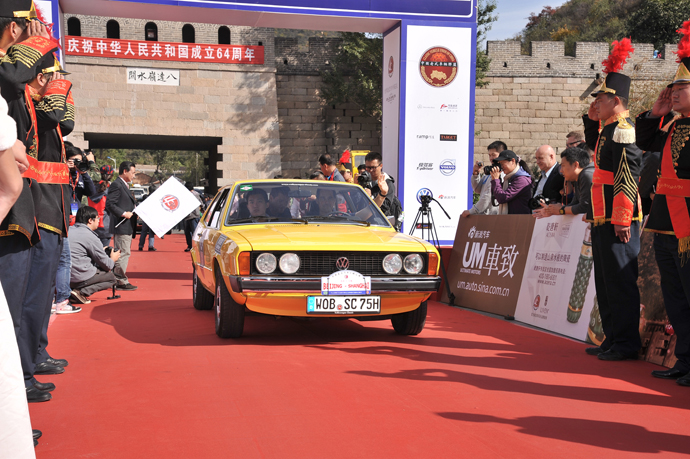 After the start in the capital city Beijing, the first stage of the '4C' rally led to Tianjin, one of the most important seaports in the People's Republic. Over Qingdao, the drive continued southwards along the Yellow Sea. Prior to the final stage, the cars passed the old capital city of Nanjing before reaching the final destination in the booming economic metropolis of Shanghai a week later.
The Chinese love classics and literally millions of spectators turned out to see the 1972 Beetle and 1974 'Rocco TS as they made their way across the Middle Kingdom. Of course, with China being VW's second 'home' market with sales rocketing by over 18 percent in 2013, the Wolfsburg firm had good reason to enter the cars, seeing it as an ideal way to establish the link between these models and the firm's latest Beetle and Scirocco R offerings.
And guess what, the classic Scirocco piloted by Ickx, won! We didn't manage to find out where the Beetle finished which doesn't bode well but we only hope it made it to Shanghai in one piece and that it's now recovering from its efforts back in Wolfsburg…

It'd be fun to get behind the wheel of this Puma!
Now who's up for giving VW's other classic museum exhibits some beans in a rally? I'd bagsy the '79 Puma SP1! What would be your weapon of choice from the collection?
Ian