When the local road is more like a fast moving stream and the village pond becomes a lake, you know you're in trouble. Indeed, the recent floods have made many low-lying parts of the country a totally waterlogged no-go area for motorists. That's why we thought it would be prudent to check out some clever and innovative Dubs that would prove just perfect for the current conditions…
Schwimmwagen
Of course the most obvious and able amphibious Volkswagen of all time was the tub-shaped Schwimmwagen. Ferdinand Porsche was its creator; his 1940 concept, the Type 128, was a water-loving version of the Kübel with four-wheel drive and an ultra low ratio cross-country extra gear.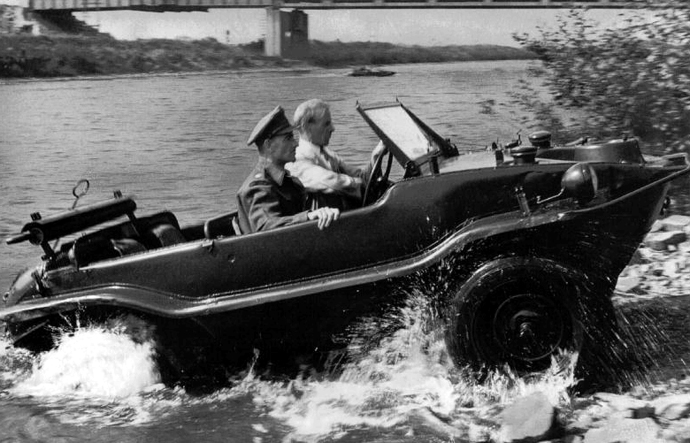 It used the same running gear as the Type 60, with torsion bars and the front and torsion sprung swing axle at the rear but with self-locking differentials on both axles. The tub like body was watertight and welded from sheet steel, with rubber seals miraculously preventing leaks around the steering arms and driveshafts. Power came form a 25bhp 1131cc air-cooled unit, mounted in a waterproof compartment.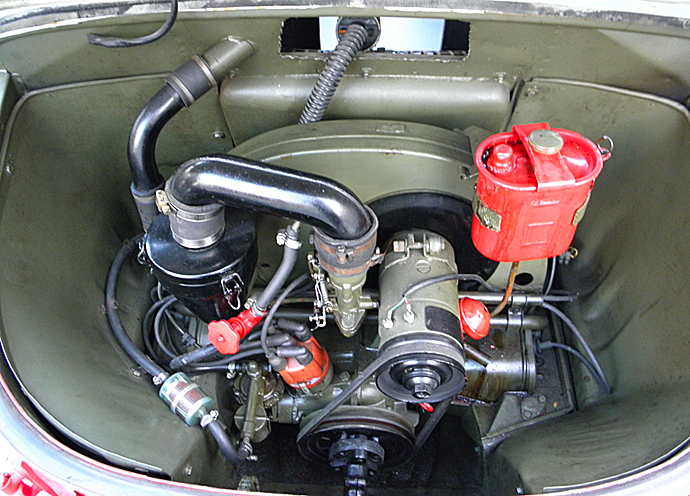 When in the water, the wheels kept turning but  drive was provided by a three-bladed propeller which swung down into position; steering was by means of the front wheels.
Although the Schwimmy was capable of 80km/h on land, it could only do about 10km/h off it due to its deep draft so it was hardly a speedboat! And the fact that equipment included a pair of paddles couldn't have given the craft's crew much confidence!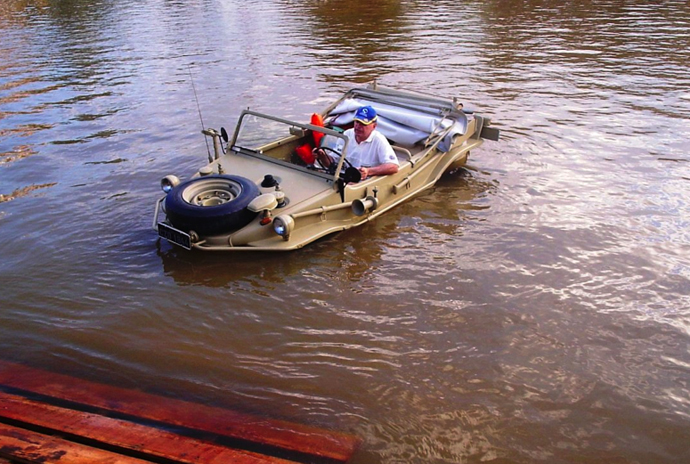 The Type 128 was replaced by the hugely talented Type 166 in 1942; it was not only more compact but was also lighter and had a better range due to twin fuel tanks. While still not brilliant in the water, it was virtually untouchable in terms of off-road ability. A total of 14,283 Type 166s were built between 1942-4 and it's thought that around 150 still exist today. If you're interested in finding out more, visit the excellent Schwimmwagen Registery.

If you fancy buying one for the next raft of floods, be prepared to take out another mortgage first – the few that have come up for sale have changed hands for in excess of £100,000!
See Golf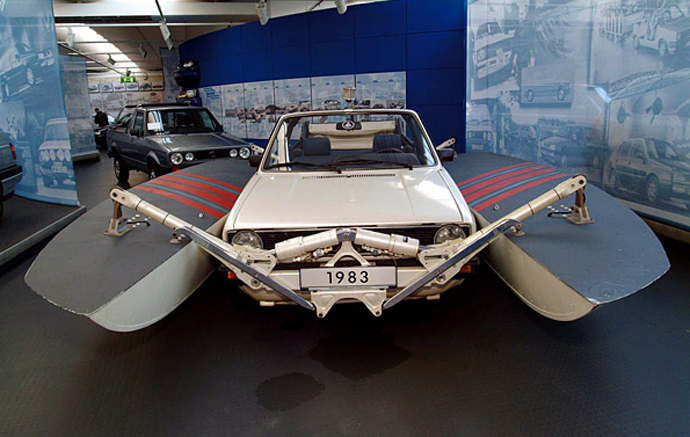 Made in 1983 for the Golf GTI meeting at the Woerthersee Treffen the See Golf is a peculiar affair featuring twin hydraulically operated floats which serve to lift it out of the water and a complex driveshaft connected to a propeller at the rear. It's based on a Cabriolet, but with specially sealed doors! It's currently in the VW Museum at Wolfsburg, but you can actually see it in action here. Our only thought is, you'd need a pretty wide stretch of road to drive it on when not on the water!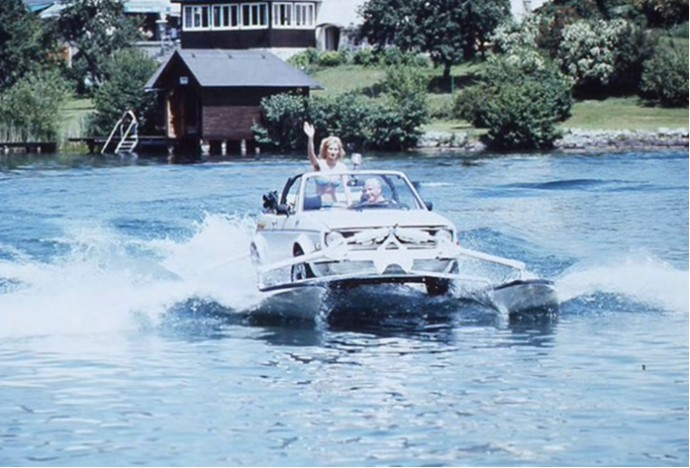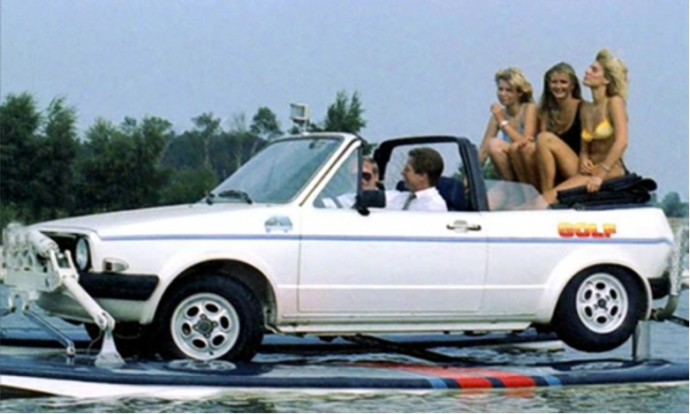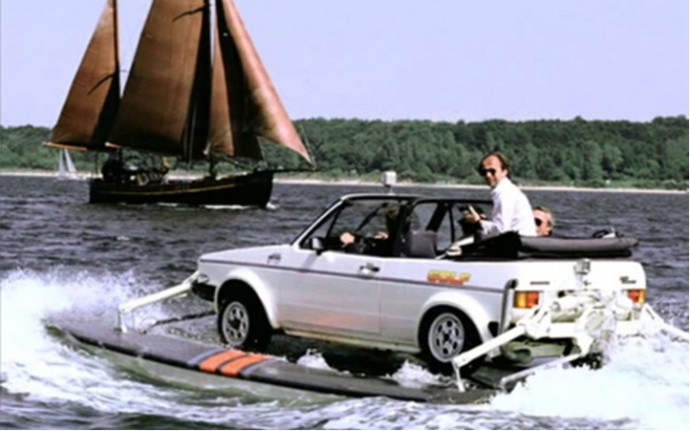 Wood you believe it?
This is madcap artist Livio De Marchi and his pine boat car modelled on a Cabrio Beetle which he unveiled in 1999. Details are pretty sketchy, but we assume that because wood floats, it's actually quite happy in the water. It weighs 600kg and is powered by a 10bhp Yanmar marine diesel engine. Top speed is around 5km/h. Interestingly, he also made a Ferrari F50 from wood – but we doubt that's any quicker than his Bug.
Beetle pedalo
Now we're talking! A floating Beetle that will work off your Christmas flab as you pedal it along to your local! Just image the look on your fellow drinker's faces as you moor it up outside…
It seats four, and even has a set of shiny ladders to allow you to plunge off the back after a particularly long drinking session should you so wish. Best of all, this fun bug-shaped pedalo is made in Germany! It's yours for just over two grand!

Bug inspired pedalo a good way of coping with the floods and burning off a few excess carbs at the same time!
Sea Bug
Not much is known about this particular craft apart from the fact that it was build by Australian Paul Greene in around 1985 and was passed on to his son for safekeeping.

Australian Sea Bug was mostly fashioned out of fibreglass…
Duncan Dared
Remember this? It was ex-Blue Peter presenter Peter Duncan's unsuccessful attempt to cross the English Channel in 1985 for his programme Duncan Dares. We presume Peter's mullet sporting crewmate is trying to attract the attention of  the local coastguard…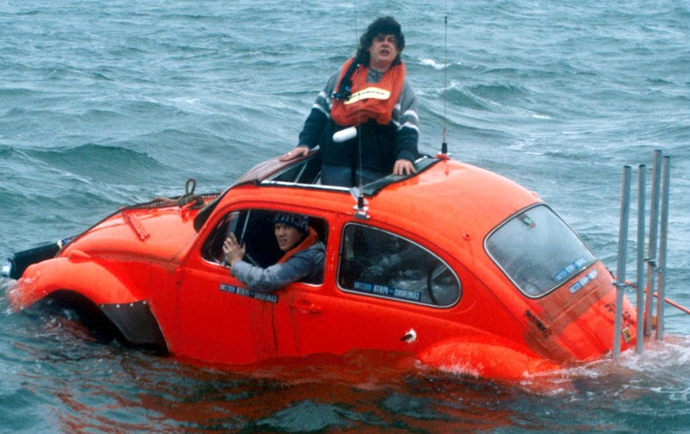 Luck of the Irish
A more successful attempt at building a water-going bug – this time by Malcolm Buchanan who made it across the Irish Sea from the Isle of Man. Where's this vehicle now, we wonder?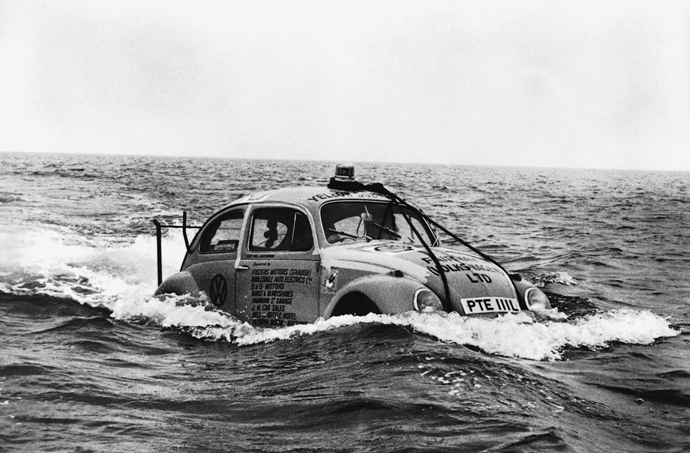 So there you have it – our round up of the best flood-busting Volkswagens of all time. Perhaps the next time you experience wet carpets in your Veedub you'll spare a thought for the intrepid crew of these craft for whom a pair of good wellies or a wetsuit was always an essential part of every journey!
Ian