This event attracts visitors from across the world; thousands of exhibits compete for your attention, every one with a story and an owner willing to tell it.  Hundreds of businesses, each offering their services to the masses, from auction houses to restoration garages, artists, craftsmen and parts specialists like ourselves rub shoulders, the diversity is like no other car show.
11 halls, covering what seems like 10 miles are bustling with enthusiasts of all ages for 3 days solid, it would be no lie to say this show needs more than a day to see everything. Live interviews with automotive TV personalities and racing driving legends intersperse with demonstrations of lost crafts and modern ways to restore your classic car, an ideal time to learn about your heros, some tricks of the trade and for a rest, as your feet really do take some punishment!
So, what did VW Heritage take to the show?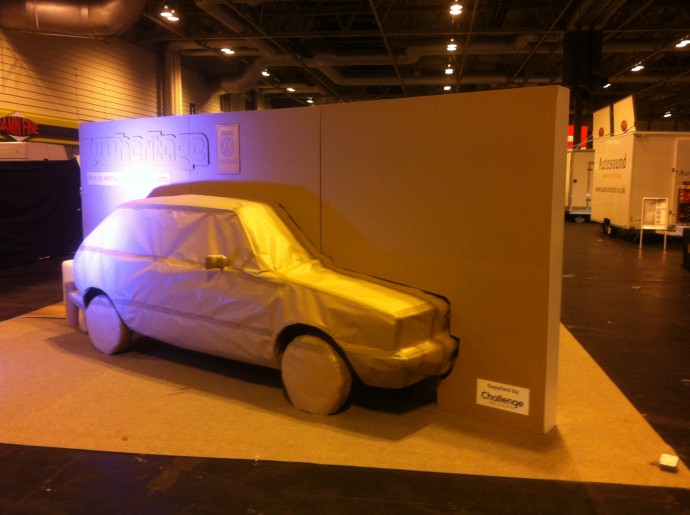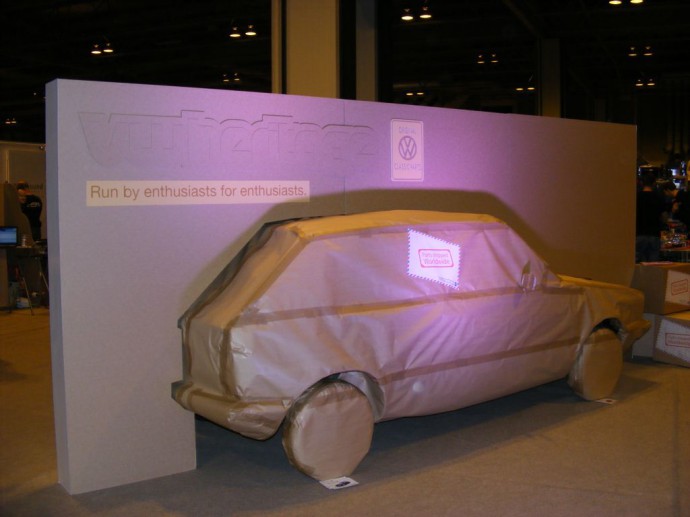 Cardboard, and lots of it! Thanks to the team at Challenge Packaging– our trusted box supplier, we went equipped to the show with a truly unique presentation of what VW Heritage can offer the classic car community. Designed in collaboration with their cardboard champion and chief designer Ben, the stand focused around a 2 metre high wall, which dissected David's 29,000 mile from new Mk1 Golf clean in half. One half of the car was wrapped in parcel paper, a visual nod to our global mail order capabilities, the other half was pristine and white, a 3 dimensional advert in our current "annotated" style.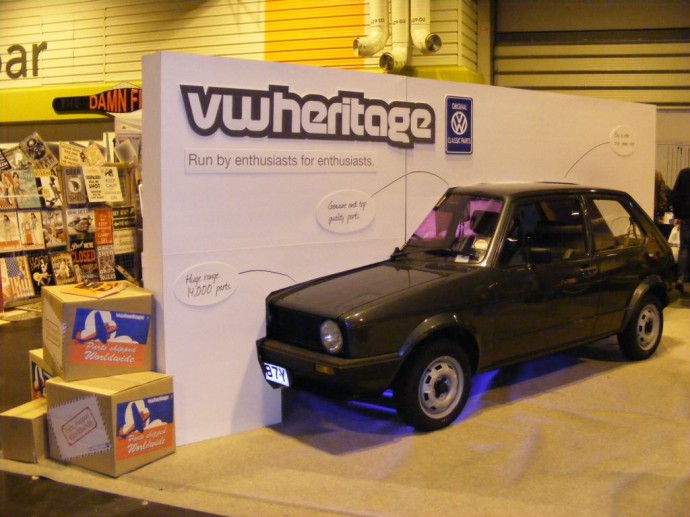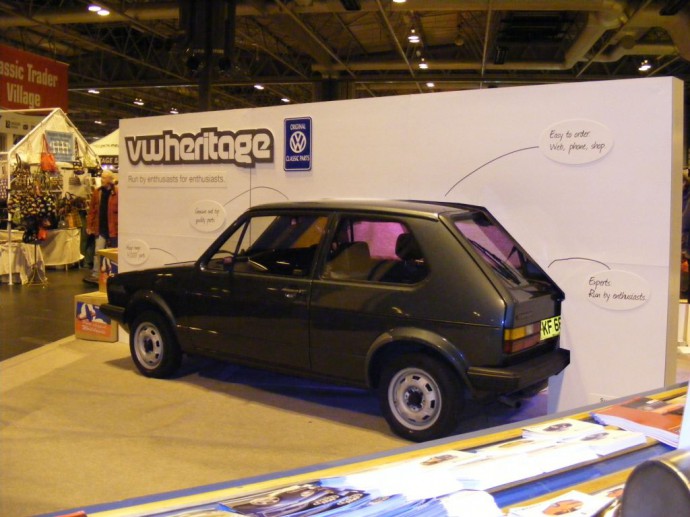 Away from the Golf, our 1956 Single cab Split drew the crowds and their cameras more than we could ever imagine. Hearing stories from "old boys" about how they used to own one or used one for work. A tale about a single cab pick up being turned into a refrigerated vehicle for an undertaker's,  another about a D.I.Y MG engine conversion stood out from the rest. Many more show visitors took a moment to admire its aesthetics, taking a photo or two and wishing they could drive it home. A big shout to Prosign, their sterling work on the sign writing finishes the truck off, and was complimented by a number of other sign writers, not to mention non artist folk too.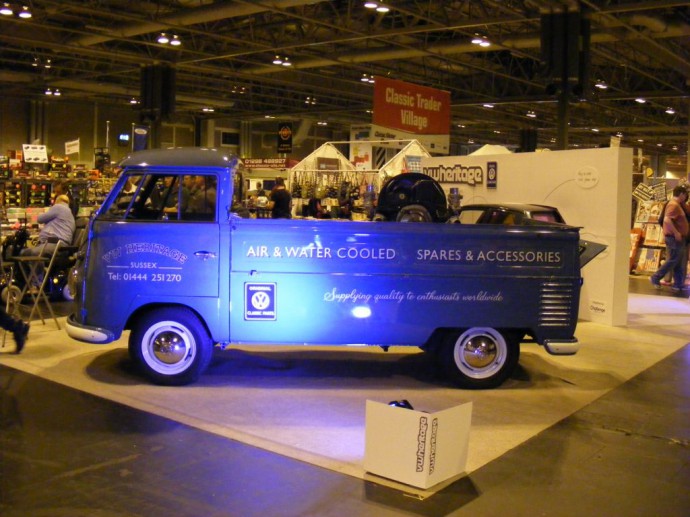 Rounding up our Cardboard theme, our desk aside, was the fantastic cardboard camper. Born from discussions with Ben at Challenge Packaging about other projects he's completed, some based around furniture (chairs, tables and beds), we decided a Campervan seat would be a great addition and a brilliant talking point. We weren't wrong; had these of been for sale, we would of taken a whole bunch of orders! Some passers by just pointed and laughed, others cautiously took a seat, not believing it would take their weight. A big thanks to the Evans Waterless cooling girls, they happily took a seat, and posed for a pic too!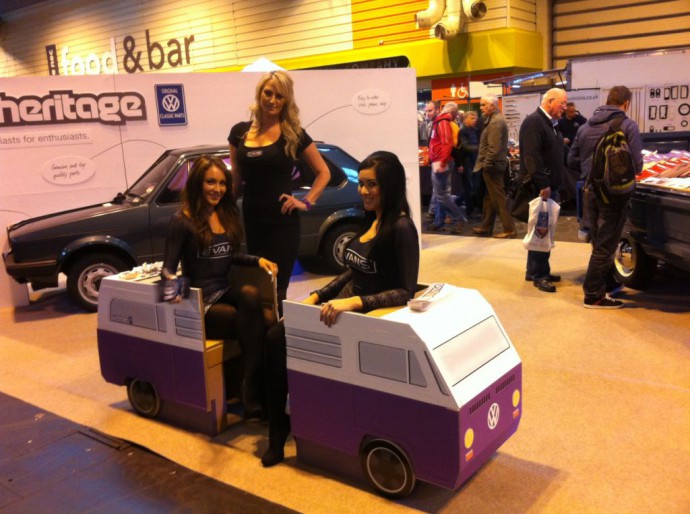 Away from the VW Heritage stand, a whole world of classic motor vehicles awaited. From veteran bone shakers, to Ferrari Enzos and the like, Vintage Buses and commercial machinery and everything in between (Aston Martins to Austin Maestros!) For those who like things with 2 wheels, the Classic Motorbike show is situated somewhere near the middle, and offers a change of scenery and a chance to fantasise over classics, cafe racers, scooters or choppers depending on your persuasion.
We'll dedicate another article to the sights beyond our stand, there really is so much to show you!
This was one of my favourite shows of 2013, great to meet so many new people who also share our interest in old Volkswagens, and fantastic to be a part of such a huge show of international relevance too.
Andy