Rarer than rocking horse droppings, we spotted this '50s VW-based coachbuilt beauty at a car show in Hertfordshire this summer. But what is it? And why does it look so American? We did a bit of digging to find out…
It's actually a Rometsch Lawrence Coupé, made in 1958. It was designed by Bert Lawrence, hence the name, who was obviously influenced by what was going on across the pond, given its numerous US styling cues. Many feel that this later design wasn't as attractive as the original, more rounded Beeskow model, but nevertheless it still won the Golden Rose Award of Geneva in 1957.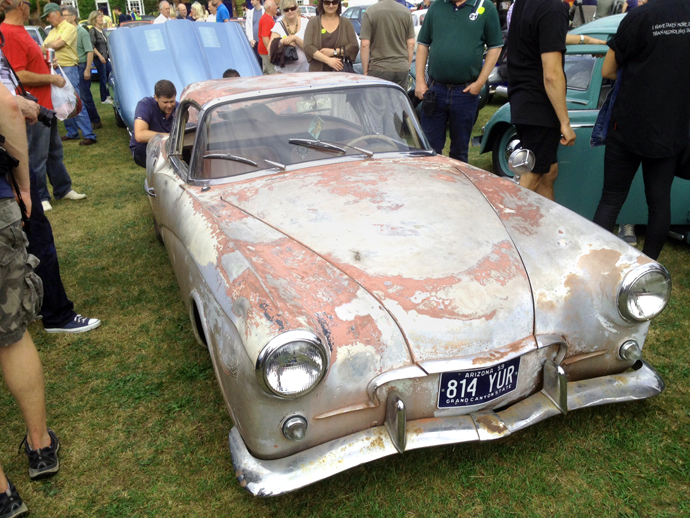 Like the earlier Beeskow Rometsch, the Lawrence was available as a coupé and convertible and also shared the earlier car's handcrafted aluminum over steel/wood frame construction.
Production continued until 1961, when the Berlin wall separated the East German workforce from the workshop in West Berlin. The Rometsch firm still technically existed after that, but in a much-diminished capacity.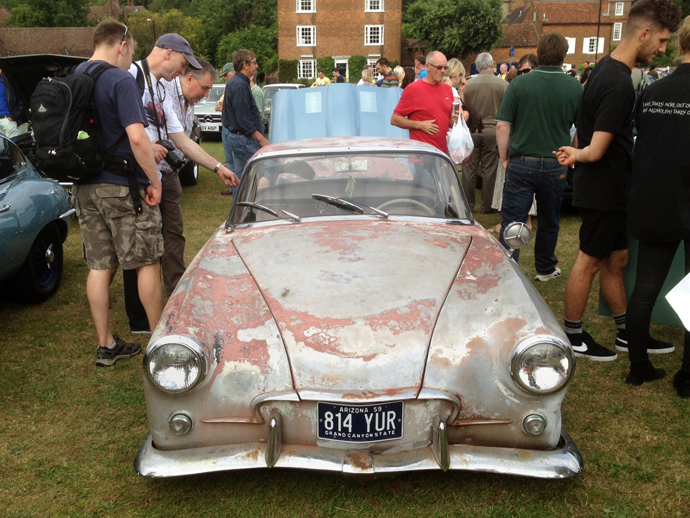 According to Patrick Baptist, who runs the Rometsch Lawrence Registry, 85 examples of the Lawrence were built, of which just 32 survive worldwide (15 convertibles and 17 coupés)  – and incredibly, this is one of them.
Precise details about the car and its lucky owner remain fuzzy, but judging by the plates it's possibly a freshly imported car from the States. The current owner is obviously keen on retaining the car's original patina while being prepared to slam such a rarity to the ground and fit Fuchs alloys, although we guess that's nothing that can't be undone later. Otherwise, the car itself looks complete and actually pretty factory which is just as well because we imagine getting hold of replacement body panels and interior items could prove tricky to say the least. Ditto those wonderfully curvy chrome bumpers which appear to be in incredibly good nick given the car's age.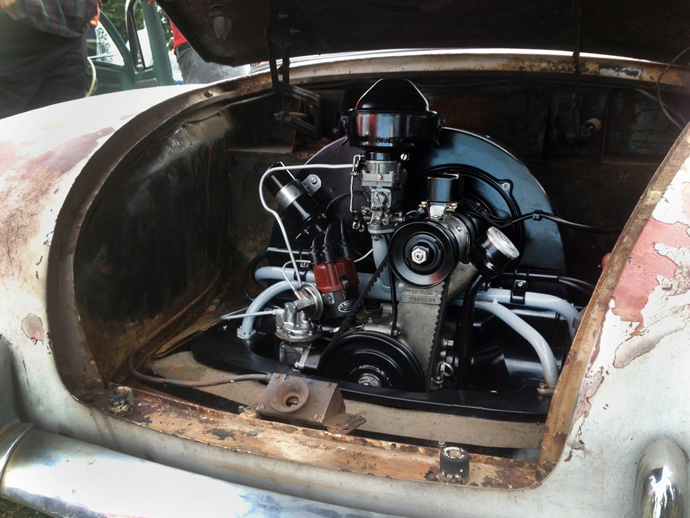 The mint looking single port engine looks from the period and has obviously been recently refurbished. Moreover, it appears stock judging by the oil filled air cleaner sitting atop the diminutive looking carb.
Of course we'd love to know more about it, so if the owner's out there – please get in touch!
Ian
Thanks to Nic Cooper for the pics.