April 1st could of seen pranks a plenty for Jan Husseyin, fortunately for him though he had entered our "Win your Wishlist" competition… and this wasn't a joke!
Calling som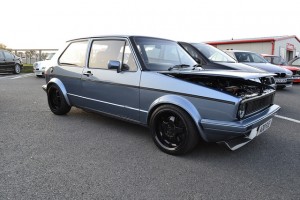 ebody with good news is always a pleasure, and after reassuring Jan that this was far from a wind up, in fact he had won himself over £860 worth of parts he told me about his car.
Buying an Audi S3 engine to start with, then finding a decent Mk1 Golf to put it in..he is building someth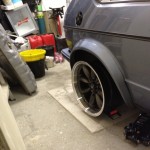 ing to give Subaru's a run for their money. Having spotted the competition on the Edition 38 forum, he entered for a laugh – that definitely paid off after he collected his Momo 280mm team steering wheel, black 6 piece trim kit and set of 16″ Rota RBR's all courtesy of us! A quick scout through Jan's build thread shows he's not been sitting back on his winnings – check out the work in progress pic of a wheel bolted up! To read more about his car, be sure to read his build thread here
Having a winner who only picked £860 worth of parts meant there was still £140 in the kitty. Cue another name out the hat, and this time T25 owner Charl Vockerodt was the lucky winner.
Having owned his T25 panel van since new, Charl has carried all the servicing out himself since the warranty expired. Treating his daily transporter to a new expansion header tank and a set of springs was an added bonus after buying the essentials from his wishlist with 10% off on April 2nd.
Once again, congratulations to our winners, and a huge thanks to everyone who took the time to enter – it really could have been you! There is still 10% off to be saved if you order £250 or more from your wishlist this month (it will be deducted automatically, so no messing around). Failing that, better luck next time!
Andy