As promised we gave away a set of SSP wheels to one lucky Heretics member at last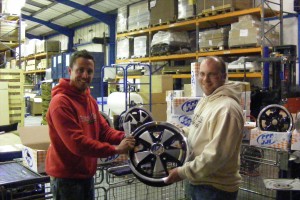 nights meet.
As the night drew to a close, the air turned to a chill and a large crowd gathered round the warehouse doors to watch a young lad pick the winner out the box. Barry from Newhaven was the lucky chap, having never won anything before he was more than pleased with his SSP Fooks… opting for the 5/112 pcd they will even fit his T4!
As this was the last evening meet for the year, we would like to take this opportunity to thank everyone who has supported the Heretics meets in this, their second year. If you can make them, the Saturday Social meets return as of next month – Saturday 9th October 12-3pm… more details will follow.
Stay tuned in for the photos from last night.. and some video too!
Andy