Volkswagen developed four-wheel drive during WW2 but it was another four decades before they revisited the concept. After extensive testing, however, it resulted in what's perhaps the ultimate go-anywhere, hard as nails Type 25 – the Syncro. Here's its story…
Its evolution began back in the late 1970s when a member of VW's R&D department, Henning Duckstein, experimented by fitting a four-wheel drive system in his Type 2 Westfalia Camper. Duckstein was an intrepid traveller and frequently took his bus to far off places, including desert regions of Africa – so at the same time he added 16in wheels so that Michelin ZX sand tyres could be fitted. He also tweaked the Solex carb, giving them a tilt-proof concentric float chamber, a bit like the ones used on WW2 Schwimmwagens, which would enable the van to be driven up and down steep slopes without cutting out.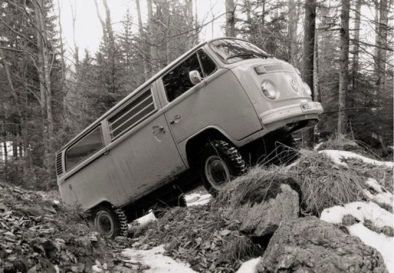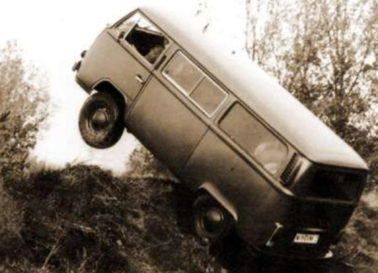 His creation attracted the curiosity of fellow VW employee Gustav Meyer. Meyer was another adventurer who was also inclined to take off in his Westfalia to find the most inaccessible parts of the world and was therefore excitited by the prospect of developing a 4×4 version. Together, despite limited funds, five prototype Bay Window Buses were built featuring a semi-automatic gearboxes coupled via a torque converter and hydraulic clutch to a 70bhp 2.0-litre engine developed for the military Iltis. Extra under body plating was added to prevent it being bogged down and the exhaust was raised and made to exit via the rear bumper to provide extra ground clearance.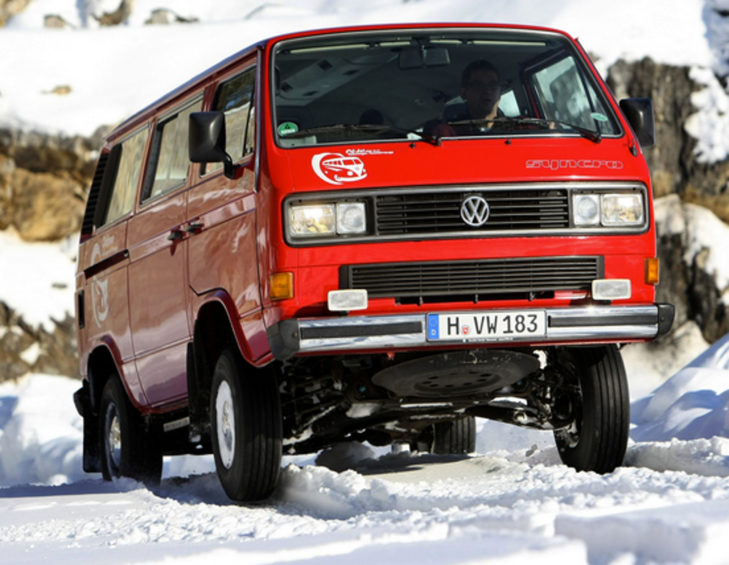 Despite success on the testing ground, the market for a 4×4 utility vehicle was deemed too limited for VW's marketing gurus and the project was put on the back burner until the introduction of water-cooled engines to the Type 25 range in 1983. This time, with new backing from VW management, Austrian firm Steyr-Daimler-Puch, who had experience in the 4×4 field with its Haflinger, was approached to develop the concept. The deal, apparently, was for them to do the development work in return for VW supplying the LT diesel engine for their Pinzgauer 6×6. The 4×4 system used was based on the principle established by Ferguson of tractor fame, who years earlier had developed an all-wheel drive system for British sports car company Jensen.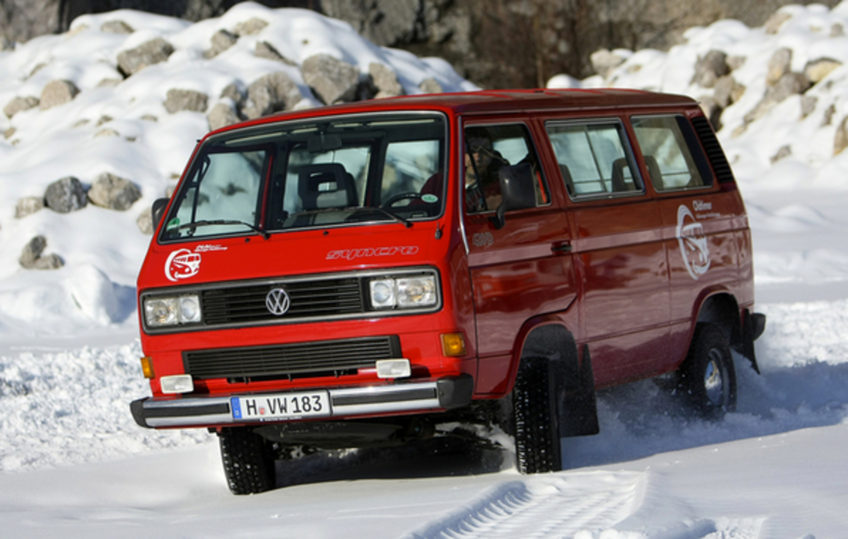 In early 1985 the first Syncro Transporter appeared, available at first with the 1.9-litre 78bhp petrol engine and 1.6-litre 70bhp turbodiesel. The 112bhp 2.1-litre was offered from 1986, in time for the Syncro's UK debut. Despite their all-conquering ability to travel over basically any kind of terrain, sales were a flop. It was just too expensive, due largely to the fact that the shells had to be transported from Hanover to Steyer's plant in Graz, then back to Hanover to be finished off. The Westfalia versions, obviously, then had to be taken on another trip to Wiedenbruk. This meant that in the UK, the Syncro was close to a hefty £4,000 more than the standard Transporter which was already a pricy vehicle compared to the likes of the Sherpa or Transit. To be brutally honest, the engine range wasn't up to scratch either – especially for the intended military market.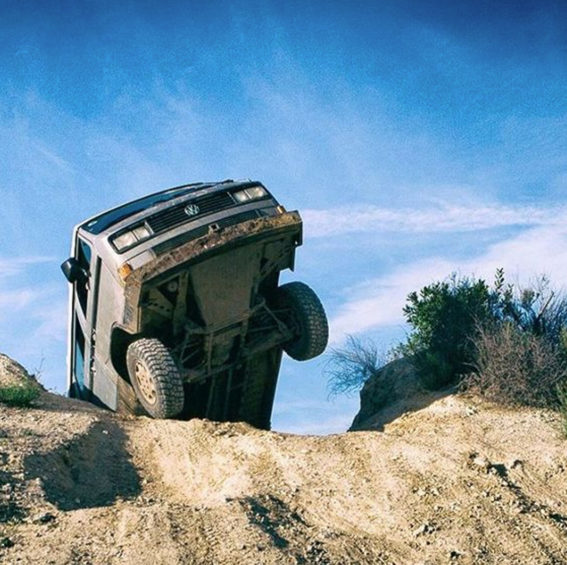 Today, Syncro T25s are hugely desirable – not just for their rarity, but also for their chunky, hard as nails appearance – and we're big fans.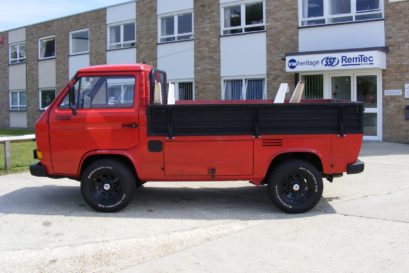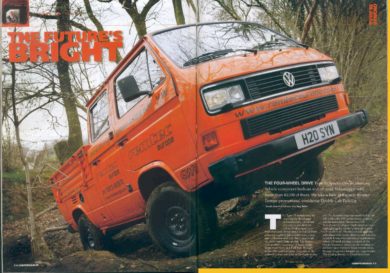 It wasn't just full bodied buses that got the Syncro treatment either. The trusty Single Cab, and the more roomy DOKA also benefited from a 4WD option. In fact, VW Heritage owned a Crew cab example in 2006, that was sign written and used as a promo vehicle for REMTEC engines, it was featured in Camper & Bus magazine at the time too.
Which ever version is your preference, or in fact which ever one you can find for sale, it'll be just the thing, we'd say, for the coming autumn/winter months ahead…
Ian
The opinions expressed here are the personal opinions of the author and do not necessarily represent the views and opinions of VW Heritage.
This post is also available in: Deutsch (German) Español (Spanish)