As an active member of the Sussex VW Owners Club Nigel gets up to all sorts during the year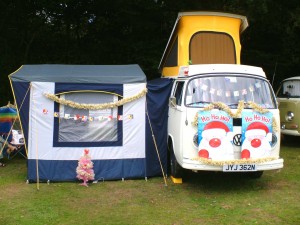 .. here is his take on the clubs August Bank holiday celebrations.. with a festive twist?!
"The local VW club organised a Christmas Themed Camp. There were many decorated vans, BBQ turkey (plus usual burgers) and several dodgy visitors. Two Angels, or were they Fairies, the striped woolly tights made that one tricky, but there were certainly wings in evidence. A couple of strangely dressed types who were claiming to be wise; no camels only VW's, so I'm not sure. At least one shepherd, he must have been genuine as he had Shaun the Sheep under his arm. It is claimed I wore a miniature Santa Hat on a deely bopper headband but as there are no pictures to prove it I deny this 100%.
Anyone who read my last blog will remember the dive bombing seagull, this time it was a couple of  inconsiderate drivers, who were too close to stop at a roundabout. Bump! Check mirror… and they're off!  Hmmmmm, no insurance? Lucky it is only a small bumper dent.
Will this be a continuing trend? What is going to be the third event? Watch this space."
Nigel
Click the picture of Nigel's van to find out more about the Sussex VW Owners Club.